Spiritual
Real Life Master Of Chi Gong - The Rogan Board
3 Steps to Cultivate Hope, Compassion and Healing | Mindfulness and Psychotherapy
Once in a while a story comes into your life that immediately touches that soft spot in your heart and gives you a gift to carry around and support you in difficult times. I didn't know Jeff Guyer, but my wife was friends with his sister. A few days before his final moments of battling with Sarcoma, an aggressive cancer, he wrote out a post to his friends and family that can be summed up with a single word – acceptance.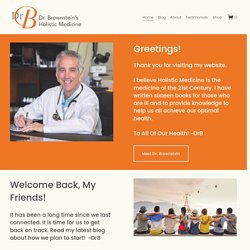 David Brownstein, M.D. is a Board-Certified family physician and is one of the foremost practitioners of holistic medicine. He is the Medical Director of the Center for Holistic Medicine in West Bloomfield, Michigan. Dr. Brownstein has lectured internationally to physicians and others about his success in using natural hormones and nutritional therapies in his practice. As an authority and practitioner on the topic, his main goal is to teach the benefits of holistic medicine to the masses and see this advantageous alternative become the sole health solution adopted worldwide.
Dr. Brownstein - Holistic Family Medicine
Thanks for visiting DMT: The Spirit Molecule website. The film will be available on iTunes, Netflix, cable VOD, Xbox, and more. Please add it to your queue and rate the film everywhere possible. Additionally, a web simulcast of the best DMTremix projects followed by a live Q&A with director Mitch Schultz and several 'heads of [psychedelic] state' is underway. Stay tuned for more info via the mailing list.