Good
NDAA Shot Down, But Threats Remain – David Seaman
George W. Bush Convicted of War Crimes, Can't Leave U.S. Fearing Arrest | The Libertarian Review
When backers of the Regulate Marijuana Like Alcohol Act turned in 12,000-plus signatures Friday to cure a 2,407 signature shortfall toward qualifying for the November ballot, a special guest was on hand: Gary Johnson, former governor of New Mexico. Johnson thinks the Regulate measure could be the beginning of the end of pot prohibition in the U.S. and across the planet. Johnson was elected governor as a Republican, but "I've quit the party," he says.
Marijuana: Ex-guv thinks Regulate act could bring down global pot prohibition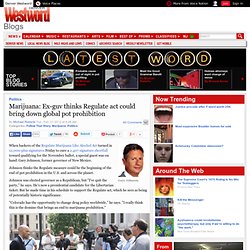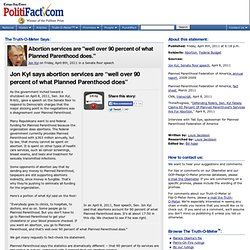 Jon Kyl says abortion services are "well over 90 percent of what Planned Parenthood does"
As the government inched toward a shutdown on April 8, 2011, Sen. Jon Kyl, R-Ariz., gave a speech on the Senate floor to respond to Democratic charges that the major sticking point in the negotiations was a disagreement over Planned Parenthood. Many Republicans want to end federal funding for Planned Parenthood because the organization does abortions.
SOPA STRIKE - Largest online protest in history - January 18 - blackout your site
STOP FRACKING NOW! Tell Congress to pass the FRAC Act
YORK, England – A British soldier killed by a Taliban bomb in Afghanistan left $161,500 in his will — so his friends could go on vacation to Las Vegas, The Sun reported Monday. Royal Marine David Hart, who had taken out a $403,800 life insurance policy before he was deployed to Afghanistan, stipulated in a letter that in the event of his death, his friends and their partners should travel to Sin City for a massive party in his memory. "In his letter David said he had had a great life and had no regrets about anything. He always said he would do something like this if something bad happened," friend Andy Hare said.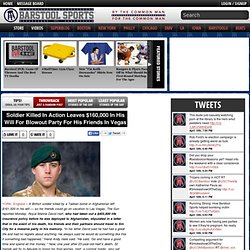 » Soldier Killed In Action Leaves $160,000 In His Will For Blowout Party For His Friends In Vegas Barstool Sports
BlueRepublican.org
Geraldo Blasts Herman Cain's Spokesman During Call-In For Not Denying Sexual Harassment Claims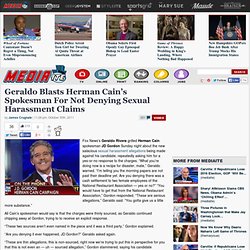 Fox News's Geraldo Rivera grilled Herman Cain spokesman JD Gordon Sunday night about the new salacious sexual harassment allegations being made against his candidate, repeatedly asking him for a yes-or-no response to the charges. "What you're doing now is a recipe for disaster, mate," Geraldo warned. "I'm telling you the morning papers are not past their deadline yet. Are you denying there was a cash settlement to two female employees of the National Restaurant Association — yes or no?"
Indecision 2012 - Corn Polled Edition - Ron Paul & the Top Tier - The Daily Show with Jon Stewart - 08/15
I've been floating a template law (called "Sustainable Opportunities for Rural Afghans Act") for over a year now. I've sent copies to my representatives in Congress, to the President, and to various NGO and para-governmental acquaintances. I expected silence from the chief executive, a form letter from my representative (Hello, Joe Barton), and a bit of bubble (if not action) from my think tank type peeps; but action has been nil and talk has been quiet. I know I'm no kinda "big deal" on Capital Hill, but what I don't know is whether or not my proposal is taken by these high-rollers as a bad idea or as just a dot of signal in fields of noise. Before discussing further, here's the text of the the thing:
Saying 'Maybe' to Drugs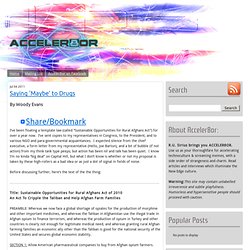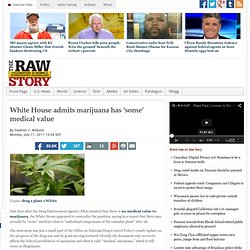 White House admits marijuana has 'some' medical value
Just days after the Drug Enforcement Agency (DEA) insisted that there is no medical value to marijuana , the White House appeared to contradict the position, saying in a report that there may actually be "some" medical value to "individual components of the cannabis plant" after all. The statement was just a small part of the Office on National Drug Control Policy's yearly update on the progress of the drug war and its goals moving forward. Overall, the document only serves to affirm the federal prohibition of marijuana and what it calls "'medical' marijuana," which it still views as illegitimate. But a single passage, under their "facts about marijuana," seems to loosen a bit from the generation-old line that there is no value to cannabis whatsoever.