CBD
Cannabidiol. Cannabidiol (CBD) is one of at least 60 active cannabinoids identified in cannabis.[4] It is a major constituent of the plant, accounting for up to 40% of the plant's extract, as a non-psychotropic phytocannabinoid.[5] CBD is considered to have a wider scope of medical applications than tetrahydrocannabinol (THC).[5] An orally-administered liquid containing CBD has received orphan drug status in the US, for use as a treatment for dravet syndrome under the brand name, Epidiolex.[6] Clinical applications[edit] The bud of a Cannabis sativa flower coated with trichomes Antimicrobial actions[edit]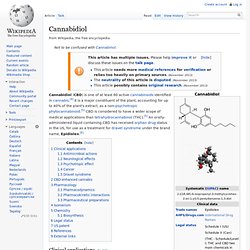 Cannabidiol CBD - GrowKind.com Marijuana Cultivation Forum. Here is a great bit of info iv posted that is from the cannibis growers bible by greg green which is freely available online.Peace Cannabinoids and the High The marijuana high is a complex experience.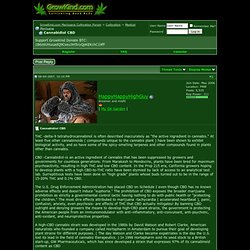 It involves a wide range of psychical, physical, and emotional responses. The high is a subjective experience based in the individual - one's personality, mood, disposition, and experience with the drug. Given the person, the intensity of the high depends primarily on the amount of THC present in the marijuana. THERAPEUTIC USES OF CANNABIDIOL COMPOUNDS - HADASIT MEDICAL RESEARCH SERVICES & DEVELOPMENT LlIMITED. This invention relates to the use of cannabidiol compounds in therapy.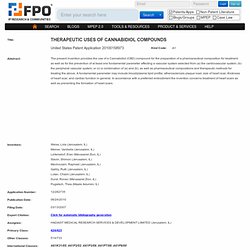 The following is a list of prior art which are considered to be pertinent for describing the state of the art in the field of the invention. Acknowledgement of these references herein will at times be made by indicating their number(s) from the list below next to specific passages herein. 1. Varga, K., Lake, K., Martin, B. Fred Gardner: Cannabidiol Now! Two plants strains relatively rich in cannabidiol (CBD) have been identified by an analytic test lab recently established to serve the medical cannabis industry in California.
That's two major stories in one sentence. Let's take it from the bottom… In December a lab in the East Bay started testing samples of cannabis for pathogenic mold and the presence of three cannabinoids –THC, CBD and CBN (cannabinol). THC is the main psychoactive compound in the cannabis plant. CBD is a cannabinoid with intriguing medical potential that gets bred out of cannabis when the breeder's goal is high THC content (as it has been in California for generations).
Cannabidiol (CAS 13956-29-1) || Cayman Chemical. Antioxidant activity has been reported to be a general property of the phenolic components of marijuana.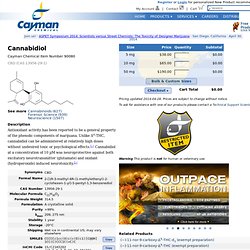 Unlike Δ9-THC, cannabidiol can be administered at relatively high doses without undesired toxic or psychological effects.1 Cannabidiol at a concentration of 10 µM was neuroprotective against both excitatory neurotransmitter (glutamate) and oxidant (hydroperoxide) induced neurotoxicity.2 1 Consroe, P., Laguna, J., Allender, J., et al. Controlled clinical trial of cannabidiol in Huntington's disease. Pharmacol Biochem Behav 40 701-708 (1991). 2 Hampson, A.J., Grimaldi, M., Axelrod, J., et al.
---