Photoshop
Photoshop Brushes. Software Download. This page features a growing set of free Adobe Photoshop® filters / plugins coded by myself for 3D production, 2D design, and technical research.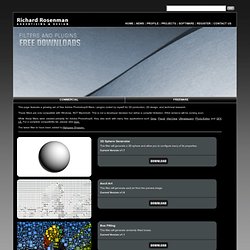 These filters are only compatible with Windows, NOT Macintosh. This is not a developer decision but rather a compiler limitation. 64bit versions will be coming soon. 400+ Time Saving Photoshop Actions. This post is a roundup of latest free web design resources released during the month of March.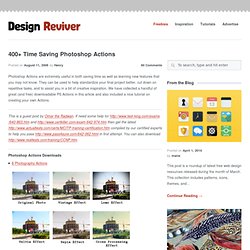 This collection includes patterns, icons, themes, and… Continue Reading → These days many artists are collaborating with big brands in order to reach a mass market. As well as interiors, artists and designers are… Continue Reading → Photoshop actions: 124+ Free Photoshop Actions to Boost Your Designs. Photoshop Actions ?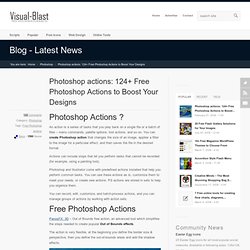 An action is a series of tasks that you play back on a single file or a batch of files – menu commands, palette options, tool actions, and so on. You can create Photoshop action that changes the size of an image, applies a filter to the image for a particular effect, and then saves the file in the desired format. Actions can include stops that let you perform tasks that cannot be recorded (for example, using a painting tool). Free Photoshop Patterns | Photoshop Seamless Tiles and JPG. Free Photoshop Patterns, Gradients and Styles: Free Photoshop. 600+ Photoshop Gradients to Download.
In Photoshop, the gradient tool is one of the most useful especially when creating background, icons, buttons for the web and many other things.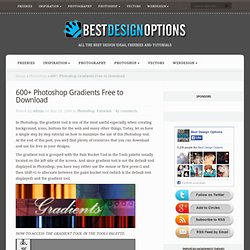 Today, let us have a simple step by step tutorial on how to maximize the use of this Photoshop tool. At the end of this post, you well find plenty of resources that you can download and use for free in your designs. The gradient tool is grouped with the Pain Bucket Tool in the Tools palette usually located on the left side of the screen. And since gradient tool is not the default tool displayed in Photoshop, you have may either use the mouse or first press G and then Shift+G to alternate between the paint bucket tool (which is the default tool displayed) and the gradient tool.
11+ Stunning Objects PSD Templates. Be ready for today's requirements and tomorrow's projects all at once.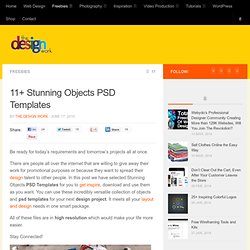 There are people all over the internet that are willing to give away their work for promotional purposes or because they want to spread their design talent to other people. In this post we have selected Stunning Objects PSD Templates for you to get inspire, download and use them as you want. You can use these incredibly versatile collection of objects and psd templates for your next design project. It meets all your layout and design needs in one smart package. All of these files are in high resolution which would make your life more easier. 500+ Free Download High Quality Photoshop PSD Files For Designers.
Why redo what is from the web "free download" ?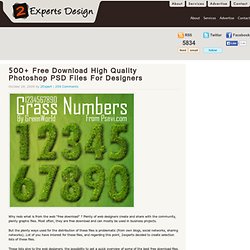 Plenty of web designers create and share with the community, plenty graphic files. Most often, they are free download and can mostly be used in business projects. But the plenty ways used for the distribution of these files is problematic (from own blogs, social networks, sharing networks)…Lot of you have interest for these files, and regarding this point, 2experts decided to create selection lists of these files. These lists give to the web designers, the possibility to get a quick overview of some of the best free download files, grouped on an unique page.
Today is an exceptional day because you are not restricted to one list but you can browse a selection of the best lists from all of them, and this final selection cumulate all together, around 500 Photoshop files, files you can download. Tutorials. Empower Photoshop Skills With 40 Cool Photo Effects Tutorials |
Photoshop is very powerful tool and it becomes more powerful in the hands of imaginative and creative people.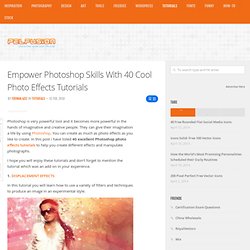 They can give their imagination a life by using Photoshop. You can create as much as photo effects as you like to create. In this post i have listed 40 excellent Photoshop photo effects tutorials to help you create different effects and manipulate photographs. I hope you will enjoy these tutorials and don't forget to mention the tutorial which was an add on in your experience. 1. Phototuts+ | Photography and post-processing tutorials from begi. 70 Excellent Photoshop Resources. Adobe Photoshop is the tool of choice for many designers and artists.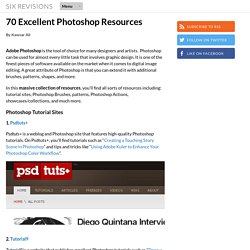 Photoshop can be used for almost every little task that involves graphic design. It is one of the finest pieces of software available on the market when it comes to digital image editing. 15 Fresh and Useful Photoshop Tutorials | Tutorials. Part of being a designer is keeping your skills sharp and up-to-date.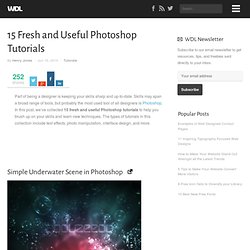 Skills may span a broad range of tools, but probably the most used tool of all designers is Photoshop. In this post, we've collected 15 fresh and useful Photoshop tutorials to help you brush up on your skills and learn new techniques. The types of tutorials in this collection include text effects, photo manipulation, interface design, and more.
Simple Underwater Scene in Photoshop In this tutorial I will show you how to create a underwater scene with some bubbles and light effects.
---