Humour
unnamed
Girl in Algebra 1 class: "What's an integer?" *teacher explains* "Oh…..so it's like a number?" Prof: But that would be mental masturbation.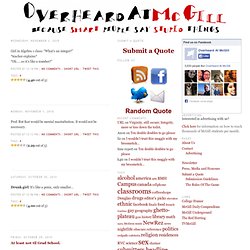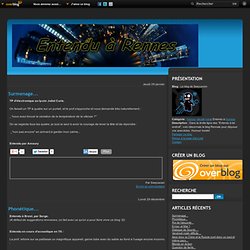 Le blog de Seeyusoon
Jeudi 29 janvier 4 29 /01 /Jan 10:39 TP d'électronique au lycée Joliot Curie. On faisait un TP à quatre sur un portail, et le prof s'approche et nous demande très naturellement :
Entendu à Paris
L'aventure Entendu à Paris s'arrête. Ce blog ne sera plus alimenté à partir d'aujourd'hui. Mais que les amateurs de phrases insolites et amusantes se rassurent, un nouveau site va remplacer, en mieux, Entendu à Paris.
unnamed
Entendu à Montréal
Entendu à Bordeaux