Studios US
Zucker out, Burke in at NBC Universal: The biggest loser. I'll be blog » Blog Archive » Plus c'est cher, plus ça rapporte. On sait les majors inquiètes de la rentabilité de leurs films à gros budget.
L'étude tout juste sortie des bureaux de SNL Kagan va pouvoir les rassurer : plus un film coûte cher, plus il est rentable. L'étude, qui se porte sur plus de 750 films sortis sur 1000 écrans ou plus depuis 2004, montre que les films qui ont un budget supérieur à 100M$ (hors coût marketing) génèrent en moyenne 250M$ de revenus nets. Les œuvres qui coûtent entre 80 et 90 millions en rapportent 118. Autre fait déjà pressenti, les films à budget « moyen », environ 50M$, sont les plus risqués. MGM's Lion May Be Off To The Auction. It hurts to see the companies that you grew up with go down in flames.
For the longest time, seeing the roaring lion in the center of MGM's logo always meant something enjoyable was coming. It's an unforgettable logo that has transcended its function as a representation of the company and turned into a relic of better days in the film industry. I'll be blog » Blog Archive » MGM, le studio à la dérive. Ça y est : la , le studio américain historique, est à vendre, et ce officiellement depuis vendredi. La MGM, créée en 1924 de la fusion de trois sociétés différentes, a dominé Hollywood pendant toutes les années 30. Depuis la fin de la guerre et le début de la crise des Majors, la MGM n'a jamais réussi à retrouver son standing d'antan : la valse de ses dirigeants – entre autres Ted Turner qui a gardé la firme 74 jours avant de la revendre, et le Crédit Lyonnais qui en a pris le contrôle au début des années 90 – et les nombreux rachats et changements de mains – acquisition de United Artists, catalogue et réseau de salles partagés entre les possesseurs – la MGM s'est peu à peu recroquevillée jusqu'à aujourd'hui, et en 2009 la firme au lion n'a produit qu'un seul film, le remake de Fame.
Et elle doit 3,7 milliards de dollars à ses créanciers. J'écrivais il y a un mois que la MGM, en grosses difficultés financières, avait obtenu un délai de ses créanciers le temps de produire Bilbo. Lions Gate Entertainment pourrait essay. Au moins trois entreprises, dont le studio de cinéma canado-américain Lions Gate Entertainment, devraient déposer vendredi des offres formelles d'achat pour le légendaire studio américain Metro-Goldwyn-Mayer (MGM).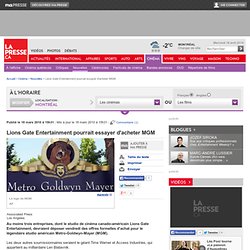 Les deux autres soumissionnaires seraient le géant Time Warner et Access Industries, qui appartient au milliardaire Len Blatavnik. Aucune offre ne devrait surpasser 2 milliards $US, ce qui décevra certainement les 140 prêteurs qui ont financé l'achat du studio en 2005 pour 5 milliards $US.
Universal Studios May Serve as Lab for New Approach to Viewers - Miramax. Quel est le point commun entre Chicago, Pulp Fiction, The Queen, Le Patient Anglais et No Country For Old Men ? Ces œuvres, ainsi que de nombreux autres grands films, sont tous sortis du mythique studio indépendant créé à la fin des années 1970 par les frères Weinstein : Miramax. Aujourd'hui, le studio est à la dérive, et après l'avoir fermé, son possesseur, Disney, cherche un acquéreur. Il y a quelques mois déjà, Disney avait annoncé une forte réduction des effectifs du studio : les deux tiers des employés seraient remerciés et le nombre de films produits réduit à trois, ce qui représentait déjà un coup dur pour le studio indépendant. Ce week end, une étape suivante a été franchie avec l'annonce de la fermeture du studio , les employés restant étant rattachés à la maison mère, Disney.
Six films sont encore en cours de production pour le compte de Miramax pour les deux prochaines années, mais l'avenir à plus long terme est beaucoup plus flou.
Hollywood sea of change - Entertainment News, Film News, Media - Is Hollywood outsourcing its first-look deals?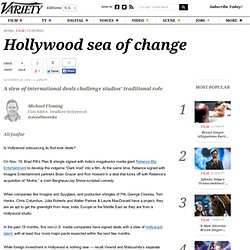 On Nov. 19, Brad Pitt's Plan B shingle signed with India's megabucks media giant Reliance Big Entertainment to develop the vidgame "Dark Void" into a film. At the same time, Reliance signed with Imagine Entertainment partners Brian Grazer and Ron Howard in a deal that kicks off with Reliance's acquisition of "Mofos," a Josh Berghaus/Jay Shore-scripted comedy. When companies like Imagine and Spyglass, and production shingles of Pitt, George Clooney, Tom Hanks, Chris Columbus, Julia Roberts and Walter Parkes & Laurie MacDonald have a project, they are as apt to get the greenlight from Asia, India, Europe or the Middle East as they are from a Hollywood studio.
In the past 18 months, five non-U.S. media companies have signed deals with a slew of Hollywood talent, with at least four more major pacts expected within the next few months. Overture Box Office Profits: $50 million-$60 million | The Wrap. Studio chiefs McGurk and Rosett congratulate staff on fourth straight successful film opening in internal memo Coming off their fourth consecutive successful box-office launch this weekend, with Antonine Fuqua-directed cop drama "Brooklyn's Finest" opening to $13.4 million, and with their three-year-old film company currently being shopped by parent Liberty Media, Overture Films CEO Chris McGurk and COO Danny Rosett issued a pat-on-the-back memo to staff Monday.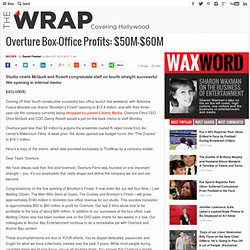 Overture paid less than $3 million to acquire the ensemble-casted R-rated movie from Avi Lerner's Millennium Films.
Warner
Don't Worry: 'Kick-Ass' Has Distribution - Film School Rejects. All day long, I've been geeking out about Kick-Ass.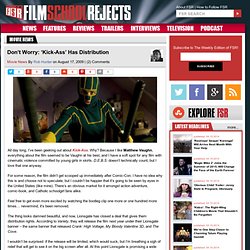 Why? Because I like Matthew Vaughn, everything about the film seemed to be Vaughn at his best, and I have a soft spot for any film with cinematic violence committed by young girls in skirts. D.E.B.S. doesn't technically count, but I love that one anyway. For some reason, the film didn't get scooped up immediately after Comic-Con. Kick Ass > Spiderman 3 « Victory Thru Sheer Volume.
Like everyone these days, even Kick Ass is trying to jump on the bandwagon led by the triple sick Pacific (which premiered on Sunday!!)
I'm (Mc)loving the idea behind these war era mash up posters, not to mention the fact that this flick is going to be flat out awesome. Anything that involves superheroes and an R rating is A O K by me. Except the Punisher. That movie sucked There's a pretty sweet story behind Kick Ass too! Miramax talks expected to extend through the weekend [Updated] | Exclusive negotiations between the Walt Disney Co. and Bob and Harvey Weinstein, who are backed by supermarket magnate Ron Burkle, over the potential acquisition of Miramax Films are expected to stretch through the weekend, people with knowledge of the discussions said.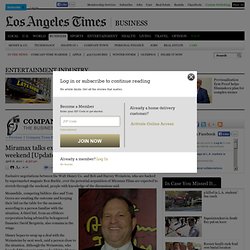 Meanwhile, competing bidders Alec and Tom Gores are awaiting the outcome and keeping their bid on the table for the moment, according to a person familiar with the situation. A third bid, from an offshore corporation being advised by beleaguered financier David Bergstein, also remains in the wings. Disney hopes to wrap up a deal with the Weinsteins by next week, said a person close to the situation.
---