Disney
Disney
Alice in the wonderland boycotté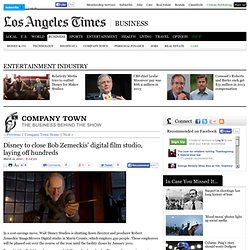 In a cost-savings move, Walt Disney Studios is shutting down director and producer Robert Zemeckis' ImageMovers Digital studio in Marin County, which employs 450 people.
Disney to close Bob Zemeckis' digital film studio, laying off hu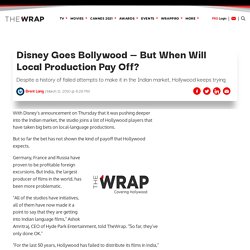 With Disney's announcement on Thursday that it was pushing deeper into the Indian market, the studio joins a list of Hollywood players that have taken big bets on local-language productions. But so far the bet has not shown the kind of payoff that Hollywood expects. Germany, France and Russia have proven to be profitable foreign excursions. But India, the largest producer of films in the world, has been more problematic. "All of the studios have initiatives, all of them have now made it a point to say that they are getting into Indian language films," Ashok Amritraj, CEO of Hyde Park Entertainment, told TheWrap.
Disney Goes Bollywood -- But When Will Local Production Pay Off?
Disney Reopens Miramax Talks With Rival Bidder to the Weinsteins