What's next?
Get flash to fully experience Pearltrees
Fact: In 1994 I thought Apple was going to own it all. By 1999 most magazines thought it was dead. Fact: In 1992 Pointcast shipped.
There's a very interesting rumor circulating around out there right now.
Interesting collaborative post betw Gruber and Scoble.
Adobe today unveiled a new version of Flash in an effort to expand support for the popular technology beyond the traditional Internet to mobile phones, netbooks, set-top boxes and other connected consumer devices.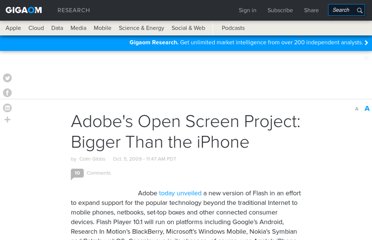 "Opera has joined in the argument over Flash, with the company telling TechRadar that they will support Flash for the time being, but that the company needs to start embracing web standards if it doesn't want to come under constant attack," Patrick Goss reports for TechRadar UK. "Opera's product analyst Phillip Grønvold believes that support for Flash is critical at the current time, but that times are changing fast as HTML5 moves closer," Goss reports. "'Flash does have its purposes and will have its purposes, the same as [Microsoft's] Silverlight and others, especially for dynamic content,' Grønvold said.
Adobe announced Monday that it has updated and changed the name of its Flex Builder IDE. Now called Flash Builder 4 , it incorporates support for the now open source Flex 4 framework, as well as integrating an IDE for ColdFusion development. "We changed the name because the new Builder product encompasses more than just the Flex framework," group product manager for the Flash Platform Dave Gruber told Infoworld.
There are few people who know the ins and outs of the web as well as Joe Hewitt .
Adobe's much-beleaguered Flash is about to take another hit and online documents are finally going to join the Web on a more equal footing. Today, most documents (PDFs, Word docs, Powerpoint slides) can mostly be viewed only as boxed off curiosities in a Flash player, not as full Web pages. Tomorrow, online document sharing site Scribd will start to ditch Flash across its tens of millions of uploaded documents and convert them all to native HTML5 Web pages.
HTML5 vs flash: the controversy
Email Share
Selon les informations d'AppleInsider , Apple utilise depuis bientôt un an son propre framework pour les applications Internet utilisées par son réseau de distribution grand public (programme One-to-One, système de réservation de l'iPhone, le service Concierge de réservation pour le Genius Bar). Gianduia permet de créer ces applications sans recourir à des plug-in Flash ou Silverlight au niveau du navigateur.
Ca m'intéresse pas mal, en effet ;-) Merci Ludo by Patrice May 13