Web visionaries
Tim Berners-Lee. Linus torvald. Ted Nelson. Biography[edit] Nelson is the son of Emmy Award-winning director Ralph Nelson and the Academy Award-winning actress Celeste Holm.[1] His parents' marriage was brief and he was mostly raised by his grandparents, first in Chicago and later in Greenwich Village.[2] Nelson earned a BA from Swarthmore College in 1959.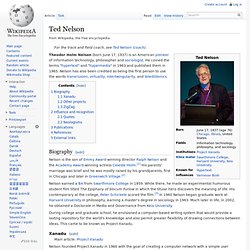 While there, he made an experimental humorous student film titled The Epiphany of Slocum Furlow in which the titular hero discovers the meaning of life. His contemporary at the college, Peter Schickele scored the film.[3] In 1960 Nelson began graduate work at Harvard University in philosophy, earning a master's degree in sociology in 1963. Much later in life, in 2002, he obtained a Doctorate in Media and Governance from Keio University. Marc Andreessen. Early life and education[edit] Andreessen was born in Cedar Falls, Iowa, and raised in New Lisbon, Wisconsin,[10] the son of Patricia and Lowell Andreessen, who worked for a seed company.[11] In December 1993,[10] he received his bachelor's degree in computer science from the University of Illinois at Urbana-Champaign.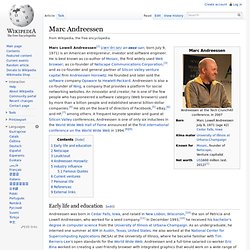 As an undergraduate, he interned one summer at IBM in Austin, Texas, United States. He also worked at the National Center for Supercomputing Applications (NCSA) at the University of Illinois, where he became familiar with Tim Berners-Lee's open standards for the World Wide Web. Andreessen and a full-time salaried co-worker Eric Bina worked on creating a user-friendly browser with integrated graphics that would work on a wide range of computers. Richard Stallman. Mark Zuckerberg. Robert Cailliau. WWW's historical logo designed by Robert Cailliau Biography[edit] Cailliau was born in Tongeren, Belgium.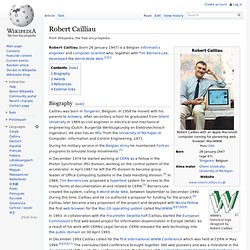 In 1958 he moved with his parents to Antwerp. Steve Jobs. Remembering Steve.
---
ndebock Oct 10 2009

Tu ne mets pas Mr Chris Messina dans cette catégorie? je le trouve plutôt visionnaire sur l'identité et la décentralisation du web.
---