Web context evolutions
AOL Fires A Ton Of Freelancers, HuffPost Doesn't Pay Most Of Its Writers. I Approve. Can anyone else hear that?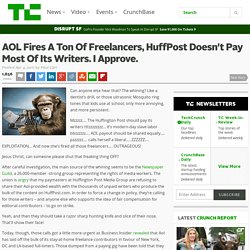 The whining? Like a dentist's drill, or those ultrasonic Mosquito ring tones that kids use at school; only more annoying, and more persistent. Mzzzzz…. The Huffington Post should pay its writers tttzzzzzzzz… it's modern-day slave labor bbzzzzzz…. AOL payout should be shared equally…. pzzzzzz…. calls herself a liberal…. Wikipedia's Jimmy Wales: App stores a clear and present danger. The app store model is a more immediate threat to internet freedom than breaches of net neutrality.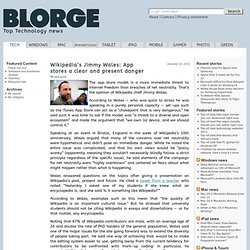 That's the opinion of Wikipedia chief Jimmy Wales. According to Wales — who was quick to stress he was speaking in a purely personal capacity — set-ups such as the iTunes App Store can act as a "chokepoint that is very dangerous." He said such it was time to ask if the model was "a threat to a diverse and open ecosystem" and made the argument that "we own [a] device, and we should control it." Speaking at an event in Bristol, England in the week of Wikipedia's 10th anniversary, Wales argued that many of the concerns over net neutrality were hypothetical and didn't pose an immediate danger. Quand les médias établis se réveilleront il sera trop tard - Transnets - Blog LeMonde.fr. Les professionnels ont remarqués que le Huffington Post, qui vient de fêter son cinquième anniversaire, est sur le point de dépasser le site du New York Times en trafic et devrait bientôt le rattraper en revenus.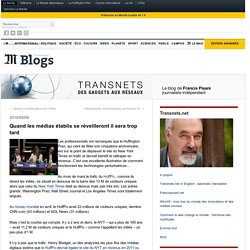 C'est une excellente illustration de comment fonctionnent les technologies perturbatrices… Au mois de mars le trafic du HuffPo , comme ils disent les initiés, se situait en dessous de la barre des 13 M de visiteurs uniques alors que celui du New York Times était au dessus mais pas très loin. Les autres grands: Washington Post, Wall Street Journal et Los Angeles Times sont totalement largués. The Web Is Dead. Long Live the Internet | Magazine. Who's to Blame:Us As much as we love the open, unfettered Web, we're abandoning it for simpler, sleeker services that just work. by Chris Anderson You wake up and check your email on your bedside iPad — that's one app.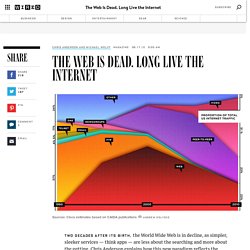 Just two Chinese ISPs serve 20% of world broadband users. If you need a reminder of just how big China is—and just how important the Internet has become there—consider this stat: between them, two Chinese ISPs serve 20 percent of all broadband subscribers in the entire world.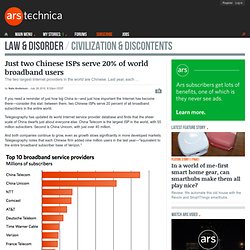 Telegeography has updated its world Internet service provider database and finds that the sheer scale of China dwarfs just about everyone else. China Telecom is the largest ISP in the world, with 55 million subscibers. New Zealand rejects software patents. Image credits: Image source: Public domain Recently the NZ govt announced that it was to remove software from the list of items that can be patented.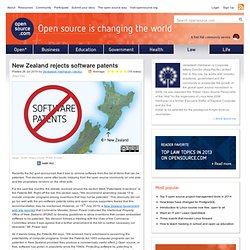 This decision came after hectic lobbying from the open source community on one side and the proprietary vendors on the other side. For the past few months, the debate revolved around the section titled "Patentable Inventions" in the Patents Bill. Let me get this straight. I am in an Irish bar in Guangzhou Chin. A new approach to China.
Like many other well-known organizations, we face cyber attacks of varying degrees on a regular basis.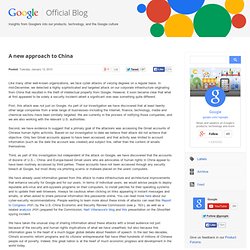 In mid-December, we detected a highly sophisticated and targeted attack on our corporate infrastructure originating from China that resulted in the theft of intellectual property from Google. However, it soon became clear that what at first appeared to be solely a security incident--albeit a significant one--was something quite different. First, this attack was not just on Google. As part of our investigation we have discovered that at least twenty other large companies from a wide range of businesses--including the Internet, finance, technology, media and chemical sectors--have been similarly targeted.
We are currently in the process of notifying those companies, and we are also working with the relevant U.S. authorities. Google vs China: the Chinese reaction so far. 13 January '10, 02:19pm Follow When Google issued its "Stop censoring us or we quit your country" announcement, it was a bold and unexpected move.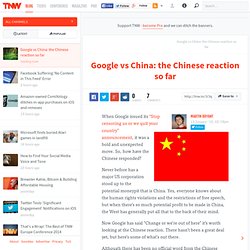 So, how have the Chinese responded? Facebook a fait mieux que Google Internet Actualité - Echos du N. Reputation Is Dead: It's Time To Overlook Our Indiscretions. Trying to control, or even manage, your online reputation is becoming increasingly difficult.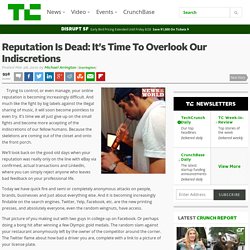 And much like the fight by big labels against the illegal sharing of music, it will soon become pointless to even try. It's time we all just give up on the small fights and become more accepting of the indiscretions of our fellow humans. Because the skeletons are coming out of the closet and onto the front porch. Privacy. Web Kills the Radio Stars ? Journalisme d'investigation sur le Net.
---