Facebook evolutions
Graph Search's Dirty Promise and the Con of the Facebook "Like" - steve's blog. Facebook testing new 'highlight' feature: pay to promote your posts. Facebook is testing a new feature called Highlight that allows users to pay a nominal fee to promote their posts, making them more prominent in others' news feeds.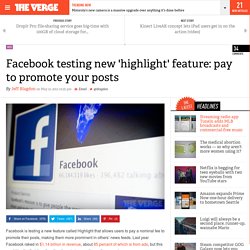 Last year Facebook raked in $1.14 billion in revenue, about 85 percent of which is from ads, but this would be the first time the site attempts to monetize ordinary posts. In a converation with Stuff, Facebook spokeswoman Mia Garlick confirmed the tests: "We're constantly testing new features across the site. This particular test is simply to gauge people's interest in this method of sharing with their friends. " Facebook users fr.png. Key Concepts.
Integrating with Open Graph starts with your app.
Facebook provides SDKs for iOS, Android, JavaScript and PHP. Apps need to use Facebook Login, which allows users to sign into your app using their Facebook credentials. Once there's a relationship between your app, Facebook and the person, you can ask the person to publish stories from your app. Four elements go into telling stories. Let's use 'Christopher finished reading The Name of the Wind on Goodreads' as an example: Facebook History of the World | CollegeHumor. Facebook Listens. RSS Added Back to Pages. Will Twitter be next?
In perhaps one of my most controversial articles (unintentionally), I wrote a week or two ago about how both Twitter and Facebook both quietly removed RSS from user accounts and Pages.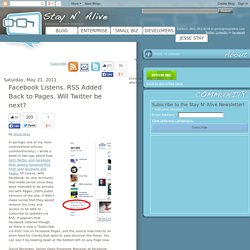 Of course, with Facebook, on user accounts that made sense since they were intended to be private, but with Pages, 100% public versions of the site, it didn't make sense that they would remove the links and access to be able to subscribe to updates via RSS. It appears that Facebook listened though, as there is now a "Subscribe via RSS" link on Facebook Pages, and the source now links to an atom feed for clients that want to auto-discover the feeds. You can see it by looking down at the bottom left on any Page now. David Recordon, Senior Open Programs Manager at Facebook, mentioned in the comments of my previous article, "I actually think you're misinterpreting the reasoning here. Facebook Wants to Be Your One True Login. Facebook and AOL announced last night a partnership that will integrate a user's Facebook friends into their AOL Instant Messenger.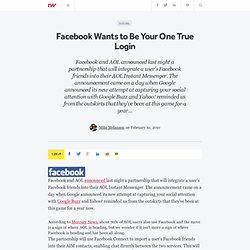 The announcement came on a day when Google announced its new attempt at capturing your social attention with Google Buzz and Yahoo! Reminded us from the outskirts that they've been at this game for a year now. The Age Of Facebook. Two years ago I was on the Charlie Rose show and we talked about, among other startups and trends, Facebook.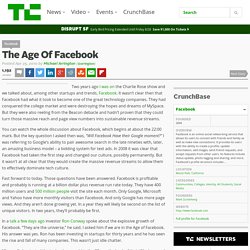 It wasn't clear then that Facebook had what it took to become one of the great technology companies. They had conquered the college market and were destroying the hopes and dreams of MySpace. But they were also reeling from the Beacon debacle and hadn't proven that they could turn those massive reach and page view numbers into sustainable revenue streams. You can watch the whole discussion about Facebook, which begins at about the 22:00 mark. But the key question I asked then was, "Will Facebook Have their Google moment?" Will Facebook Be Tomorrow's Google, and Google Tomorrow's Micros. Editor's note: Can Facebook become the next Google?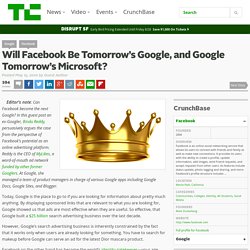 In this guest post an ex-Googler, Bindu Reddy, persuasively argues the case from the perspective of Facebook's potential as an online advertising platform. Reddy is the CEO of MyLikes, a word-of-mouth ad network funded by other former Googlers. At Google, she managed a team of product managers in charge of various Google apps including Google Docs, Google Sites, and Blogger. Today, Google is the place to go to if you are looking for information about pretty much anything. By displaying sponsored links that are relevant to what you are looking for, Google showed us that ads are most effective when they are useful. Digital Domain - World's Largest Social Network - The Open Web -
Facebook vs privacy? The Valley vs. the Kid. Facebook Articles. Facebook world. Facebook. Critiques facebook et RS. Diaspora.
---