Working with PR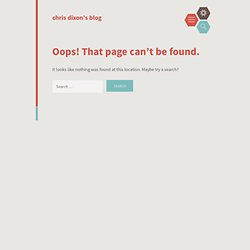 Some tips for interacting with the press
Here are a few things I've learned over the years about the best ways for entrepreneurs to interact with the press (by press I mean blogs as well as traditional media). - Don't be afraid to ask what the rules are. Is this on or off the record?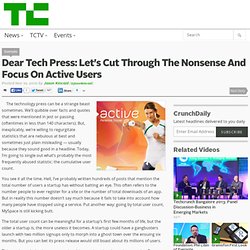 The technology press can be a strange beast sometimes. We'll quibble over facts and quotes that were mentioned in jest or passing (oftentimes in less than 140 characters).
Dear Tech Press: Let's Cut Through The Nonsense And Focus On Active Users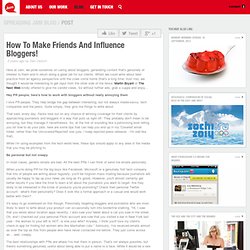 How to make friends and influence bloggers!
Here at Jam, we pride ourselves on caring about bloggers, generating content that's genuinely of interest to them and in return doing a great job for our clients. Whilst we could write about best practice from an agency perspective until the cows come home (that's a long time, trust me), we thought it would be interesting to get input from the other side of the fence. Martin Bryant of The Next Web kindly offered to give his candid views. So without further ado, grab a cuppa and enjoy...
TechCrunch is famous for not accepting PR people's embargoes.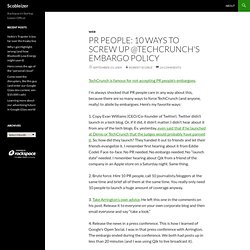 PR people: 10 ways to screw up @techcrunch's embargo policy
One thing that bugs me is that when people build cool apps or launch web based services their marketing plan doesn't really extend past trying everything in their powers to get on Techcrunch. It is the world's biggest tech blog with nearly 4 million RSS subscribers alone but we wanted to take a look and see how that translated in pure traffic terms after we got featured on the there on Wednesday. Just remember that this is just from the 24 hours the article was featured on the site and there is still plenty of traffic coming even today... Overall As you can see the traffic numbers are fairly small.
Just how much Traffic Does Techcrunch send to your website or bl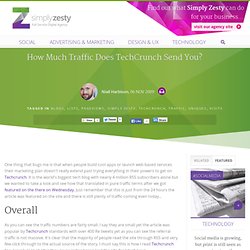 Tech startups, exclusivity and our competitors (some thoughts) -