Windows app store
It's A Mighty Hard Road To App Store Success. A bit of news that squeaked out during the Win8 festivities was the launch of the Microsoft app store.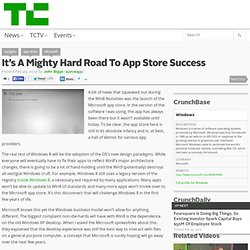 In the version of the software I was using, the app has always been there but it wasn't available until today. To be clear, the app store here is still in its absolute infancy and is, at best, a hall of demos for various app providers. The real test of Windows 8 will be the adoption of the OS's new design paradigms. Développement d'applications de style Metro. Previewing the Windows Store - Windows Store for developers. Hi.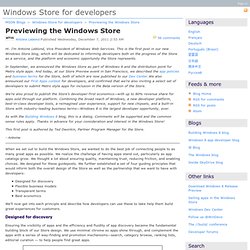 I'm Antoine Leblond, Vice President of Windows Web Services. This is the first post in our new Windows Store blog, which will be dedicated to informing developers both on the progress of the Store as a service, and the platform and economic opportunity the Store represents. In September, we announced the Windows Store as part of Windows 8 and the distribution point for Metro style apps. And today, at our Store Preview event in San Francisco, we described the app policies and business terms for the Store, both of which are now published to our Dev Center.We also announced our First Apps contest for developers, and confirmed that we're also inviting a select set of developers to submit Metro style apps for inclusion in the Beta version of the Store. Why Windows Store is a double-edged sword for developers. Microsoft added fuel to speculations about its consumer-business prowess on Tuesday with the preview of its forthcoming Windows Store that will accompany Windows 8, but there's a more fundamental issue facing Microsoft than whether consumers will buy Windows 8 tablets and phones.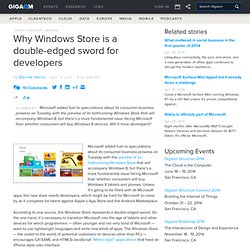 Unless it's going to be filled with all Microsoft apps, the new store needs developers, which might be hard for Microsoft to come by as it competes for talent against Apple's App Store and the Android Marketplace. According to one source, the Windows Store represents a double-edged sword. Why Windows 8 is Microsoft's most vital launch in years. Microsoft Windows was a fact of life for an entire generation raised on the PC.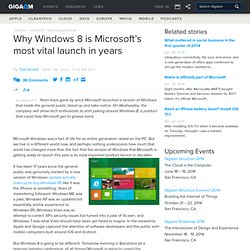 But we live in a different world now, and perhaps nothing underscores how much that world has changed more than the fact that the version of Windows that Microsoft is getting ready to launch this year is its most important product launch in decade s. Windows Dev Center. We make it easy to get started.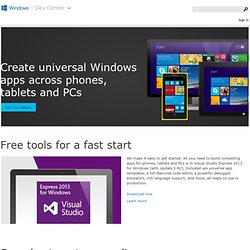 All you need to build compelling apps for phones, tablets and PCs is in Visual Studio Express 2013 for Windows (with Update 2 RC). Included are universal app templates, a full-featured code editor, a powerful debugger, emulators, rich language support, and more, all ready to use in production. We have dozens of code samples to get you up and running fast. Build 2011: First Glimpse of the Windows 8 App Store - ReadWriteCloud. There will be an apps store platform built into Windows 8, and there will be a self-service mechanism for developers to publish their wares and make money from them.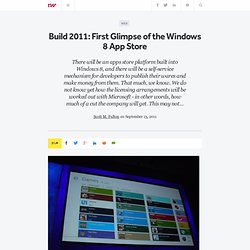 That much, we know. We do not know yet how the licensing arrangements will be worked out with Microsoft - in other words, how much of a cut the company will get. This may not yet have been decided. Will Windows 8 Have An App Store?
---