Web thinking
I've held off writing this post for a long time, because I couldn't quite get my head around all the issues. It wouldn't be accurate to say there's something "wrong" with Facebook, and it's not like I don't spend a shitload of time ego-whoring around on Twitter too. Let's face it: I'm completely & utterly addicted to social networks & tha Interwebs. but: Something is Still Missing.
How to Take Down Facebook -- Hint: It Ain't Twitter. (aka: An Open Letter to the Next Big Social Network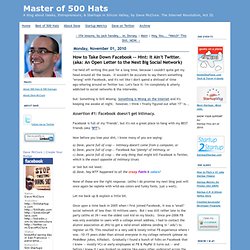 Internet Founder Tim Berners-Lee Details 4 Concerns About Future of Mobile Web (Nokia World 2010)
This morning at Nokia World 2010 in London, Sir Tim Berners-Lee, widely known as the inventor of the Web, addressed the audience in a keynote speech where he spoke about the future of mobile technology, including both the positive impacts it brings as well as the areas of concern. After encouraging developers to build for the Web, so as to deliver applications that work on all types of devices, even the ones that haven't been invented yet, he then proceeded to detail areas which need addressing, specifically privacy, accountability, network neutrality and the 80% of the world that doesn't have access to the World Wide Web. The Mobile Web Today: Location is Just "Tip of the Iceberg" Berners-Lee began his keynote by discussing the improvements we've seen in technology in recent years, most notably the ability of our devices to be location-aware. However, he says, "location-awareness is just the tip of the iceberg."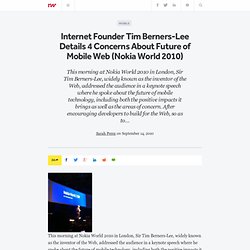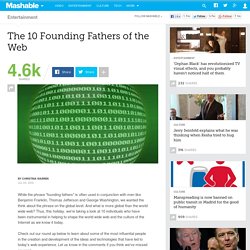 While the phrase "founding fathers" is often used in conjunction with men like Benjamin Franklin, Thomas Jefferson and George Washington, we wanted the think about the phrase on the global level. And what is more global than the world wide web? Thus, this holiday, we're taking a look at 10 individuals who have been instrumental in helping to shape the world wide web and the culture of the Internet as we know it today. Check out our round up below to learn about some of the most influential people in the creation and development of the ideas and technologies that have led to today's web experience.
The 10 Founding Fathers of the Web
Web Services as Governments - Union Square Ventures: A New York
The State of the Internet Operating System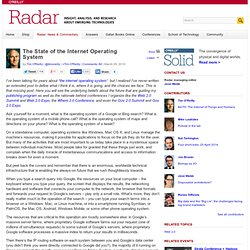 I've been talking for years about "the internet operating system", but I realized I've never written an extended post to define what I think it is, where it is going, and the choices we face. This is that missing post. Here you will see the underlying beliefs about the future that are guiding my publishing program as well as the rationale behind conferences I organize like the Web 2.0 Summit and Web 2.0 Expo, the Where 2.0 Conference, and even the Gov 2.0 Summit and Gov 2.0 Expo. Ask yourself for a moment, what is the operating system of a Google or Bing search? What is the operating system of a mobile phone call? What is the operating system of maps and directions on your phone?
On Friday, my latest tweet was automatically posted to my Facebook news feed, as always. But this time, Tom Scoville noticed a difference: the link in the posting was no longer active. It turns out that a lot of other people had noticed this too.
The War For the Web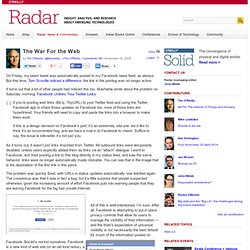 Google CEO Eric Schmidt Interview: His Thoughts On Search, Books
A week ago I had a chance to sit down for a hour-long one on one interview with Google CEO Eric Schmidt. There were no rules, and the whole interview was on the record. Part of the interview was on video as well. There's so much material that we've broken the interview notes up into a few different subject areas.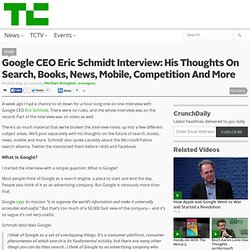 Google CEO Eric Schmidt On The Future Of Search: "Connect It Str
This is Part 2 of my series of posts summarizing a fascinating recent hour-long one on one interview with Google CEO Eric Schmidt. Early in the interview I asked Schmidt about the future of search. I brought up the "search is 90% done" misunderstanding from last summer.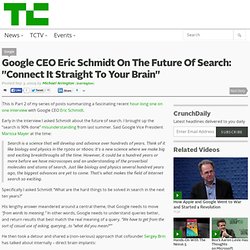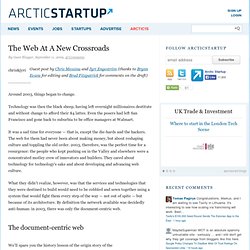 The Web At A New Crossroads
Guest post by Chris Messina and Jyri Engeström (thanks to Brynn Evans for editing and Brad Fitzpatrick for comments on the draft)………………… Around 2003, things began to change. Technology was then the black sheep, having left overnight millionaires destitute and without change to afford their $4 lattes. Even the posers had left San Francisco and gone back to suburbia to be office managers at Walmart. It was a sad time for everyone — that is, except the die-hards and the hackers.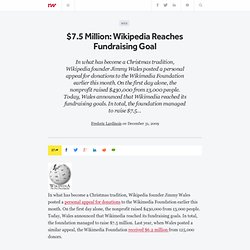 $7.5 Million: Wikipedia Reaches Fundraising Goal
In what has become a Christmas tradition, Wikipedia founder Jimmy Wales posted a personal appeal for donations to the Wikimedia Foundation earlier this month. On the first day alone, the nonprofit raised $430,000 from 13,000 people. Today, Wales announced that Wikimedia reached its fundraising goals. In total, the foundation managed to raise $7.5 million. Last year, when Wales posted a similar appeal, the Wikimedia Foundation received $6.2 million from 125,000 donors. Still No Ads
The Golden Triangle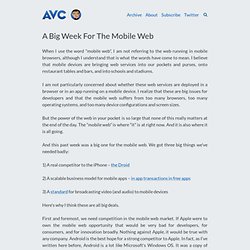 A Big Week For The Mobile Web
When I use the word "mobile web", I am not referring to the web running in mobile browsers, although I understand that is what the words have come to mean. I believe that mobile devices are bringing web services into our pockets and purses, onto restaurant tables and bars, and into schools and stadiums. I am not particularly concerned about whether these web services are deployed in a browser or in an app running on a mobile device. I realize that these are big issues for developers and that the mobile web suffers from too many browsers, too many operating systems, and too many device configurations and screen sizes. But the power of the web in your pocket is so large that none of this really matters at the end of the day. The "mobile web" is where "it" is at right now.
Today at the Web 2.0 Summit in San Francisco, Zynga CEO Mark Pincus took the stage to talk about social gaming. Pincus started out praising Facebook for opening the platform in 2007, which had led to the rise of companies like his. And they've come a long way. Zynga's first game in July 2007 was a social poker game on Facebook, and just yesterday the company hit 50 million daily active users across its properties. Pincus believes that Web 3.0 is the App Economy.
Mark Pincus: Web 3 Is The App Economy
Twitter's new list feature is one of those things that seems simple on the surface and is easily ignored. But it has deeply changed how I get my news and how I interact with the tech community. Click through these lists and you'll see a different world than you would have thought possible on Twitter. This is the order I visit the lists in the morning: Tech News Brands.
My world has changed (and I get to share with you)
by David Armano | 9:54 AM November 2, 2009 In 2009 we saw exponential growth of social media. According to Nielsen Online, Twitter alone grew 1,382% year-over-year in February, registering a total of just more than 7 million unique visitors in the US for the month. Meanwhile, Facebook continued to outpace MySpace. So what could social media look like in 2010?
Six Social Media Trends for 2010 - Conversation Starter - Harvar
Two companies that produce massive quantities of new content every day, Answers.com and Demand Media, are rapidly moving up the list of top U.S. web properties, as measured by comScore. Answers.com has risen from #26 to #13 in just two months, and Demand Media has risen from #24 to #15 in the same time period. Answers.com has nearly 38 million pages of content on the Web so far; Demand Media produces 2,000 4,000 new pieces of content a day. Is the fact that these sites produce so much content, and are quickly gaining in popularity as a result, cause for concern about the future of the Web?
The Age of Mega Content Sites - Answers.com and Demand Media
The Internet Won't Keep Us From Returning To The Dark Ages, Says
In an interview with Wired, Peter Thiel -- the former PayPal CEO, early Facebookinvestor, and Clarium Capital hedge fund manager -- says the Internet may now be a place that's "culturualy important," but he says it's also "a maturing industry" -- one that won't save us from returing to the dark ages. Wired: We've had tremendous growth in the Internet, which is how you made your fortune. Why not look there? Thiel: Obviously we've done well online.
Mary Meeker: Mobile Internet Will Soon Overtake Fixed Internet