Valuations
Surprising Insights From HubSpot's $35M Mezzanine Round
Surprising Insights From HubSpot's $35M Mezzanine Round The following is a post from my friend and co-founder/CEO of HubSpot, Brian Halligan.HubSpot just closed its mezzanine round, so I thought I'd share some surprising things I learned during the process. I'm by no means an expert in this field, so these are just the observations of one entrepreneur. A Surprising Number Of Potential Investors With Widely Varying Value Propositions My impression is that times have changed in the growth equity game. It used to be that early stage venture folks just did early stage investing, late stage venture folks just did late stage investing, and public equity investors only invested in publicly traded stocks.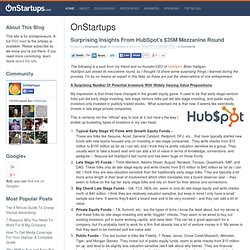 Hot startups valuations in M&A deals
Some hot startups series A & B valuations
Recently I sat down with a well-connected Silicon Valley CEO who just raised a ton of money, and who knew of other startups raising even more. There is a new startup club of younger companies raising money right now at $1 billion valuations. I already knew a couple of them, but I started asking a few venture capitalists and now I have a pretty good list of who is in that club and who is trying to get in (see below).
Who Is In The New Billion Dollar Valuation Club?
Disney has just acquired Togetherville, a social network for kids 10 years of age or younger, we've confirmed with the company.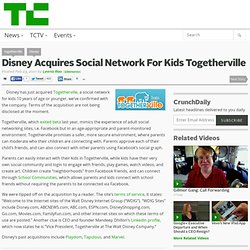 Disney Acquires Social Network For Kids Togetherville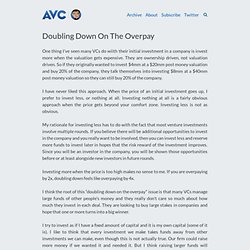 One thing I've seen many VCs do wiith their initial investment in a company is invest more when the valuation gets expensive. They are ownership driven, not valuation driven. So if they originally wanted to invest $4mm at a $20mm post money valuation and buy 20% of the company, they talk themselves into investing $8mm at a $40mm post money valuation so they can still buy 20% of the company.
Doubling Down On The Overpay
Bit.ly Raises $10 Million Series B, Still Growing Like Crazy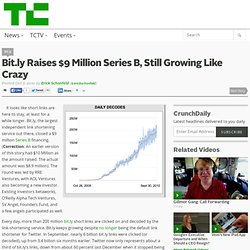 It looks like short links are here to stay, at least for a while longer.
Poland's Facebook, Nasza Klasa, rumoured to be for sale for €130m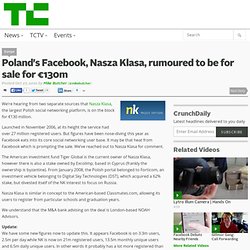 We're hearing from two separate sources that Nasza Klasa, the largest Polish social networking platform, is on the block for €130 million. Launched in November 2006, at its height the service had over 27 million registered users. But figures have been nose-diving this year as Facebook eats into its core social networking user base. It may be that heat from Facebook which is prompting the sale.
Valuation Witchcraft – Where Do Seed Valuations Come From? September 29, 2010 Given all the talk recently about rising seed valuations and AngelGate, I wanted to do a sequel to my old post on how VC's Value Early Stage Companies. The valuation dynamics are even more puzzling at the seed stage, where there is even less to value. Rather than provide a very structured formula for seed stage pricing, I just want to offer some principles of seed stage pricing to help entrepreneurs navigate this process better. Principle One: Early stage company valuations are a negotiation exercise.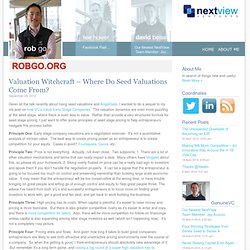 Valuation Witchcraft - Where Do Seed Valuations Come From? - robgo.org
Yammer, a status update tool for businesses, said it crossed 1 million users today and added that the number of paid users has grown by more than 57 percent from the first quarter of this year. Sometimes called Twitter for business, Yammer is an internal social network that lets co-workers and teams share what they're working on continuously. More than 70 percent of Fortune 500 companies are working with it now and overall, the company has about 80,000 companies and organizations using it. The company, founded by serial entrepreneur and former PayPal chief operating officer, David Sacks, launched two years ago.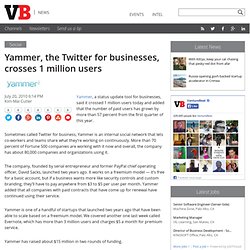 Yammer, the Twitter for businesses, crosses 1 million users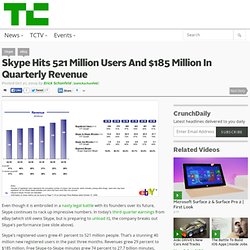 Even though it is embroiled in a nasty legal battle with its founders over its future, Skype continues to rack up impressive numbers. In today's third quarter earnings from eBay (which still owns Skype, but is preparing to unload it), the company breaks out Skype's performance (see slide above). Skype's registered users grew 41 percent to 521 million people. That's a stunning 40 million new registered users in the past three months.
Skype Hits 521 Million Users And $185 Million In Quarterly Reven
One billion users, $1 billion: how did Twitter get the numbers?
Top Tech Acquisitions Of 2009
We track a lot of acquisitions on CrunchBase.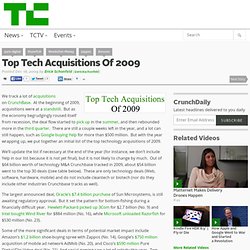 How Much is Twitter Worth? Less Than You Think
Twitter, the San Francisco-based micro-messaging startup, recently raised about $98 million dollars from T. Rowe Price, Insight Venture Partners, Spark Capital and Institutional Venture Partners, valuing the company at a whopping $1.1 billion.
Valuation metrics: What's your company worth?
There are many reasons why startups fail.
GoWalla Worth Nearly $30 Million After Financing. Time To Make Y
If you were gettin' all antsy in the pantsies about yesterday's launch of the LG Expo and it's detachable projector accessory, you might be a bit bewildered right now. A full day later, AT&T's still showing no sign of the handset. WMExperts did a bit of digging, and found out that the Expo has been delayed for at least "a few days" due to shipping issues. When this sort of stuff happens, it's generally because a cargo ship coming from Asia had to turn around for one reason or another, or otherwise never left the port.
Two years ago I posted about the three ways to grow an online media business to $50 million in revenue. In this article I focused on RPM (Revenue per thousand pageviews, = CPM x sell through rate x # of ad units per page) and drew the distinction between three strategies, and the traffic needed for each strategy to get to scale: 1. Broad Reach, low RPM, traffic in the 10s of billions of pageviews/mth 2. Demographic Targeting, moderate RPM, traffic around 1 billion pageviews/mth
How to measure how well an online media company is scaling. « Li
Demand Media Acquisition Rumors Heat Up Again. CEO Says No Way.
Evernote Reaches Two Million Lifeloggers, Half Of Them Are On Th
Valuing early stage companies | Startable - Healy Jones' & Prasa
You Don't Mean Average, You Mean Median
Top Ten Digital M&A Deals For 2010
The Dark Side of the Late 2009 M&A Surge
Polarized outcomes: Lessons from some recent exits
Amended: Twitter has NOT raised more funding.
KODA Secures Another $1.5 Million For Its Social Jobs Site
Looks Like Twitter Paid Mixer Labs $5.17M in Stock – GigaOM
Groupon Raises Huge New Round at $1.2 Billion Valuation (Updated