UK Tech scene
Seedcamp Expands; Adds €2 Million To Its Coffers, Partners With 500 Startups, AngelList. I've spent the past couple of days in London getting caught up in the Seedcamp Week craziness, meeting some of Europe's finest entrepreneurs and investors.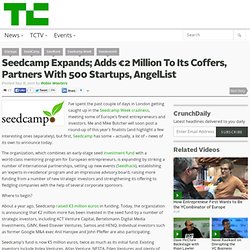 Me and Mike Butcher will soon post a round-up of this year's finalists (and highlight a few interesting ones separately), but first, Seedcamp has some – actually, a lot of – news of its own to announce today. The organization, which combines an early-stage seed investment fund with a world-class mentoring program for European entrepreneurs, is expanding by striking a number of international partnerships, setting up new events (Seedhack), establishing an 'experts-in-residence' program and an impressive advisory board, raising more funding from a number of new strategic investors and strengthening its offering to fledgling companies with the help of several corporate sponsors. Where to begin? Songkick hits 100,000 downloads of its iPhone app inside two weeks. So, one normally judges high growth in consumer apps by traction early on.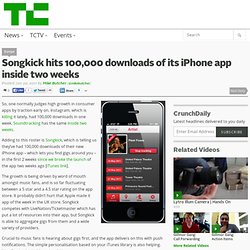 Instagram, which is killing it lately, had 100,000 downloads in one week. Soundtracking has the same inside two weeks. Adding to this roster is Songkick, which is telling us they've had 100,000 downloads of their new iPhone app – which lets you find gigs around you – in the first 2 weeks since we broke the launch of the app two weeks ago [iTunes link]. Shazam Raises Funds to Pursue Interactive Television Deals - Liz Gannes. Shazam, the popular mobile music look-up service, has raised $32 million from investors including Kleiner Perkins and Institutional Venture Partners.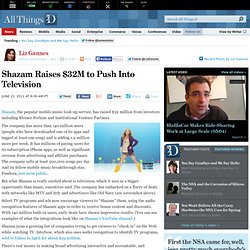 The company has more than 140 million users (people who have downloaded one of its apps and tagged at least one song) and is adding 1.2 million more per week. It has millions of paying users for its subscription iPhone apps, as well as significant revenue from advertising and affiliate purchases. The company sells at least 300,000 songs per day. The London List – London startups exceeding $10m in annual revenues. Saul Klein is a partner at European VC firm Index Ventures, previously worked for Skype, co-founded Video Island and is founder of Seedcamp.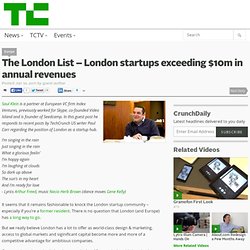 In this guest post he responds to recent posts by TechCrunch US writer Paul Carr regarding the position of London as a startup hub. I'm singing in the rain Just singing in the rain What a glorious feelin' I'm happy again I'm laughing at clouds So dark up above The sun's in my heart And I'm ready for love - Lyrics Arthur Freed, music Nacio Herb Brown (dance moves Gene Kelly) It seems that it remains fashionable to knock the London startup community – especially if you're a former resident. There is no question that London (and Europe) has a long way to go. UK: Startup Gigseen.tv Aims At Archives Of Live Performances. Posted by Tom Foremski - December 20, 2010 While in the UK I met with Neil Reed, one of the founders of Gigseen.tv (above), and San Francisco based music industry consultant John Coon, who specializes in music licensing.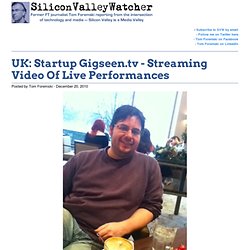 Gigseen is planning its launch in the spring of 2011 with a video streaming service showing archives of live gigs -- from fairly recent ones, to as far back as the 1960s and 1970s. There will also be additional services such as pay-per-view of live concerts; discounted concert ticket sales; streaming of music documentaries and movies; and a weekly interview series hosted by Gen Matlock, formerly of the Sex Pistols. Guest post: How does Birmingham's tech scene stack up? This is a guest post by Simon Jenner, Head of Incubation for Birmingham Science Park Aston.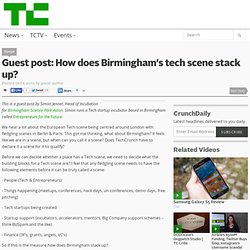 Simon runs a Tech startup incubator based in Birmingham called Entrepreneurs for the Future. We hear a lot about the European Tech scene being centred around London with fledgling scenes in Berlin & Paris. This got me thinking, what about Birmingham? It feels like we are in a scene, but when can you call it a scene? Does TechCrunch have to declare it a scene for it to qualify? The London startup scene: Too much funding, boozing and not enough collaboration and execution. This is a guest-post from Ben Colclough, founder of travel start-up Tourdust.com.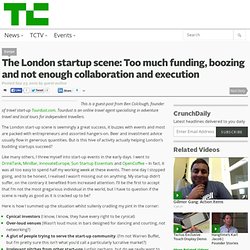 Tourdust is an online travel agent specialising in adventure travel and local tours for independent travellers. The London start-up scene is seemingly a great success, it buzzes with events and most are packed with entrepreneurs and assorted hangers-on. Beer and investment advice usually flow in generous quantities. But is this hive of activity actually helping London's budding startups succeed? Like many others, I threw myself into start-up events in the early days. Inventor of the Web Gets Backing to Build Web of Data. Sir Tim Berners-Lee, inventor of the World Wide Web, and prominent researcher Nigel Shadbolt will lead a new British Institute for Web Science with $45 million in government backing.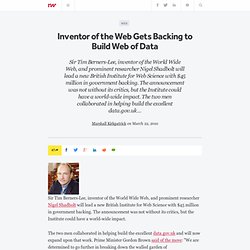 The announcement was not without its critics, but the Institute could have a world-wide impact. The two men collaborated in helping build the excellent data.gov.uk and will now expand upon that work. Prime Minister Gordon Brown said of the move: "We are determined to go further in breaking down the walled garden of Government...This Institute will help place the UK at the cutting edge of research on the Semantic Web and other emerging web and internet technologies.
" Web Inventor Heads Up British Web Science Institute - Looks To C. Posted by Tom Foremski - March 22, 2010 Associated Press reports that Tim Berners Lee, who developed the world wide web, a method of viewing and displaying pages of content, will head the UK's Institute of Web Science.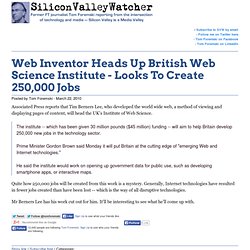 The institute -- which has been given 30 million pounds ($45 million) funding -- will aim to help Britain develop 250,000 new jobs in the technology sector. Prime Minister Gordon Brown said Monday it will put Britain at the cutting edge of "emerging Web and Internet technologies. " He said the institute would work on opening up government data for public use, such as developing smartphone apps, or interactive maps.
---