Twitter
Twitter Is Quietly Building A Huge Business. Twitter Ad Revenues to Near $400 Million by 2013. Twitter will earn $139.5 million in global ad revenues this year, up 210% from $45 million in 2010, according to a new forecast from eMarketer.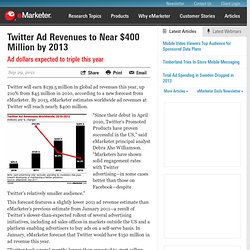 By 2013, eMarketer estimates worldwide ad revenues at Twitter will reach nearly $400 million. "Since their debut in April 2010, Twitter's Promoted Products have proven successful in the US," said eMarketer principal analyst Debra Aho Williamson. "Marketers have shown solid engagement rates with Twitter advertising—in some cases better than those on Facebook—despite Twitter's relatively smaller audience." Twitter's U.S. Growth Is Stalling. In 2010, Twitter became a truly global phenomenon with 25 billion tweets, some of them quite powerful.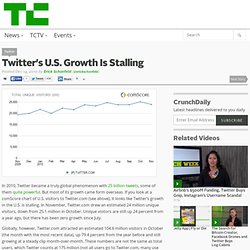 But most of its growth came form overseas. If you look at a comScore chart of U.S. visitors to Twitter.com (see above), it looks like Twitter's growth in the U.S. is stalling. In November, Twitter.com drew an estimated 24 million unique visitors, down from 25.1 million in October. Unique visitors are still up 24 percent from a year ago, but there has been zero growth since July. Globally, however, Twitter.com attracted an estimated 104.6 million visitors in October (the month with the most recent data), up 79.4 percent from the year before and still growing at a steady clip month-over-month.
Bidding War For Twitter Raises Valuation To Nearly $4 Billion. Kleiner Perkins Currently In Pole Position. Two weeks ago we reported that Twitter was mulling over raising a big new round of financing and the expected valuation was in the $3 billion range.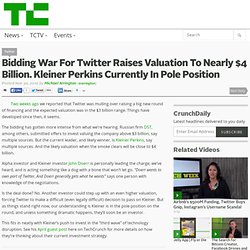 Things have developed since then, it seems. The bidding has gotten more intense from what we're hearing. Russian firm DST, among others, submitted offers to invest valuing the company above $3 billion, say multiple sources. But the current leader, and likely winner, is Kleiner Perkins, say multiple sources. Twitter to Sell 50% of All Tweets for $360k/Year Through Gnip.
Twitter announced today a new partnership with social data streaming service Gnip at the Defrag Conference outside of Denver: Gnip will offer 50% of all the messages posted to Twitter for $360,000 per year, or 5% of all messages for $60,000 per year.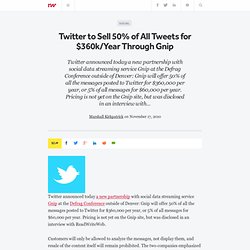 Pricing is not yet on the Gnip site, but was disclosed in an interview with ReadWriteWeb. Customers will only be allowed to analyze the messages, not display them, and resale of the content itself will remain prohibited. If Twitter Raises Another Round, It Won't Be Because It's Figured Out How To Make Money. DST May Make Huge Twitter Investment. Why Twitter's New CEO Will be Good for Everyone. World-changer Evan Williams has stepped down as the CEO of micromessaging social network Twitter, the company announced today, and will pass that role to serial entrepreneur and company COO Dick Costolo.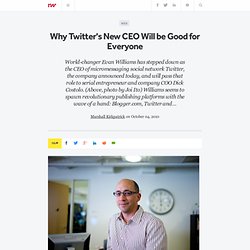 (Above, photo by Joi Ito) Williams seems to spawn revolutionary publishing platforms with the wave of a hand: Blogger.com, Twitter and, though it didn't work out as well, the podcasting platform Odeo. Costolo is best known to date for his work at Feedburner, the RSS publishing and analytics service bought and squandered by Google. RSS has been widely derided as too hard for consumers and relegated to obscurity "under the hood" - replaced even in the lives of many tech-watchers by Twitter. Costolo is uniquely fortunate to get to steer both of those ships in his career.
Twitter Marketing Language
Twitter Has 145M Users, Mobile Use Up 62 Percent « Mobile use of Twitter has climbed by more than 60 percent since April, when the company introduced its official iPhone client, Twitter CEO Ev Williams said in a status update posted to the company's blog.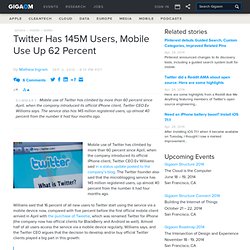 The Twitter founder also said that the microblogging service has 145 million registered users, up almost 40 percent from the number it had four months ago. Williams said that 16 percent of all new users to Twitter start using the service via a mobile device now, compared with five percent before the first official mobile client arrived in April with the purchase of Tweetie, which was renamed Twitter for iPhone (the company now has official clients for BlackBerry and Android as well). Almost half of all users access the service via a mobile device regularly, Williams says, and the Twitter CEO argues that the decision to develop and/or buy official Twitter clients played a big part in this growth:
---