Startup school
Sequoia's Greg McAdoo On The Opportunities Of A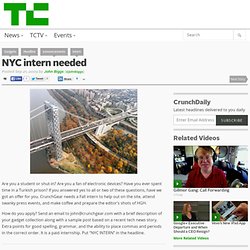 Are you a student or shut-in? Are you a fan of electronic devices? Have you ever spent time in a Turkish prison? If you answered yes to all or two of these questions, have we got an offer for you. CrunchGear needs a Fall intern to help out on the site, attend swanky press events, and make coffee and prepare the editor's shots of HGH. How do you apply?
Wired Editor-in-Chief Chris Anderson is now speaking at Y Combinator's Startup School about Freemium Business Models. Anderson likened freemium to handing out muffins on the street to entice people to start eating your muffins. But with muffins there's a significant cost to giving away each muffin. With digital goods, you can give away 90% of your product for free, without any cost for those goods. He says 'free users' aren't free loaders, and that it's okay to let the minority (paid users) subsidize the majority. Because the free users will recommend to friends, it's a great form of marketing.
Wired Editor Chris Anderson On Freemium Business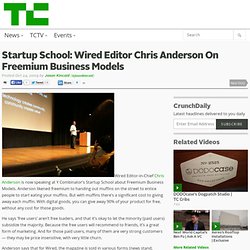 Ev Williams and Biz Stone have just taken the stage at Startup School, where they'll be taking many questions form the audience. You can submit questions by tweeting a question like this "@poll _________" (where the blank is your question). I'll be liveblogging the session. Q: What was the original motivation behind Twitter? Biz: We should start with Odeo. We were working at Odeo, we weren't as passionate about the podcasting service as we should have been.
Ev Williams And Biz Stone Admit Even Twitter Tho
Zynga founder Mark Pincus is the final speaker at Y Combinator Startup School 2009. My notes on his talk are below. Pincus kicked off his talk by asking the audience how many wanted to become great entrepreneurs (much of the room raised their hand). But fewer raised their hand about becoming a world class CEO, which is something Pincus says they need to address. Out of college, Pincus says he went into banking and then business school, after which he worked in major corporations. He says that sometimes entrepreneurs are born after finding that nothing lese works for them, explaining "I got kicked out of some of the best companies in America".
Mark Pincus Talks About Becoming A Great CEO, Wi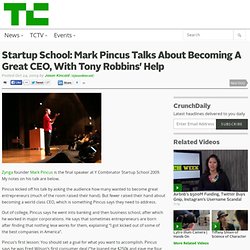 Facebook founder and CEO Mark Zuckerberg has taken the stage at Startup School, where Y Combinator's Jessica Livingston is interviewing him. I'm liveblogging the interview below. Mark Zuckerberg: "I love being here. These are like, my people." Q: I want to go way back, before Facebook.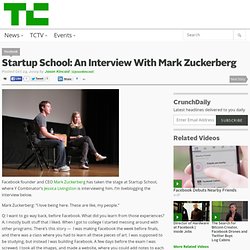 An Interview With Mark Zuckerberg
Y combinator's annual startup school event was held in Berkeley last Saturday and featured a stellar lineup of speakers including the founders of Twitter, Facebook and Zappos. The founders speaking were almost universally charming and funny, even Mark Zuckerberg who I was determined to dislike (he does look around 12 though). This reinforces my belief that charm goes a long way in business. Jason Fried of 37signals gave one of the talks which seemed most relevant to European startups. His business partner is actually from Copenhagen and they worked together for 2 years before meeting in person.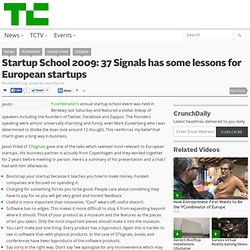 37 Signals has some lessons for European st