Soundcloud
SoundCloud has 8 million users and a new iPad app — Apple News, Tips and Reviews
SoundCloud, one of my favorite new music services, has launched a brand new iPad app, and it looks spectacular. SoundCloud is a social music creation, collaboration and distribution platform. The Berlin-based company started by Swedish entrepreneurs Alexander Ljung (CEO) and Eric Wahlforss (CTO) has also reached the 8 million creator mark. SoundCloud had 3 million creators back in February, and a million users in 2010.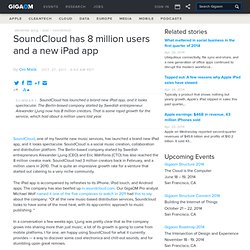 SoundCloud Passes 4 Million Users, Partners With Headliner.fm To Give Bands A Killer Promotional Tool
By now, you may have run across a SoundCloud audio track somewhere out there in the wild, wooly Interwebs — perhaps during one of your mad, late-night music searches. In which case, you're familiar with the tell-tale signs: The scrolling orange cursor, the messages tagged mid-song, and that distinctive social waveform layout. For those who have no idea what I'm talking about, SoundCloud is the fast-scaling, Berlin-based audio sharing platform that enables music-makers and audio-lovers to upload and share audio tracks. Because of SoundCloud's somewhat unique visualization (tracks are laid out horizontally in waveform, as they might appear were they fresh out of the studio, or playing in GarageBand or some other music creation app), users can add comments to the waveform at specific times during the track. (Like, "you clearly stole this guitar riff from Steve Vai, loser", for example.)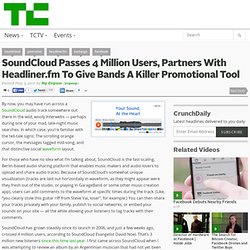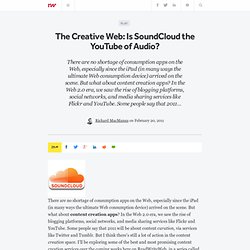 There are no shortage of consumption apps on the Web, especially since the iPad (in many ways the ultimate Web consumption device) arrived on the scene. But what about content creation apps? In the Web 2.0 era, we saw the rise of blogging platforms, social networks, and media sharing services like Flickr and YouTube. Some people say that 2011 will be about content curation, via services like Twitter and Tumblr. But I think there's still a lot of action in the content creation space.
The Creative Web: Is SoundCloud the YouTube of Audio?
Post-pivot, SoundCloud reaches three million registered users
SoundCloud, the audio platform originally targeted at music makers but now a wider consumer play, has announced that it's reached three million registered users. And considering that the Berlin-based startup was at a million users as recently as last May – pre-pivot, if you will – the change of direction would appear to be paying off or at least hasn't affected the company's growth trajectory negatively. That said, these are registered users-only not active users as it were but nonetheless growth does look steady. To put this into further context, SoundCloud says it added one million users in the last 100 days, leaving founder and CEO Alexander Ljung to describe it as an "exponential increase" and proof that the startup is "on the right track". It's likely to be music to the ears – pun acknowledged – to SoundCloud's backers too.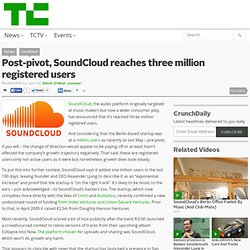 SoundCloud is courting more investment in the form of offers from Index Ventures and Union Square Ventures, if German startup blog Gruenderszene is to be believed. We've reached out to the company for comment. It's in fact quite likely that SoundCloud is looking to raise another round since its last was in April 2009, from Doughty Hanson Ventures for EUR 2.5 million. Since then it has scaled in adoption and taken on bigger offices and more staff.
Is SoundCloud raising funding again via Index and Union Square?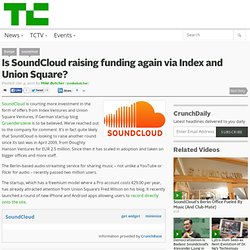 Confirmed: SoundCloud takes funding from Index and Union Square
As we hinted predicted four days ago, SoundCloud was indeed talking to Index Ventures and Union Square Ventures about investing. It's confirmed today on their blog that both firms have made undisclosed investments. SoundCloud was looking to raise another round since its last was in April 2009, from Doughty Hanson Ventures for EUR 2.5 million. Since then it has scaled in adoption and taken on bigger offices and more staff. The Berlin-based audio-streaming service for sharing music – not unlike a YouTube or Flickr for audio – recently passed two million users. The startup, which has a freemium model where a Pro account costs €29.00 per year, has already attracted attention from Union Square's Fred Wilson on his blog.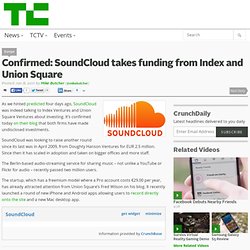 SoundCloud