Some Expectations
Is it a Good Idea to Have Ads in Tweets? Advertising has driven the majority of Internet innovation My firm GRP Partners recently funded a young LA based company named Ad.Ly that is an "in-stream advertising" company currently focused on monetizing Twitter.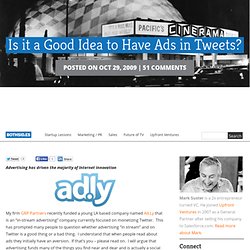 This has prompted many people to question whether advertising "in stream" and on Twitter is a good thing or a bad thing. The Real Power of Twitter is Link Sharing. This is the fourth posting in a series I'm calling Twitter 101 for all those that say "I don't get it?"
If you want to see the full outline click on the Twitter 101 link. In the second post I talked about Twitter being like Instant Messaging (IM) and text messaging (SMS) and that is the reason for the 140 character limit. Many people I speak with mock the 140 character limit as it was even parodied by Maureen Dowd in this much mocked Op-Ed in the NY Times. Twitter Should Decentralize (And Make Money) Via Twitter Server. Why Twitter is underhyped and is probably worth five to 10 billi. Why people care how Twitter makes money.
Friday, April 03, 2009 by Dave Winer.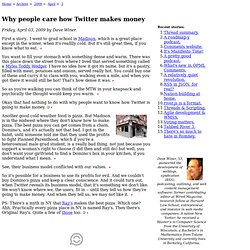 First a story.. I went to grad school in Madison, which is a great place except in the winter, when it's realllly cold. But it's still great then, if you know what to eat. You want to fill your stomach with something dense and warm. There was this place down the street from where I lived that served something called a Myles Teddy Wedger.
---