Smart biz dev deals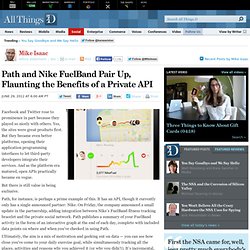 Path and Nike FuelBand Pair Up, Flaunting the Benefits of a Private AP - Mike Isaac - Social
Facebook and Twitter rose to prominence in part because they played so nicely with others. Yes, the sites were great products first.
Flipboard Planning To Release Android Beta For Everyone Who Doesn't Have A Galaxy S III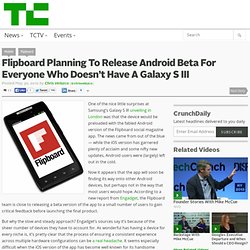 One of the nice little surprises at Samsung's Galaxy S III unveiling in London was that the device would be preloaded with the fabled Android version of the Flipboard social magazine app. The news came from out of the blue — while the iOS version has garnered plenty of acclaim and some nifty new updates, Android users were (largely) left out in the cold. Now it appears that the app will soon be finding its way onto other Android devices, but perhaps not in the way that most users would hope.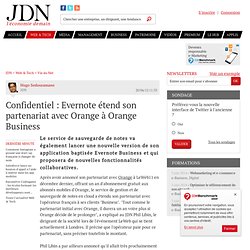 Confidentiel : Evernote étend son partenariat avec Orange à Orange Business
Le service de sauvegarde de notes va également lancer une nouvelle version de son application baptisée Evernote Business et qui proposera de nouvelles fonctionnalités collaboratives. Après avoir annoncé son partenariat avec Orange à LeWeb11 en décembre dernier, offrant un an d'abonnement gratuit aux abonnés mobiles d'Orange, le service de gestion et de sauvegarde de notes en cloud a étendu son partenariat avec l'opérateur français à ses clients "Business". "Tout comme le partenariat initial avec Orange, il durera un an voire plus si Orange décide de le prolonger", a expliqué au JDN Phil Libin, le dirigeant de la société lors de l'événement LeWeb qui se tient actuellement à Londres.
Curation Service Storify Partners With Pulse In First-Ever Syndication Deal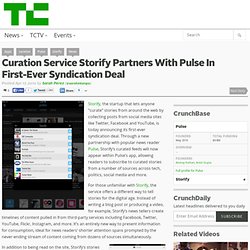 Storify, the startup that lets anyone "curate" stories from around the web by collecting posts from social media sites like Twitter, Facebook and YouTube, is today announcing its first-ever syndication deal.
Spotify Has Snagged 4 Million New Users In Six Weeks
GetGlue integrates with Tumblr and creates blog widgets
Two of my favorite tech underdogs, the privacy-focused search engine DuckDuckGo and the desktop version of Opera's browser, have finally banded together. While most browsers only feature the most popular three or four search engines in their default search engine list, Opera's latest release now also includes DuckDuckGo as an option next to the likes of Google, Bing and Yahoo.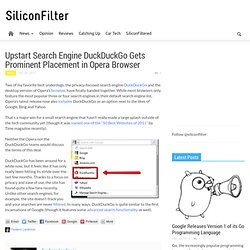 Upstart Search Engine DuckDuckGo Gets Prominent Placement in Opera Browser
Announcing the Punchfork Recipe API and a Search Partnership with DuckDuckGo | Punchfork Blog
Jul 2011 We're excited to share two major announcements: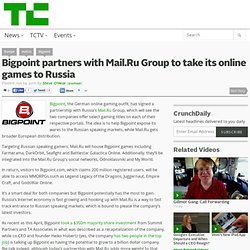 Bigpoint partners with Mail.Ru Group to take its online games to Russia
Bigpoint, the German online gaming outfit, has signed a partnership with Russia's Mail.Ru Group, which will see the two companies offer select gaming titles on each of their respective portals. The idea is to help Bigpoint expose its wares to the Russian speaking markets, while Mail.Ru gets broader European distribution.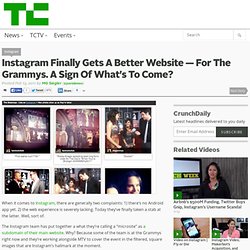 Instagram Finally Gets A Better Website — For The Grammys. A Sign Of What's To Come?
When it comes to Instagram, there are generally two complaints: 1) there's no Android app yet. 2) the web experience is severely lacking.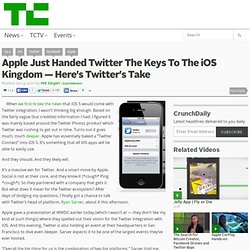 Apple Just Handed Twitter The Keys To The iOS Kingdom — Here's Twitter's Take
When we first broke the news that iOS 5 would come with Twitter integration, I wasn't thinking big enough. Based on the fairly vague (but credible) information I had, I figured it was mainly based around the Twitter Photos product which Twitter was rushing to get out in time. Turns out it goes much, much deeper.
Dropbox Inc., the Web storage provider with 25 million users, signed deals with mobile carrier Softbank Corp. (9984) and handset maker Sony Ericsson Mobile Communications AB to attract more customers in Asia and Europe. The agreement means Dropbox's file-sharing application will be preloaded on two phones running on Softbank's network in Japan in early June, said Lars Fjeldsoe-Nielsen, head of mobile business development at Dropbox, in an interview.
Dropbox Partners With Softbank, Sony Ericsson to Build Asia, Europe Growth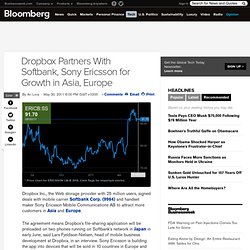 Alt Search Engine blekko Partners with Flipboard for RSS Search
This morning, alternative search engine service blekko announced a partnership with hot iPad social magazine Flipboard to power its content searches. Under the new deal, users looking for new content to subscribe to within Flipboard can discover and browse for items by keyword. The content will come from RSS feeds, the Web feed format used to publish regularly updated news in a structured format. But unlike with traditional RSS readers, like Google Reader, for example, the feeds will not be displayed in the typical inbox-like view often associated with feed-reading services.