Pinterest
Confirmed: Pinterest Raises $27 Million Round Led By Andreessen Horowitz. Hot online pinboard site Pinterest has closed a $27 million round of funding led by Andreessen Horowitz, we've confirmed.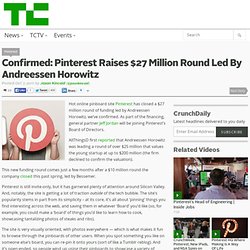 As part of the financing, general partner Jeff Jordan will be joining Pinterest's Board of Directors. AllThingsD first reported that Andreessen Horowitz was leading a round of over $25 million that values the young startup at up to $200 million (the firm declined to confirm the valuation). This new funding round comes just a few months after a $10 million round the company closed this past spring, led by Bessemer. Pinterest is still invite-only, but it has garnered plenty of attention around Silicon Valley. And, notably, the site is getting a lot of traction outside of the tech bubble.
Pinterest Has Already Pinned Down $10M At A $40M Valuation. If you've attended any mass gathering of investors in Silicon Valley lately, you've probably heard some buzz about invite-only visual bookmarking site Pinterest raising a "massive" round.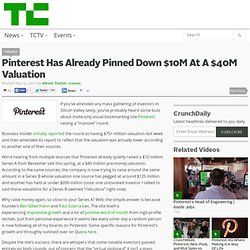 Business Insider initially reported the round as having $75+ million valuation last week and then amended its report to reflect that the valuation was actually lower according to another one of their sources. We're hearing from multiple sources that Pinterest already quietly raised a $10 million Series A from Bessemer late this spring, at a $40 million pre-money valuation. According to the same sources, the company is now trying to raise around the same amount in a Series B whose valuation one source has pegged at around $125 million and another has held at under $200 million (note: one uninvolved investor I talked to said those valuations for a Series B seemed "ridiculous" right now).
Why raise money again, so close to your Series A? Pinterest Has Already Pinned Down $10M At A $40M Valuation (Alexia Tsotsis/TechCrunch) At this moment, the must-read stories in technology are scattered across hundreds of news sites and blogs.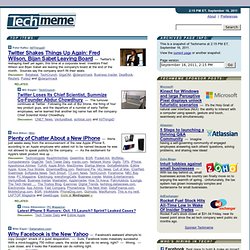 That's far too much for any reader to follow. Fortunately, Techmeme arranges all of these links into a single, easy-to-scan page. Our goal is to become your tech news site of record. Story selection is accomplished via computer algorithm extended with direct human editorial input. Our human editors are: Lidija Davis, Mahendra Palsule, Andre Garrigo, David Connell, Jarrod Cugley, and occasionally Omer Horvitz and Techmeme founder Gabe Rivera. Pinterest. Description Pinterest is a tool to help you discover and plan things you want to do.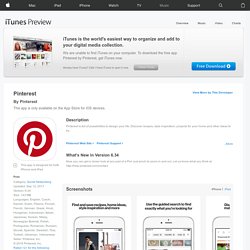 When you find something that looks interesting, just Pin it! Pins are visual bookmarks that you organize and share the way you want. With Pinterest you can: • Plan projects—home remodels, car restorations, garden redesigns and other DIYs. Myspace Accused Of Ripping Off Stealth Startup Pinterest. This morning Pinterest co-founders Ben Silberman, Paul Sciarra and Yashwanth Nelapati woke up to a barrage of tweets, "So @myspace has completely ripped off @pinterest.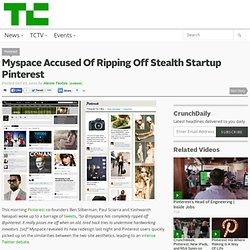 It really pisses me off when an old, tired hack tries to undermine hardworking inovators. [sic]" Myspace revealed its new redesign last night and Pinterest users quickly picked up on the similarities between the two site aesthetics, leading to an intense Twitter debate.
---
PED Sep 26 2011

Pinterest launched its iphone app in april 2011. 1,5 months later, their had doubled their traffic
---