Pinterest
Hot online pinboard site Pinterest has closed a $27 million round of funding led by Andreessen Horowitz, we've confirmed. As part of the financing, general partner Jeff Jordan will be joining Pinterest's Board of Directors.
Confirmed: Pinterest Raises $27 Million Round Led By Andreessen Horowitz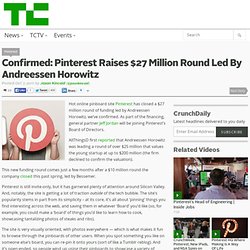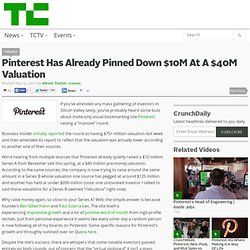 Pinterest Has Already Pinned Down $10M At A $40M Valuation
If you've attended any mass gathering of investors in Silicon Valley lately, you've probably heard some buzz about invite-only visual bookmarking site Pinterest raising a "massive" round. Business Insider initially reported the round as having $75+ million valuation last week and then amended its report to reflect that the valuation was actually lower according to another one of their sources.
At this moment, the must-read stories in technology are scattered across hundreds of news sites and blogs. That's far too much for any reader to follow.
Pinterest Has Already Pinned Down $10M At A $40M Valuation (Alexia Tsotsis/TechCrunch)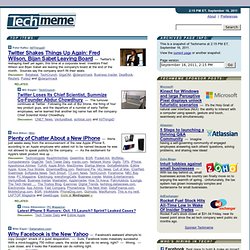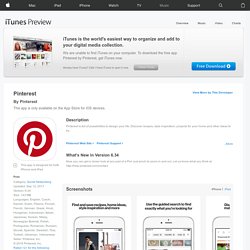 Description Pinterest is a tool to help you discover and plan things you want to do.
Myspace Accused Of Ripping Off Stealth Startup Pinterest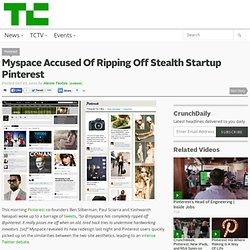 This morning Pinterest co-founders Ben Silberman, Paul Sciarra and Yashwanth Nelapati woke up to a barrage of tweets, "So @myspace has completely ripped off @pinterest. It really pisses me off when an old, tired hack tries to undermine hardworking inovators. [sic]" Myspace revealed its new redesign last night and Pinterest users quickly picked up on the similarities between the two site aesthetics, leading to an intense Twitter debate.