Pearltrees & Web 2.0 expo
Pearltrees Launches Embeds - Makes Bookmarks More Useful. Online bookmarking tools haven't really changed much over the last few years.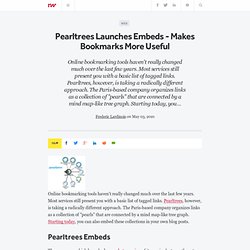 Most services still present you with a basic list of tagged links. Pearltrees, however, is taking a radically different approach. Six Startups Blast Off From The Web 2.0 Launchpad. Every year at Web 2.0 Expo, a handful of promising startups are invited on stage to give quick, five-minute pitches to an audience of conference attendees and a panel of judges (you can see our past coverage on these events here and here).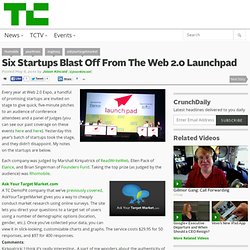 Yesterday this year's batch of startups took the stage, and they didn't disappoint. My notes on the startups are below. Each company was judged by Marshall Kirkpatrick of ReadWriteWeb, Ellen Pack of Elance, and Brian Singerman of Founders Fund. Pearltrees "Super Embed" Feature. Pearltrees' new Super Embed feature revealed. As the amount of content in various places seems to increase with each passing day, the need for smart curation online only becomes inevitable.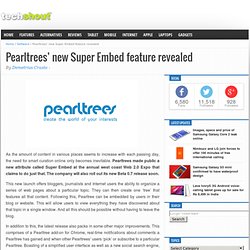 Pearltrees made public a new attribute called Super Embed at the annual west coast Web 2.0 Expo that claims to do just that. The company will also roll out its new Beta 0.7 release soon. This new launch offers bloggers, journalists and Internet users the ability to organize a series of web pages about a particular topic. Pearltrees at Web 2.0 Launch Pad. Pearltrees "Super Embed" Feature. PearlTrees Launches Super-Embed Version At Web 2.0. Posted by Tom Foremski - May 3, 2010 I've been doing some work with Pearltrees, which has become my favorite curation tool because it is a very good media technology -- it allows me to publish a visual representation of web sites and how they are connected.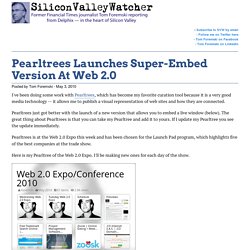 Pearltrees just got better with the launch of a new version that allows you to embed a live window (below). The great thing about Pearltrees is that you can take my Pearltree and add it to yours. If I update my Pearltree you see the update immediately. Pearltrees is at the Web 2.0 Expo this week and has been chosen for the Launch Pad program, which highlights five of the best companies at the trade show.
Pearltrees comes of age | jrstrang.ca. Welcome to HostPapa!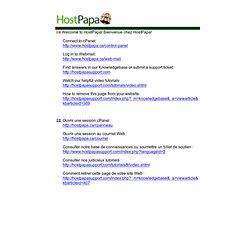 Bienvenue chez HostPapa! Connect to cPanel: Pearltrees - now embedded. Pearltrees Unveils SUPER EMBED at Web 2.0 Expo. « NYC Artists Speak Up: Is American Mediocrity Killing the Artist in Us?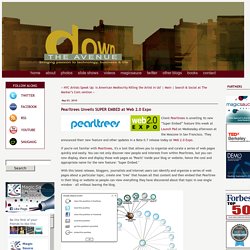 | Main | Search & Social at The Marker's Com.vention » May 03, 2010 Pearltrees Unveils SUPER EMBED at Web 2.0 Expo Client Pearltrees is unveiling its new "Super Embed" feature this week at Launch Pad on Wednesday afternoon at the Moscone in San Francisco. They announced their new feature and other updates in a Beta 0.7 release today at Web 2.0 Expo.
---