Linkedin IPO
Anyone Who Still Thinks LinkedIn's IPO Pop Was Good Should Look At Amazon
Bezos refused to be screwed. Two weeks ago, Wall Street drastically underpriced LinkedIn's IPO, costing the company and its selling shareholders about $200 million in lost proceeds. In the wake of this, many in Silicon Valley and elsewhere, including LinkedIn investor Peter Thiel, have begun to observe that IPO "pops"--a huge jump in the price of the stock on the first day of trading--are bad, not good. This is a very healthy development. A big IPO pop means that the company going public has given a huge, unwarranted gift to institutional money managers--and that gift has come right out of the pockets of the company and its selling shareholders. The company has also walked away from the IPO with much less money than it should have.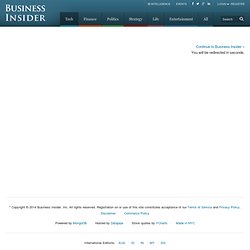 LinkedIn's IPO success is certainly important to the company and its backers, but the more lasting impact will be within technology at large. By Jonathan Tower, contributor In the 72 hours since LinkedIn went public, we've heard sweeping re-assessments of technology markets in general, and the prospects for consumer web/social media IPOs in particular.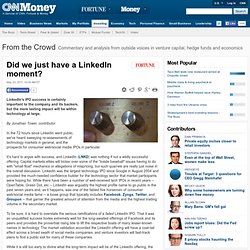 Did we just have a LinkedIn moment? - Term Sheet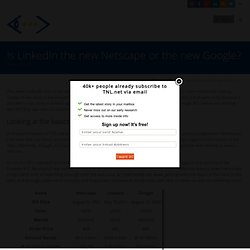 Is LinkedIn the new Netscape or the new Google?
This week, LinkedIn, the social network for professionals went public and many prognosticators have mentioned it being similar to the stock craze around Netscape at the beginning of the dotcom era. In order to assess if that were truly the case, I decided to run some numbers against this IPO and also run some comparisons against the Google IPO, which was another tech IPO that was seen as ludicrous at the time. Looking at the basics As frequent readers of TNL.net know, I have to a tendency to try to run some numbers before passing judgement. Oftentimes, I discover that my hunch are correct but, almost as often, I find some interesting and surprising nugget of information in the data.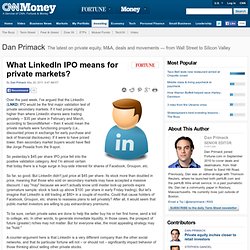 What LinkedIn IPO means for private markets?
Over the past week, I've argued that the LinkedIn (LNKD) IPO would be the first major validation test of private secondary markets. If it had priced slightly higher than where LinkedIn shares were trading privately -- $35 per share in February and March, according to SecondMarket – then it would mean the private markets were functioning properly (i.e., discounted prices in exchange for early purchase and lack of financial disclosures). If it were to have priced lower, then secondary market buyers would have fled like Jorge Posada from the 9-spot. So yesterday's $45 per share IPO price fell into the positive validation category.
PETER THIEL: Wall Street Screwed LinkedIn, Mispriced IPO
Screenshot Mad as hell and not going to take it anymore. PayPal founder and early LinkedIn and Facebook investor Peter Thiel agrees with our assessment: The Wall Street banks that took LinkedIn (LNKD) public drastically underpriced the IPO, screwing the company and its selling shareholders out of ~$200 million.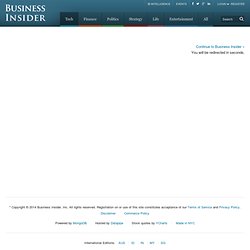 Post IPO analysis - Henry Blodget
Reid Hoffman, LinkedIn founder. LinkedIn's blockbuster IPO has triggered a predictable reaction: Howls of outrage that the valuation is obviously "insane" and that we're right back in a tech bubble again. Leaving aside the broader bubble question (which I've addressed here), is the former assertion right? Is LinkedIn's valuation "obviously insane"? What's the company actually worth?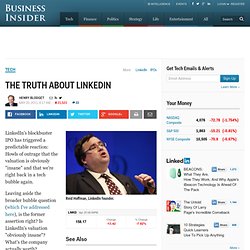 The following is written by an institutional investor who bought LinkedIn's stock (LNKD) on the IPO and is hanging on to the shares. The investor is not buying more stock at ~$100 a share, and not recommending that anyone else buy it at this level. The Bottom Line Since my original post on Monday about why I was so bullish on the impending LinkedIn IPO, I saw quite a bit of interest.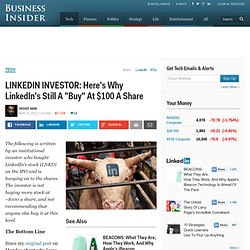 A more bullish pow
Albert Wenger: LinkedIn is Netscape of th
chris dixon: The LinkedIn IPO success w
This is a big day for professional social network LinkedIn, which was founded in 2003. After filing its S-1 with the SEC in January, the company has begin trading its shares, under the symbol LNKD, on the New York Stock Exchange this morning. As we learned yesterday, LinkedIn priced its IPO at $45 per share, giving the company a valuation of $4.5 billion. Today, the company began trading at $83.00 per share, a 84 percent increase from $45 per share. That's a $7.8 billion market cap.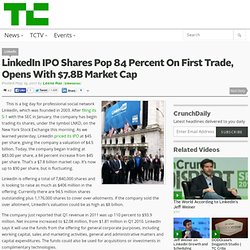 LinkedIn IPO Shares Pop 84 Percent On First Trade, Opens With $7.8B Market Cap
LinkedIn Corp: NYSE:LNKD quotes & news - Google Finance
LinkedIn Corporation (LinkedIn) is a professional network on the Internet with approximately 277 million members in over 200 countries and territories. The Company's Free Solutions includes ability to manage professional identity, ability to build and engage with professional networks, access to knowledge, insights and opportunities and ubiquitous access. The Company generates revenue across three product lines: Talent Solutions, Marketing Solutions, and Premium Subscriptions.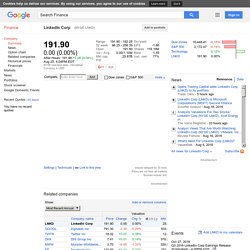 After opening to $83 per share and a market cap of $7.8 million, LinkedIn closed at $93.86 per share, giving the company a valuation of $8.9 billion. Although the professional social network priced at $45 per share, trading started at $83 (up 84 percent) and reached as high as $122.70 and as low as $80. In total, LinkedIn raised $352.8 million in gross proceeds from the offering of 7,840,000 shares, with 94.5 million shares of stock outstanding.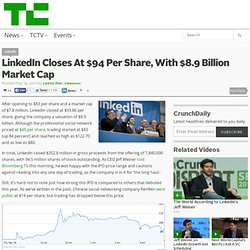 LinkedIn Closes At $94 Per Share, With $8.9 Billion Market Cap
LINKEDIN IPO: Stock Priced Too Low
Happy? Of course. But not as happy as he deserves to be. The stock of social-network LinkedIn has had a heck of an IPO debut this morning, popping 90%+ above the IPO price. That means folks like us get to write breathless stories about how much money investors are making and how everyone's partying like it's 1999.
Shortly after ringing the bell on the New York Stock Exchange, LinkedIn's CEO Jeff Weiner talked to Bloomberg Television about the IPO and the company's future plans. You can watch the full video here. As we reported this morning, the company began trading at $83.00 per share, a 84 percent increase from initial pricing of $45 per share, giving LinkedIn a $7.8 billion market cap. Shares have climbed as high as $122 per share in mid-morning trading. While some are crying Bubble, Weiner told Bloomberg that he is 'very comfortable' with the IPO price range. He said: We spent a lot of time with the right kind of investors–folks who understand the story, the fundamentals, who are in it for the long haul.
LinkedIn CEO Jeff Weiner 'Very Comfortable' With IPO Price
The IPO of social-network LinkedIn will be priced Thursday. And when the shares start trading, a chorus of pundits will point to the stock price and howl that it is proof that we're in the middle of a new tech bubble. Please. LinkedIn's stock may well trade at a high multiple, and, like other high-multiple stocks, it will certainly carry a lot of risk.
Sorry, LinkedIn's IPO Is NOT Proof Of A New Tech Bubble
LINKEDIN IPO: Here Are Wall Street's Real Estimates
LinkedIn's IPO priced at $45 a share. It will presumably trade higher when the stock opens. (Hopefully not too much higher, or the banks will have blown the pricing and robbed the company of money, the way they did with Zipcar). $45 a share is a valuation of about $4.5 billion. So, assuming a modest pop, LinkedIn will likely be valued at about $5 billion in the aftermarket. This valuation already has a chorus of pundits howling about how this is yet more confirmation of an obvious tech bubble.
Will LinkedIn's IPO Create Secondary-Market Hysteria? - Venture Capital Dispatch
Lol
We're sorry, your corporate account does not support this type of functionality. To set up your profile, you can Register for Free Or become an individual subscriber now to gain full Journal access.
5 Things You Could Buy for $4B Instead of LinkedIn
LinkedIn's Road to IPO [INFOGRAPHIC]
How LinkedIn first raised money (and endured rejection) - Term Sheet