Linkedin IPO
Anyone Who Still Thinks LinkedIn's IPO Pop Was Good Should Look At Amazon
LinkedIn's IPO success is certainly important to the company and its backers, but the more lasting impact will be within technology at large. By Jonathan Tower, contributor In the 72 hours since LinkedIn went public, we've heard sweeping re-assessments of technology markets in general, and the prospects for consumer web/social media IPOs in particular.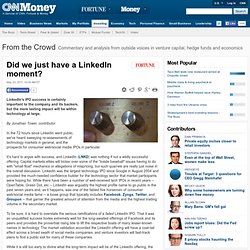 Did we just have a LinkedIn moment? - Term Sheet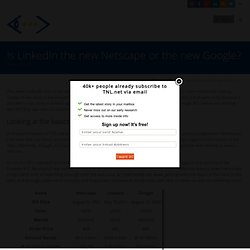 Is LinkedIn the new Netscape or the new Google?
This week, LinkedIn, the social network for professionals went public and many prognosticators have mentioned it being similar to the stock craze around Netscape at the beginning of the dotcom era.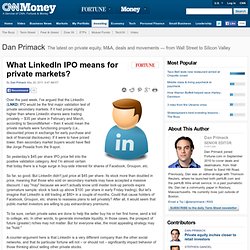 What LinkedIn IPO means for private markets?
Over the past week, I've argued that the LinkedIn (LNKD) IPO would be the first major validation test of private secondary markets.
PETER THIEL: Wall Street Screwed LinkedIn, Mispriced IPO
Post IPO analysis - Henry Blodget
A more bullish pow
Albert Wenger: LinkedIn is Netscape of th
chris dixon: The LinkedIn IPO success w
This is a big day for professional social network LinkedIn, which was founded in 2003.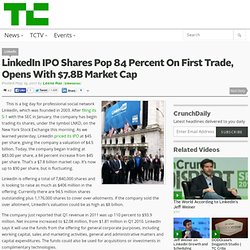 LinkedIn IPO Shares Pop 84 Percent On First Trade, Opens With $7.8B Market Cap
LinkedIn Corp: NYSE:LNKD quotes & news - Google Finance
LinkedIn Corporation (LinkedIn) is a professional network on the Internet with more than 200 million members in over 200 countries and territories. Through the Company's platform, members are able to create, manage and share their professional identity online, build and engage with their professional network, access shared knowledge and insights, and find business opportunities. Its platform provides members with solutions, including applications and tools, to search, connect and communicate with business contacts, learn about career opportunities, join industry groups, research organizations and share information.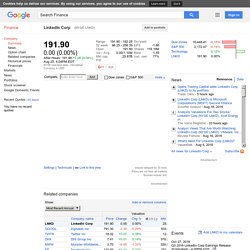 After opening to $83 per share and a market cap of $7.8 million, LinkedIn closed at $93.86 per share, giving the company a valuation of $8.9 billion. Although the professional social network priced at $45 per share, trading started at $83 (up 84 percent) and reached as high as $122.70 and as low as $80. In total, LinkedIn raised $352.8 million in gross proceeds from the offering of 7,840,000 shares, with 94.5 million shares of stock outstanding.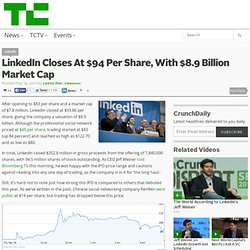 LinkedIn Closes At $94 Per Share, With $8.9 Billion Market Cap
LINKEDIN IPO: Stock Priced Too Low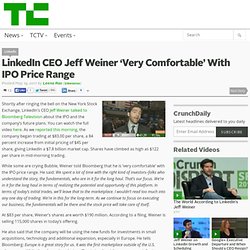 Shortly after ringing the bell on the New York Stock Exchange, LinkedIn's CEO Jeff Weiner talked to Bloomberg Television about the IPO and the company's future plans. You can watch the full video here.
LinkedIn CEO Jeff Weiner 'Very Comfortable' With IPO Price
The IPO of social-network LinkedIn will be priced Thursday.
Sorry, LinkedIn's IPO Is NOT Proof Of A New Tech Bubble
LINKEDIN IPO: Here Are Wall Street's Real Estimates
Will LinkedIn's IPO Create Secondary-Market Hysteria? - Venture Capital Dispatch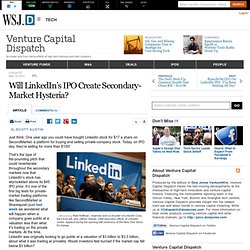 By Scott Austin
Lol
Before you go and buy LinkedIn (LNKD) shares at the IPO price of $45 - a $4 billion valuation (Ed: Shares are now trading hands at $83), it's worth looking to see what else you could get for the money. So here's my top 5 list of things to buy for $4 billion: 5.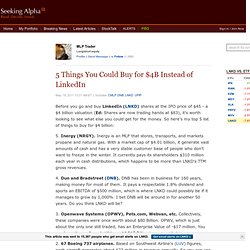 5 Things You Could Buy for $4B Instead of LinkedIn
LinkedIn's Road to IPO [INFOGRAPHIC]
LinkedIn went public last week, with investors falling over each other to buy shares at a market cap that now exceeds $9 billion. But it wasn't always so easy for the social network to raise money. LinkedIn employees in 2004 (Hower is 5th from right), upon hitting 500k users
How LinkedIn first raised money (and endured rejection) - Term Sheet