Les ayathollades
Savate
iPhone test. J'ai soif. Le Jeu des perles de verre. Un article de Wikipédia, l'encyclopédie libre.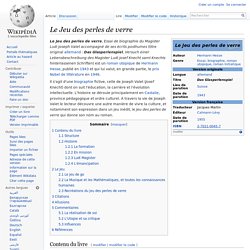 Il s'agit d'une biographie fictive, celle de Joseph Valet (Josef Knecht) dont on suit l'éducation, la carrière et l'évolution intellectuelle. L'histoire se déroule principalement en Castalie, province pédagogique et ordre culturel. À travers la vie de Joseph Valet le lecteur découvre une autre manière de vivre la culture, et notamment son expression dans un jeu inédit, le Jeu des perles de verre qui donne son nom au roman. Contenu du livre[modifier | modifier le code] Structure[modifier | modifier le code]
TornadoGuard. Le fameux ecran de down. Café franco-allemand avec Currywurst, Bretzel, Bionade et Beck's à Paris - Aller/Retour Paris Berlin à partir de 9€ lowcost. Nicolas Cynober: Antoine fan de cuisine bas... Antoine fan de cuisine basque #truestory cc. @pearltrees #fat. Antoine Msika: C'est décidé, j'arrête les... Pepito. David COBURN. Pop du jour. Tablettes tactiles : le choix des experts du Web10. Les participants de l'édition 2010 de la conférence LeWeb sont arrivés cette année avec un outil supplémentaire dans leurs attirails : la tablette tactile.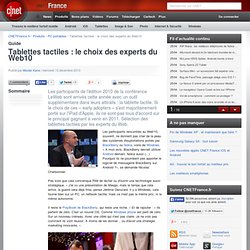 Si le choix de ces « early adopters » s'est majoritairement porté sur l'iPad d'Apple, ils ne sont pas tous d'accord sur le principal gagnant à venir en 2011. Sélection des tablettes tactiles par les experts du Web. Les participants rencontrés au Web'10, souvent, ne donnent pas cher de la peau des systèmes d'exploitations portés par BlackBerry ou Nokia, voire de Windows. « A mon avis, BlackBerry devrait utiliser Android demain. Nokia aussi (...) Pourquoi ils ne pourraient pas apporter le logiciel de messagerie BlackBerry sur Android ?»
Pepito. Up / Là-Haut - Extrait : Meet Kevin HD [VO] - une. Mojito. Facebook Headquarters by Studio O+A. San Francisco based interior design firm Studio O+A have designed the new offices for Facebook in Palo Alto, California.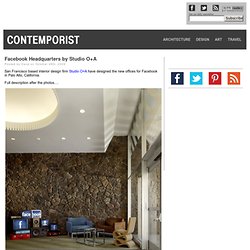 Full description after the photos…. Facebook Headquarters by Studio O+A Employees of Facebook recently moved to a new headquarters that facilitates interaction and connection, reflecting the company's mission as a social networking website provider. Formerly a laboratory facility for high-tech manufacturer Agilent Technologies, the 150,000-square-foot structure at Palo Alto's Stanford Research Park brings together more than 700 employees originally scattered throughout 10 locations in and around downtown Palo Alto. La cathédrale et le bazar. Page suivante Page précédente Table des matières La cathédrale et le bazar ( The Cathedral and the Bazaar) Auteur : Eric S.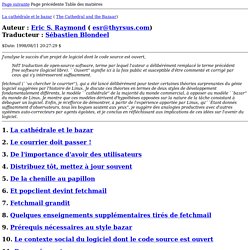 Raymond ( esr@thyrsus.com) Traducteur : Sébastien Blondeel. YouTube - How Ants Subterrain Structure's Looks Like?? Pierre-E. Daviet: Dernier sucre chez Pearltr... Sucre-89104.jpg (Image JPEG, 372x372 pixels) Sparkling_Champagne_Holidays2.jpg (Image JPEG, 1024x768 pixels) Carte de Voeu.
Oh oui spamme moi en allemand!
Des gloires déchues - tristes destins ! Diet. Le jeu du wikio. Pearltrees :: Paris, France. Sushi wasabi :: Paris, France. Le polichinelle :: Paris, France. L'etoile du kashmir :: Paris, France. Le Petit Baïona. Paris hanoi :: Paris, France. Tri Yann - La jument de Michao. Even the pinguins love Pearltrees :-) THE NEW DORK - Entrepreneur State of Mind (Jay-Z ft Alicia Keys. El Gringo, l'intégrule de Jacques Bave. Comprendre le changement comme un processus de discussion - Cair. Notes Livre blanc sur les retraites, Paris, La Documentation française, Rapports officiels, mai 1991.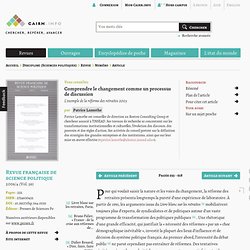 Bruno Palier, « France : de la crise aux réformes de la sécurité sociale », Revue française de sociologie, 43 (2), avril-juin 2002, p. 243-275. Didier Renard, « Dire, faire, faire croire. C'est pas très net - Guy Birenbaum : Twitter : où sont nos stars. Vanessa Demouy - Jam Is Black - Générique Coeurs Caraïbes. Message a caractere informatif. The Police - Roxanne live 1979. We are removing Flash support f. This is an important new change.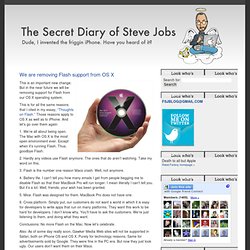 But in the near future we will be removing support for Flash from our OS X operating system. This is for all the same reasons that I cited in my essay, "Thoughts on Flash." Those reasons apply to OS X as well as to iPhone. Machete Trailer. Samba de Amigo tube de l'été 1997 ! Mike Brant laisse moi t'aimer.
---
PED Jul 30 2009

Ceci est une perle sur des mythes fondateurs

PED Jul 30 2009

Non on n'est pas psychorigides
---