Hot start-ups
Trap it
Clipboard. Pinterest. Erly. Justin TV. Canvas. Turntable. Airbnb. AddThis Indeed: Clearspring Raises $20 Million As It Rides Social Sharing Boom. The name Clearspring Technologies may not be terribly familiar to you, but chances are you've often clicked on or at least come across its AddThis buttons, which are plastered on publisher sites Web-wide.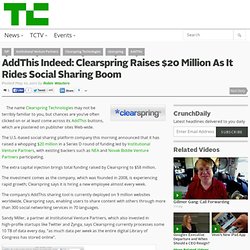 The U.S. -based social sharing platform company this morning announced that it has raised a whopping $20 million in a Series D round of funding led by Institutional Venture Partners, with existing backers such as NEA and Novak Biddle Venture Partners participating.
Socialcam's 'Instagram for Video' Is Now On The Web, Too. Socialcam, the video sharing app that was created by Justin.tv, is quickly fleshing out its feature set.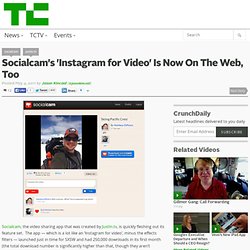 The app — which is a lot like an 'Instagram for video', minus the effects filters — launched just in time for SXSW and had 250,000 downloads in its first month (the total download number is significantly higher than that, though they aren't releasing figures until they reach their next 'big' milestone). A few weeks ago the company launched a 2.0 release that streamlined the video upload process, and today it's adding another key feature: a web version of Socialcam. Qwiki iPad App Hits 250K Downloads In 11 Days. TechCrunch Disrupt winner Qwiki launched its iPad app in the App Store a less than a week ago and after 11 days has hit the quarter of a million downloads milestone.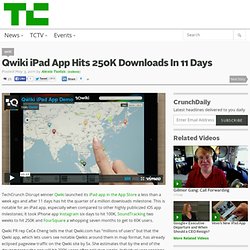 This is notable for an iPad app, especially when compared to other highly publicized iOS app milestones; It took iPhone app Instagram six days to hit 100K, SoundTracking two weeks to hit 250K and FourSquare a whopping seven months to get to 60K users. Qwiki PR rep CeCe Cheng tells me that Qwiki.com has "millions of users" but that the Qwiki app, which lets users see notable Qwikis around them in map format, has already eclipsed pageview traffic on the Qwiki site by 5x. Xydo. A new social network launched today around the sharing and engagement of news.
XYDO takes the social graph and turns it into a network of news that is automatically curated through users Twitter and Facebook streams. Think Digg and Reddit, add social news feeds automatically and you have XYDO. Digg and Reddit were two of the quintessential wave of Web 2.0 companies. They aggregated news thought user submission, allowed people to vote articles up or down and built large communities of engagement. XYDO is not that much different but adds the layer of the social graph, making its user base much wider.
Podio Is Like A Yammer With Its Own App Store And App Builder. Like a souped up Yammer with its own App store attached, Danish online workspace Podio launches to the public today after two years of being in beta.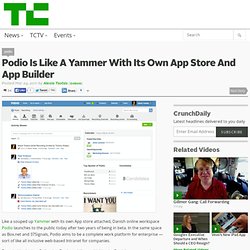 In the same space as Box.net and 37Signals, Podio aims to be a complete work platform for enterprise — sort of like all inclusive web-based Intranet for companies. Founded by Anders Pollas, Jon Froda and Kasper Hultin, the Danish startup took up Tommy Ahlers (who is best known for selling ZYB to Vodafone in 2008) as a CEO and investor in August, all in all raking in $4.5M in funding. Look out Yammer – Podio emerges with full business social network. When Danish entrepreneur Tommy Ahlers sold his 'social phonebook' ZYB to Vodafone in 2008 for €31 million and joined the company, it didn't seem like he would stay forever at such a slow-moving corporate entity.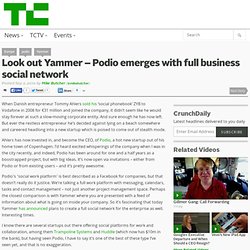 And sure enough he has now left. But ever the restless entrepreneur he's decided against lying on a beach somewhere and careered headlong into a new startup which is poised to come out of stealth mode. Ahlers has now invested in, and become the CEO, of Podio, a hot new startup out of his home town of Copenhagen.
Dotcloud
Stack overflow. Mobile Messaging Startup Kik Raises $8M; Launches Group Chat And Photo Sharing. Mobile messaging startup Kik Interactive has raised $8 million in Series A funding from RRE Ventures, Spark Capital, and Union Square Ventures.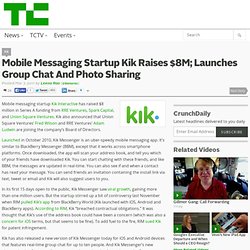 Kik also announced that Union Square Ventures' Fred Wilson and RRE Ventures' Adam Ludwin are joining the company's Board of Directors. Launched in October 2010, Kik Messenger is an uber-speedy mobile messaging app.
I Can Has Funding: Cheezburger Raises $30M For LOLcats, FAIL Blog And Other Memes. Cheezburger, the internet publisher responsible for LOLcats, FAIL Blog, and other memes, has raised a whopping $30 million in new funding led by the Foundry Group with Madrona Venture Group, Avalon Ventures, and SoftBank Capital participating in the round.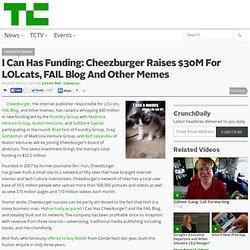 Brad Feld of Foundry Group, Greg Gottesman of Madrona Venture Group, and Rich Levandov of Avalon Ventures will be joining Cheezburger's board of directors. This latest investment brings the startup's total funding to $32.5 million Founded in 2007 by former journalist Ben Huh, Cheezburger has grown from a small site to a network of fifty sites that have brought internet memes and tech culture mainstream. Cheezburger's network of sites has a total user base of 16.5 million people who upload more than 500,000 pictures and videos as well as view 375 million pages and 110 million videos each month.
Chatroulette. Yammer. Appsfire Introduces Live Rankings For iPhone Apps, Scores More Cash. Mobile applications discovery and sharing service provider Appsfire has just launched a new product called AppTrends, which essentially delivers near real-time rankings of iPhone apps based on the chatter on Twitter.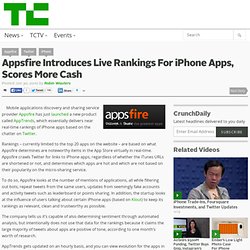 Rankings – currently limited to the top 20 apps on the website – are based on what Appsfire determines are noteworthy items in the App Store virtually in real-time. Appsfire crawls Twitter for links to iPhone apps, regardless of whether the iTunes URLs are shortened or not, and determines which apps are hot and which are not based on their popularity on the micro-sharing service. To do so, Appsfire looks at the number of mentions of applications, all while filtering out bots, repeat tweets from the same users, updates from seemingly fake accounts and activity tweets such as leaderboard or points sharing.
Meebo. Tumblr. Posterous. Video: Paper.li adds Guy Kawasaki to its advisors, as investor interest heats up. Since Paper.li quietly launched in May this year, it's been building momentum.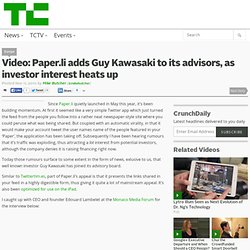 At first it seemed like a very simple Twitter app which just turned the feed from the people you follow into a rather neat newspaper-style site where you could peruse what was being shared. But coupled with an automatic virality, in that it would make your account tweet the user names name of the people featured in your 'Paper', the application has been taking off.
GetGlue. Echo. Echo, a comment platform with a strong focus on real-time, has launched the latest addition to its suite of products: the Real-Time River, which allows publishers to tie real-time comments directly into portions of their sites that are typically static. In particular, the new feature allows publishers to add comments to their homepages and 'top news' sections, which often feature just headlines and brief excerpts.
You can get a feel for what this looks like on this demo page (an Echofied version of TechCrunch). Comments appear just beneath each excerpt, and flow in in real-time as they're added to posts. Disqus. Seesmic. Dropbox. Flattr. Github. Shopkick Takes $15 Million From Greylock Partners – Reid Hoffman Loves This Company. Shopkick, a startup that's focused on bridging the real world shopping experience with mobile, just closed a rather large $15 million round of funding from Greylock Partners. Partner Reid Hoffman, who is also an individual investor in the company, is already on the board of directors. The company had previously raised $5 million from Hoffman and Kleiner Perkins Kaufield & Byers. Kleiner participated in this round of financing as well. We first covered Shopkick a year ago when it was deep in stealth. In December 2009 they launched a mobile application that let people check in to certain retailers for points that could be used for donations to worthy causes.
Diaspora
Square. Hunch. Trefis. Stock analysis startup Trefis has raised $1.6 million on funding from Village Ventures. The startup had previously raised $550K in angel funding in 2008 led by Timothy Weller, CFO of Enernoc and former CFO of Akamai, Bob Johnson of the MIT corporation, and Semyon Dukach, former president of the MIT Blackjack team. Launched last fall, Trefis breaks down a stock price by the contribution of a company's major products and businesses. The site lets you tweak your stock predictions by adjusting variables in a company's business model, depending on how you think different segments of the company will perform. Plancast Plans To Spread Throughout The Web With An API And Widg. Plancast, the social planning service created by TechCrunch alum Mark Hendrickson, is rich with data.
It knows not only what you're planning to do in the foreseeable future, but what your friends are planning, and what their friends are planning. But all of this data has been trapped inside of Plancast. Not anymore. Today, the service is announcing its API.
Etsy
Rdio. Quora. Formspring. SuperFeedr. If the web of the future is based on real-time data delivery, San Francisco startup Superfeedr hopes to be a big part of the technology that helps it get there. The company takes content feeds in a wide variety of traditional formats and transforms them into real-time feeds pushed to parties interested in consuming data in real-time. Founder Julien Genestoux announced this week that Jyri Engeström, co-founder of Google-acquired open source Twitter competitor Jaiku and widely believed to be one of the smartest people in the social web, has joined the already impressive Superfeedr Board of Advisors.
The team forming behind this startup indicates that it will likely do a lot more moving and shaking in the near-term future.
Linkedin. Stumbleupon. Meebo. Evernote. Startups. Wibya. Blekko. Hulu.
---