Future of finance?
Small cap hell is where you end up in about six months after your IPO, when all the high fives and champagne have receded into a distant memory. Unless your company is big enough. How big is big enough? According to Investopedia, small cap refers to companies with "a market capitalization of between $300 million and $2 billion."
Is XBRL The Key To Escaping Small Cap Hell?
XBRL : les financiers geeks au secours du capitalisme ?
There has always been a vibrant ecosystem around financial data. Financial institutions, such as hedge funds and investment banks, pay thousands of dollars for quantitative tabular data (financial data in spreadsheets).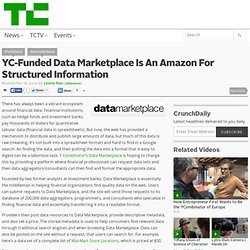 YC-Funded Data Marketplace Is An Amazon For Structured Informati
chris dixon: @Pedaviet it's from the pe
trop la classe :-) Le grand CFO du nouvel age médiatique n'a qu'à bien se tenir by PED May 17