Foursquare!
Milestone: Foursquare hits 10 million users - Apps. In January of this year, Foursquare published this fantastic infographic, visualising its 3,400% growth in 2010.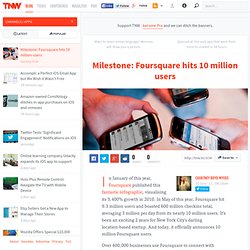 In May of this year, Foursquare hit 9.3 million users and boasted 600 million checkins total, averaging 3 million per day from its nearly 10 million users. It's been an exciting 2 years for New York City's darling location-based startup.
Fourquare vs Facebook. Foursquare Marketing. Foursquare product evolutions. Foursquare biz dev deals. One Year Of Foursquare. Our portfolio company Foursquare turned one year old yesterday.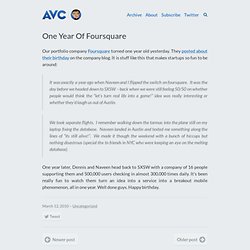 They posted about their birthday on the company blog. It is stuff like this that makes startups so fun to be around: It was exactly a year ago when Naveen and I flipped the switch on foursquare. Foursquare's Dennis Crowley Talks Revenue, API, Brands, and "Bey. I just sat in on a fascinating panel here at SXSW in which Dennis Crowley gave us quite a glimpse of how he views his surging company, Foursquare, and where he would like to lead it.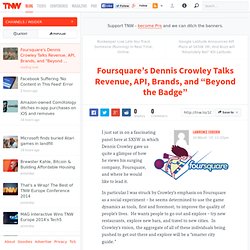 In particular I was struck by Crowley's emphasis on Foursquare as a social experiment – he seems determined to use the game dynamics as tools, first and foremost, to improve the quality of people's lives. He wants people to go out and explore – try new restaurants, explore new bars, and travel to new cities. In Crowley's vision, the aggregate of all of these individuals being pushed to get out there and explore will be a "smarter city guide." Here are some other tidbits:On Revenue Foursquare spent a lot of time exploring mobile ad networks and traditional display ads, but it "just didn't feel right." Foursquare's Next Move: A Big Funding Round | Peter Kafka | Medi. Start-up-of-the-moment Foursquare has lots of buzz, a rapidly growing user base and a triumphant tour of South by Southwest under its belt.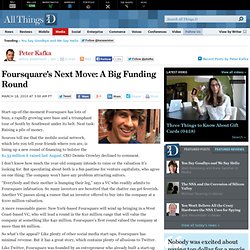 Next task: Raising a pile of money. Sources tell me that the mobile social network, which lets you tell your friends where you are, is lining up a new round of financing to bolster the $1.35 million it raised last August. Foursquare Growing Like Crazy: Up To 600,000 Check-Ins Per Day. Four VC Firms Battle For Foursquare, Valuation Goes Stratospheri. What do Accel Partners, Andreessen Horowitz, Khosla Ventures and Redpoint Ventures have in common?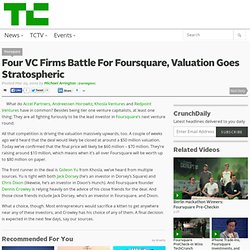 Besides being tier one venture capitalists, at least one thing: They are all fighting furiously to be the lead investor in Foursquare's next venture round. All that competition is driving the valuation massively upwards, too. A couple of weeks ago we'd heard that the deal would likely be closed at around a $50 million valuation. Today we've confirmed that the final price will likely be $60 million – $70 million. They're raising around $10 million, which means when it's all over Foursquare will be worth up to $80 million on paper. Dennis Crowley: Here's How Foursquare Will Fight Off Facebook, T.
Facebook buying foursquare? Foursquare's Yelp problem (they just got time to figure it all o. This week I downloaded a new Yelp app onto my iPhone.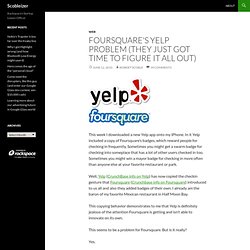 In it Yelp included a copy of Foursquare's badges, which reward people for checking in frequently. Sometimes you might get a swarm badge for checking into someplace that has a lot of other users checked in too. Blog Archive » Mayor of the North Pole. [NOTE: I've posted some recent developments at the bottom. ] I've been blatantly cheating at foursquare for the past week.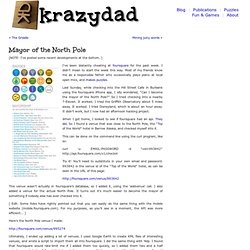 I didn't mean to start the week this way. Most of my friends know me as a responsible father who occasionally plays piano at local open mics, and makes puzzles. Last Sunday, while checking into the Hill Street Cafe in Burbank using the foursquare iPhone app, I idly wondered, "Can I become the mayor of the North Pole?" So I tried checking into a nearby 7-Eleven.
---