Flipboard
Flipboard Hits 3.5 Million Downloads, 550 Million Flips Per Month. Flipboard CEO Mike McCue took the stage today with TechCrunch Editor-in-Chief Erick Schonfeld, talking about the future of tablet publishing.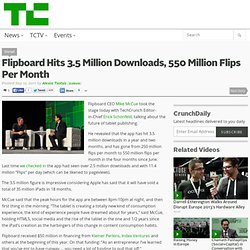 He revealed that the app has hit 3.5 million downloads in a year and two months, and has gone from 250 million flips per month to 550 million flips per month in the four months since June. Last time we checked in the app had seen over 2.5 million downloads and with 11.4 million "Flips" per day (which can be likened to pageviews). The 3.5 million figure is impressive considering Apple has said that it will have sold a total of 35 million iPads in 18 months. McCue said that the peak hours for the app are between 8pm-10pm at night, and then first thing in the morning. Flipboard 1.5 Integrates LinkedIn, Adds A Content Guide For Curated News Browsing. Flipboard 1.5 Integrates LinkedIn, Adds A Content Guide For Curated News Browsing An update to social news viewing app Flipboard goes live in the app store today, with a new souped up 1.5 version that optimizes the reader experience even further.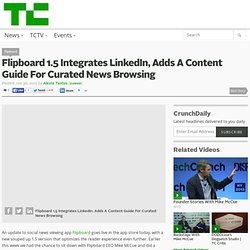 Earlier this week we had the chance to sit down with Flipboard CEO Mike McCue and did a demo of the new features, above. McCue tells me that the redesign focused on three core changes. 1. People can now navigate to an infinite number of feeds (previous limit was 21). 2. Flipboard's Traffic Just Quadrupled: Now At 400 Million "Flips" Per Month. Mike McCue: FlipBoard Is Seeing More Than 10 Million Flips Per Day (Video) Mike McCue: FlipBoard Is Seeing More Than 10 Million Flips Per Day (Video) When it comes to publishing apps on the iPad, there are two models: 1) social readers that bring all your realtime news feeds together like Flipboard; or 2) single-title apps from major publishers like the New Yorker, The Daily or the New York Times.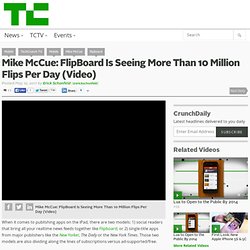 Those two models are also dividing along the lines of subscriptions versus ad-supported/free. In the video above, Flipboard CEO Mike McCue makes the case that in tablet publishing, "the bulk of the revenue will come from advertising." Exclusive: Flipboard Confirms $50 Million Funding at $200 Million Valuation | Kara Swisher | BoomTown | AllThingsD. Late last month, BoomTown posted about a huge venture funding effort by the high-profile and even more highly designed social media reading app for the Apple iPad, Flipboard.
Today, its co-founder and CEO Mike McCue confirmed the $50 million round at an eye-popping $200 million valuation, in a wide-ranging interview at the start-up's Palo Alto, Calif., HQ. "We're obviously thrilled, because we think it confirms our focus that people want a beautifully designed way to interact with content and to share it," he said.
"And there is a lot more to come–on a scale of one to 10, we're just at a two or three." Flipboard Is Raising Money At A $200 Million Valuation. Fly Or Die: Does Flipboard Have A Chance? It's time for this week's episode of Fly or Die, the TCTV show where CrunchGear editor John Biggs and I look at three new products and debate their longterm chances of survival.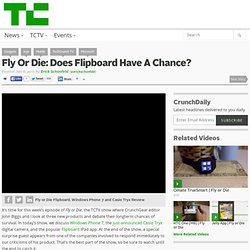 In today's show, we discuss Windows Phone 7, the just-announced Casio Tryx digital camera, and the popular Flipboard iPad app. At the end of the show, a special surprise guest appears from one of the companies involved to respond immediately to our criticisms of his product. That's the best part of the show, so be sure to watch until the end to catch it. Flipboard CEO Mike McCue. 1) - How is Flipboard game-changing or innovative? Is Flipboard Legal? | Epicenter  Social news app Flipboard was yesterday's hot new app, despite—or perhaps because of—technical problems that prevented some features from working.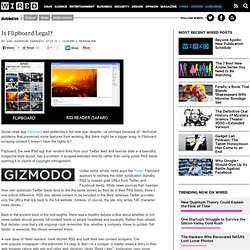 But there might be a bigger snag: Is Flipboard scraping content it doesn't have the rights to? Flipboard, the new iPad app that renders links from your Twitter feed and favorite sites in a beautiful, magazine-style layout, has a problem: it scrapes websites directly rather than using public RSS feeds, opening it to claims of copyright infringement. Unlike some similar news apps like Pulse, Flipboard appears to eschew the older syndication standby RSS to instead grab URLs from Twitter and Facebook feeds.
Why Flipboard is Already One of the Best iPad Apps Available (And How it Could be Better) Social magazine app Flipboard fulfills the promise of the iPad.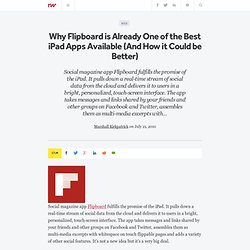 It pulls down a real-time stream of social data from the cloud and delivers it to users in a bright, personalized, touch-screen interface. The app takes messages and links shared by your friends and other groups on Facebook and Twitter, assembles them as multi-media excerpts with whitespace on touch flippable pages and adds a variety of other social features. It's not a new idea but it's a very big deal. Launched with high-profile investor backing and an explosion of media coverage, the free app is struggling to perform under a big load of user interest. None the less, it's immediately clear that the promises of syndicated content, social news and a touch interface for real-time information are more real today than they were yesterday. Flipboard, New "Social" iPad Magazine will be Powered by Semantic Data.
The stealthy Kleiner Perkins-backed startup called Flipboard has now been revealed to be, as some suspected, a social application for the iPad.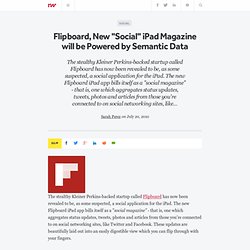 The new Flipboard iPad app bills itself as a "social magazine" - that is, one which aggregates status updates, tweets, photos and articles from those you're connected to on social networking sites, like Twitter and Facebook. These updates are beautifully laid out into an easily digestible view which you can flip through with your fingers. What's more productive? A stream or a page? A debate. Nova Spivak has been debating with me tonight about how much more efficient he feels news readers are if they stream items down like you'll see on Twitter.com, or in social media clients like Seesmic or Tweetdeck bring.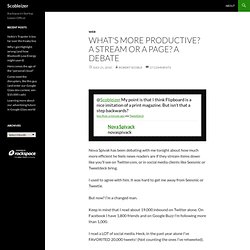 I used to agree with him. It was hard to get me away from Seesmic or Tweetie. Exclusive first look at "revolutionary" social news iPad app: Flipboard. You've seen Twitter clients like TweetDeck or Seesmic, but you've never seen one like this.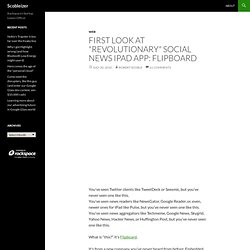 You've seen news readers like NewsGator, Google Reader, or, even, newer ones for iPad like Pulse, but you've never seen one like this. You've seen news aggregators like Techmeme, Google News, Skygrid, Yahoo News, Hacker News, or Huffington Post, but you've never seen one like this. What is "this?" It's Flipboard. It's from a new company you've never heard from before. A nice launch... At this moment, the must-read stories in technology are scattered across hundreds of news sites and blogs.
That's far too much for any reader to follow. Fortunately, Techmeme arranges all of these links into a single, easy-to-scan page.
---