European tech scene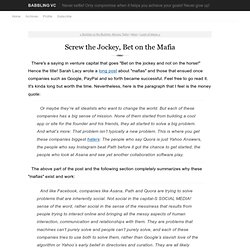 Screw the Jockey, Bet on the Mafia
There's a saying in venture capital that goes "Bet on the jockey and not on the horse!" Hence the title! Sarah Lacy wrote a long post about "mafias" and those that ensued once companies such as Google, PayPal and so forth became successful. Feel free to go read it. It's kinda long but worth the time.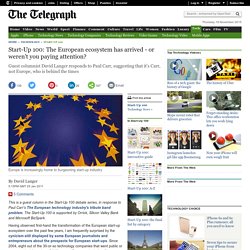 Start-Up 100: The European ecosystem has arrived - or weren't you paying attention?
Jump ahead two years, to November 2008: the overall economy may have been in turmoil, but significant leaps were being made in entrepreneurship, most notably by Saul Klein, founder of Video Island (now LOVEFiLM) and Partner at Index Ventures, who had just observed that Europe had all the necessary ingredients to build the next generation of world-beating businesses. All that was required now was that they be brought together. Based on these observations, Klein began what would turn out to be two key catalysts. Firstly, OpenCoffee, a weekly networking event for entrepreneurs and investors that served as the first port of call for many start-up founders, from which they could start navigating the ecosystem. Having started in London in 2007, it has since grown to over 130 locations worldwide, of which over half are in Europe. Secondly, Seedcamp, the early stage investment program.
AP Images When people in the US think of European startups, they often either think of them as copycats, or as small -- or, often, not at all. And yes, there are plenty of copycats, and European startups do grow more slowly on average than their US equivalents. But there are also plenty of European startups that are downright huge, and that lead the world in innovation from a product, technology or business model perspective as well as anyone out of Silicon Valley.
The 10 Biggest European Startups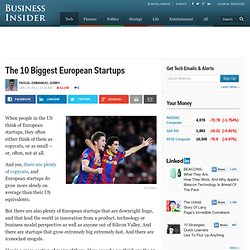 Start-Up 100: What's wrong with European venture capital?
Contrast Slavet's approach to that of the unnamed venture capitalist in a pin-striped suit, braces and tie, sitting across a massive wooden desk from Lastminute.com co-founder Marta Lane Fox, who asked her: "So what happens when you get pregnant?" Ignoring the obvious and ridiculous sexism, there is something else at work here. I think it's that much of the European VC scene is finance-focused, whereas in the Valley the firms are entrepreneur-focused. This is not to say there are zero finance folks in the Valley, nor entrepreneurs in Europe (Saul Klein and PJ at Northzone are high-profile exceptions). But in general this is a very common theme I hear.
Europe does have a thriving startup scene, improving every day. But it's also undeniable that it's nowhere near the level of the United States in terms of capital, talent or ambition. A great column in The Telegraph by angel investor Richard Titus intelligently points out the few key things that European VCs need to improve on. Here's the key points:
Everything That's Wrong With European VCs
Technology - Skype founders raise $165m for new fund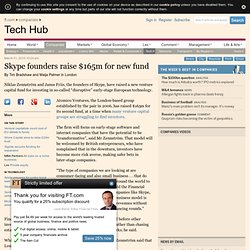 Niklas Zennström and Janus Friis, the founders of Skype, have raised a new venture capital fund for investing in so-called "disruptive" early-stage European technology. Atomico Ventures, the London-based group established by the pair in 2006, has raised $165m for its second fund, at a time when many venture capital groups are struggling to find investors. The firm will focus on early-stage software and internet companies that have the potential to be "transformative", said Mr Zennström. That model will be welcomed by British entrepreneurs, who have complained that in the downturn, investors have become more risk averse, making safer bets in later-stage companies.
Recent VC deals in Continental Europe