European tech scene
Screw the Jockey, Bet on the Mafia. There's a saying in venture capital that goes "Bet on the jockey and not on the horse!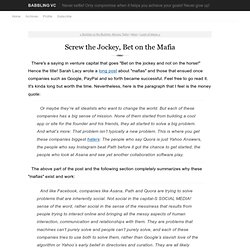 " Hence the title! Sarah Lacy wrote a long post about "mafias" and those that ensued once companies such as Google, PayPal and so forth became successful. Feel free to go read it. It's kinda long but worth the time. Start-Up 100: The European ecosystem has arrived - or weren't you paying attention? The 10 Biggest European Startups. Start-Up 100: What's wrong with European venture capital? Everything That's Wrong With European VCs. France Tech scene.
German tech scene. Russian tech scene. Spanish Tech scene. Technology - Skype founders raise $165m for new fund. Niklas Zennström and Janus Friis, the founders of Skype, have raised a new venture capital fund for investing in so-called "disruptive" early-stage European technology.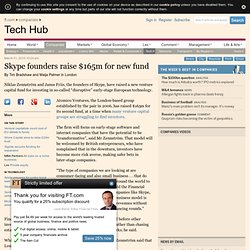 Atomico Ventures, the London-based group established by the pair in 2006, has raised $165m for its second fund, at a time when many venture capital groups are struggling to find investors. The firm will focus on early-stage software and internet companies that have the potential to be "transformative", said Mr Zennström. That model will be welcomed by British entrepreneurs, who have complained that in the downturn, investors have become more risk averse, making safer bets in later-stage companies. Recent VC deals in Continental Europe.
---