Entrepreneurship
The Startup MBA. "With knowledge being universally accessible, there will be no excuses for non-performance." – Peter Drucker Steve Blank recently asked me to prepare a list of startup blogs for his customer development class.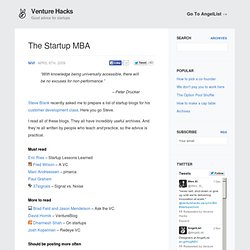 MBAs and Startups | Startable - Healy Jones' & Prasad Thammineni. I am a little late to the party, but earlier this week Dharmesh Shah posted on the "10 Things MBA Schools Won't Teach You" if you are doing the startup thing.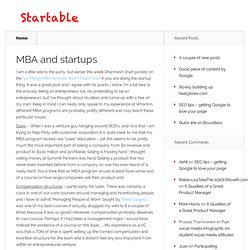 It was a great post and I agree with his points. I know I'm a bit new to the actually being an entrepreneur (ok, ok, pretending to be an entrepreneur), but I've thought about his ideas and came up with a few of my own. Keep in mind I can really only speak to my experience at Wharton; different MBA programs are probably pretty different and may teach these particular issues. Sales – When I was a venture guy hanging around BOD's, and now that I am trying to help Pixily with customer acquisition, it is quite clear to me that my MBA program lacked real "sales" education – yet this seems to be pretty much the most important part of taking a company from $0 revenue and product to $100 million and profitable.
Mark Pincus, Zynga - Bing Gordon, Kle. Description If you can be a product manager, you can acquire the experience of acting as a CEO.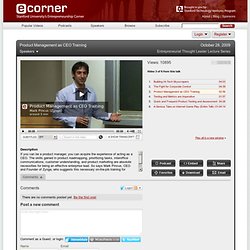 The skills gained in product roadmapping, prioritizing tasks, interoffice communications, customer understanding, and product marketing are absolute necessities for being an effective enterprise lead. So says Mark Pincus, CEO and Founder of Zynga, who suggests this necessary on-the-job training for aspiring entrepreneurs. Be strategic. Take your times.
Starting Blocks. Popular Videos.
---
jerome_of_arabia Jun 16 2010

Mon nom a changé de ninito3979 à Jerome of Arabia... J'ai commencé l'étude de cette perle. C'est très intéressant! Merci pour l'envoi.
---