Diigo traction
The Social Bookmarking Faceoff
Written by Alex Iskold and edited by Richard MacManus. The social bookmarking market is in a steady state with two dominant players - del.icio.us and StumbleUpon. The rest of the pack, including Yahoo MyWeb, appears to be substantially behind. Will they catch up?
Social Bookmarking Faceoff Reloaded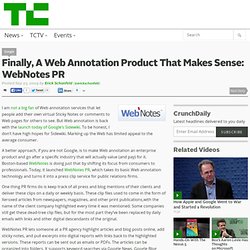 Finally, A Web Annotation Product That Makes Sense: WebNotes PR
I am not a big fan of Web annotation services that let people add their own virtual Sticky Notes or comments to Web pages for others to see. But Web annotation is back with the launch today of Google's Sidewiki. To be honest, I don't have high hopes for Sidewiki.
Blerp Aims To Turn The Web Into One Big Forum
San Francisco startup RocketOn, the company behind a virtual world platform that bares the same name, has more tricks up its sleeve and is today showing off the second product it created. The web application it's introducing today is dubbed Blerp, and its ambition is to turn the Web into a giant interactive message board by making it possible for visitors to add text comments and multimedia to existing web pages and share them with their friends.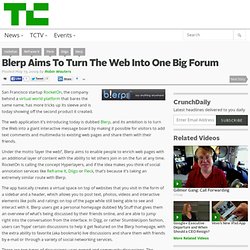 Diigo Buys Web Page Clipping Service Furl Away From LookSmart
Diigo Buys Furl; More Consolidation In Social-Bookmarking Space
The idea of annotating the Web has been around for a long time.
Reframe It Retreads Web Annotation As A Browser Add-On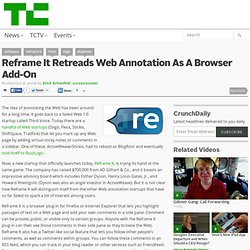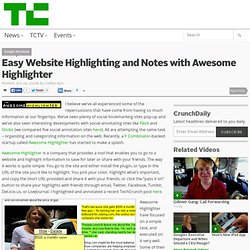 Easy Website Highlighting and Notes with Awesome Highlighter
I believe we've all experienced some of the repercussions that have come from having so much information at our fingertips.
Slingpage Lets You Share the Web With One Click (500 Private Beta Invites)
The idea of leaving sticky notes on the Web for others to find has been tried many times, but has never really taken off. Third Voice dotbombed with the idea in the late 1990s, then Activeweave tried it with Stickis (only to abandon the idea in favor for an app called BlogRovr, which was recently acquired by BuzzLogic).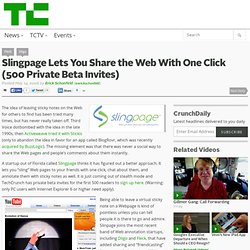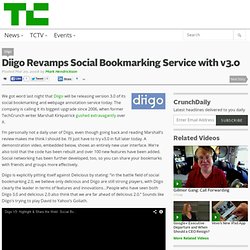 We got word last night that Diigo will be releasing version 3.0 of its social bookmarking and webpage annotation service today.
Diigo Revamps Social Bookmarking Service with v3.0
Diigo is a social bookmarking and research tool that offers so many features it's overwhelming. I've been excited about it before, only to find that after a short period of time, I stop using it - in favor of something simpler. I have been really excited about it, in fact, but even the highlights of today's new version leave me with tempered enthusiasm.
Diigo Tackles Recommendations
Best growing newish services of 2008 (is Louis Gray right?)
I see Louis Gray has posted a list of his 10 top new web services for 2008.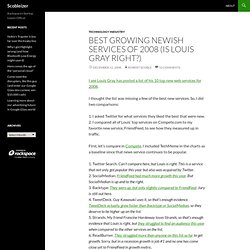 Scoble says in the comments that Diigo saw nice growth in 2008 by PED Jul 28
I was impressed by the preview I got in September of the bookmarking and Web annotation tool Diigo 3.0. It's taken the company until this morning to release this version to the public.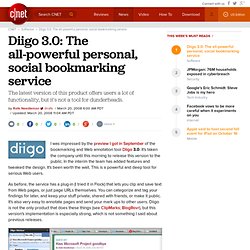 Diigo 3.0: The all-powerful personal, social bookmarking service | Webware - CNET
Website annotation tool Diigo will officially announce its new WebSlides feature next week.
Diigo to Launch Website Slideshow Feature Next Week
Diigo.com announced their re-launch today with an information network unlike any we have seen in scope or capability. The new Diigo network being unveiled at DEMOfall 07 creates global communities around data, information, interests and knowledge. These new communities engage and connect people around the content they collect and use.
Diigo @ DEMOfall 07 – A True 3D Information App?
In 1999, Eng-Sion Tan and two friends launched Third Voice, a browser plugin that would let anyone make annotations on webpages. The intent was to encourage freer speech on the internet, but many slammed it as "Web Graffiti."
Five Ways to Mark Up the Web
Diigo is a research tool that rocks
I just looked at the new research megatool Diigo and though several bloggers have covered it in the past and in previous incarnations (including our charming leader) I think they really missed the boat when many called it an unexciting entry into the crowded social bookmarking space.
Diigo, known for its social annotation, finally went public yesterday.
Diigo Launches – More Than Just Bookmarking
Diigo – Enough Evolution?
Diigo Launches, Nobody Cares