Complementary products?
Dapper - RSS feeds. A new service called Blotter from startup Dapper (dappit.com) is getting some good coverage around the blogosphere today.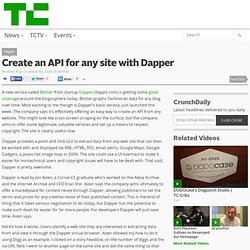 Blotter graphs Technorati data for any blog over time. Most exciting to me though is Dapper's basic service, just launched this week. The company says it's effectively offering an easy way to create an API from any website. This might look like crass screen scraping on the surface, but the company aims to offer some legitimate, valuable services and set up a means to respect copyright. The site is clearly useful now. Clipboard. Y Combinator Alum Curebit Wants To Optimize Your Referral System, Turn Your Customers Into Marketers. Word-of-mouth is the tried and true way to spread the word about your business, news, or product updates.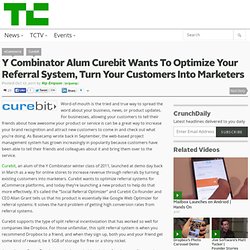 For businesses, allowing your customers to tell their friends about how awesome your product or service is can be a great way to increase your brand recognition and attract new customers to come in and check out what you're doing. As Basecamp wrote back in September, the web-based project management system has grown increasingly in popularity because customers have been able to tell their friends and colleagues about it and bring them over to the service. Treebolic. Glass. Home. Flattr. AddThis - #1 Social Bookmarking Sharing Button. Turn Blog Comments into a Webwide Discussion with a Pow. Homepage | ShareThis - Mozilla Firefox.
Kaltura - Open Source Video Platform. Tumblr - Mozilla Firefox. The Palermo Project. Where is Your Username registered. Webpages as graphs - an HTML DOM Visualizer Applet. OpenID. Open connect. Thumbalizr - thumb your webpages. Free Website Thumbnail Generator Service | ShrinkTheWeb. The Awesome Highlighter >> Highlight text on web pages - Mozilla.
Make Me Social – WordPress Plugin – Increase Blog Traffic By Aut. What is this plugin about?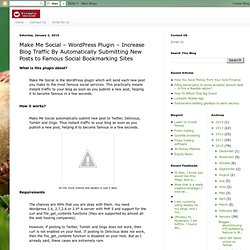 Make Me Social is the WordPress plugin which will send each new post you make to the most famous social services. This practically means instant traffic to your blog as soon as you publish a new post, helping it to become famous in a few seconds. WooRank Screens Your Website, For Free. WooRank is a brand new service designed to let website publishers and marketers evaluate the SEO-friendliness and other aspects of their Web sites on the fly, free of charge.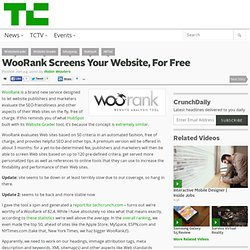 If this reminds you of what HubSpot built with its Website Grader tool, it's because the concept is extremely similar. WooRank evaluates Web sites based on 50 criteria in an automated fashion, free of charge, and provides helpful SEO and other tips. Product. Stop Comment Spam and Trackback Spam « Akismet - Mozilla Firefox. Feedback service. Prism. Simple private real-time sharing and collaboration by drop.io. Palantir: The Next Billion-Dollar Company Raises $90 Million. When Alex Karp needed funding for a young start up named Palantir in 2005, dozens of investors said "No."
He was trying to sell them on the idea of a high-powered analysis platform that could scan multiple databases simultaneously— a tool that government officials and corporations could use to tackle complex problems. "It was very scary since doing enterprise software [from] 2005 to 2009 was a little bit like starting a circus in the middle of Palo Alto with engineers," Karp says, "Enterprise is a dirty word and that's the business we're in, and government is also not very popular in the Valley, [we combined] both." [See our interview with Karp above] Today, funding is not an issue. Palantir, a team of 250-plus engineers nestled in downtown Palo Alto, has raised $90 million in Series D financing at a $735 million valuation— the company exclusively told TechCrunch. Former Myspacers Build Link Curator 'Tagging Robot'
Former VP of Product at Myspace Todd Leeloy and Myspace Product Manager Joe Munoz have launched a semantic tagging network and link curation service today called Tagging Robot.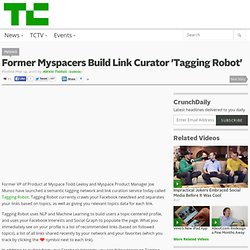 Tagging Robot currently crawls your Facebook newsfeed and separates your links based on topics, as well as giving you relevant topics data for each link. Tagging Robot uses NLP and Machine Learning to build users a topic-centered profile, and uses your Facebook Interests and Social Graph to populate the page. What you immediately see on your profile is a list of recommended links (based on followed topics), a list of all links shared recently by your network and your favorites (which you track by clicking the <3 symbol next to each link).
---
Patrice Apr 18 2011

FF4 has a lot of issues with extensions... They gave us a lot of work on this

pauljacobson Apr 18 2011

Firefox Prism does not yet work with Firefox 4 either???

pauljacobson Apr 18 2011

I lost Glass when I upgraded to Firefox 4. Traumatic!

pauljacobson Dec 14 2010

Glass operates through sharing email addresses: Gmail, Yahoo etc.
---