Chrome Web Store
Chrome Web Store Passes 30 Million Users, But How Bright Is The Future? On September 1st, Google's popular browser, Chrome, celebrated its third birthday.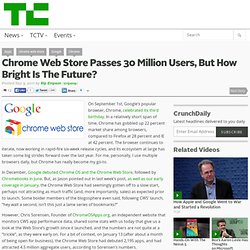 In a relatively short span of time, Chrome has gobbled up 22 percent market share among browsers, compared to Firefox at 28 percent and IE at 42 percent. The browser continues to iterate, now working in rapid-fire six-week release cycles, and its ecosystem at large has taken some big strides forward over the last year. For me, personally, I use multiple browsers daily, but Chrome has really become my go-to. In December, Google debuted Chrome OS and the Chrome Web Store, followed by Chromebooks in June. Chrome Web Store Goes Global, Unveils In-App Payments: Tech News and Analysis « Vikas Gupta at Google I/O 2011 Updated.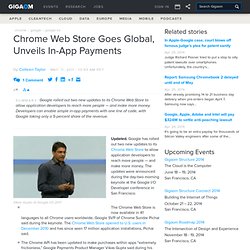 Google has rolled out two new updates to its Chrome Web Store to allow application developers to reach more people — and make more money. Google Opens Developer Preview Of Chrome Web Store In 15 More Countries. After months of anticipation, Google finally unveiled the Chrome Web Store this past December.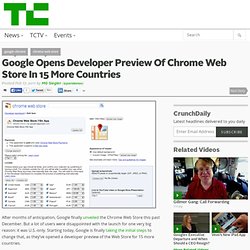 But a lot of users were disappointed with the launch for one very big reason: it was U.S. -only. Starting today, Google is finally taking the initial steps to change that, as they've opened a developer preview of the Web Store for 15 more countries. Note that this doesn't mean the store is ready quite yet for international users. Google says that a full launch will happen "later this year". You Don't Have To Be Lindsey Lohan To Be Called Popular « Chrome OS Apps* The Chrome Web Store is very generous with the term "Popular".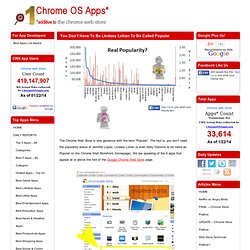 The fact is, you don't need the popularity status of Jennifer Lopez, Lindsey Lohan or even Kelly Osborne to be listed as Popular on the Chrome Web Storefront (homepage). We are speaking of the 9 apps that appear at or above the fold of the Google Chrome Web Store page. The cycle time for this very visible storefront real estate is about 10 minutes. We observed over 150 cycles. Google Begins Emailing Extension Developers To Get Ready For Chrome Web Store. Earlier today, we were tipped about this thread in the Chromium Google Groups area.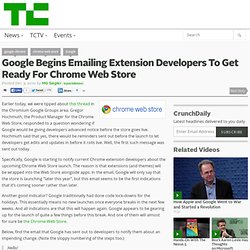 Gregor Hochmuth, the Product Manager for the Chrome Web Store, responded to a question wondering if Google would be giving developers advanced notice before the store goes live. Hochmuth said that yes, there would be reminders sent out before the launch to let developers get edits and updates in before it rolls live. Google Gearing Up For A Chrome Web Store Launch (For Real This Time) Back in August, at a conference in Europe, Google showed a little preview of the Chrome Web Store and noted that a launch would probably take place in October.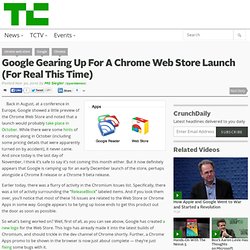 While there were some hints of it coming along in October (including some pricing details that were apparently turned on by accident), it never came. And since today is the last day of November, I think it's safe to say it's not coming this month either. But it now definitely appears that Google is ramping up for an early December launch of the store, perhaps alongside a Chrome 8 release or a Chrome 9 beta release. Google's Chrome Web Store Delayed Until December. By Chuong Nguyen on 10/28/2010 Although Google just recently released its latest Chrome browser a little over a week ago, the company has missed several self-set dates to get its web apps store online.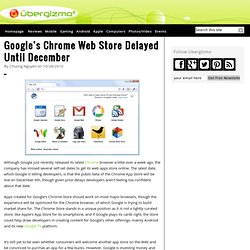 The latest date, which Google is telling developers, is that the public beta of the Chrome App Store will be live on December 6th, though given prior delays developers aren't feeling too confident about that date. Apps created for Google's Chrome Store should work on most major browsers, though the experience will be optimized for the Chrome browser, of which Google is trying to build market share for. Chrome Web Store - Google Code. The Chrome Web Store lets you publish apps and games—either free or paid—where Google Chrome users can easily find them.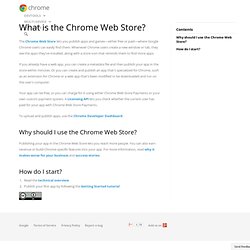 Whenever Chrome users create a new window or tab, they see the apps they've installed, along with a store icon that reminds them to find more apps. If you already have a web app, you can create a metadata file and then publish your app in the store within minutes. Or you can create and publish an app that's specialized for Chrome, such as an extension for Chrome or a web app that's been modified to be downloaded and run on the user's computer. Your app can be free, or you can charge for it using either Chrome Web Store Payments or your own custom payment system. A Licensing API lets you check whether the current user has paid for your app with Chrome Web Store Payments. Extensions, Packaged Apps, and Hosted Apps in the Chrome Web Store - Chrome Web Store - Google Code.
Written by Michael Mahemoff September 2010 The Chrome Web Store introduces the concept of installable web apps.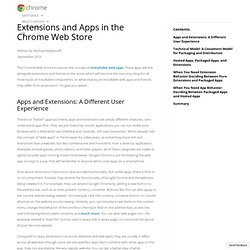 These apps will live alongside extensions and themes in the store, which will become the one-stop shop for all three types of installable components. So what exactly are installable web apps and how do they differ from extensions? I'm glad you asked... New features for the Chrome Web Store developer preview: Google Checkout integration & previewing for your apps. We're excited to share with you some new features that we just added to the developer preview of the Chrome Web Store: Starting today, you can sign up for a Google Checkout merchant account via your developer dashboard.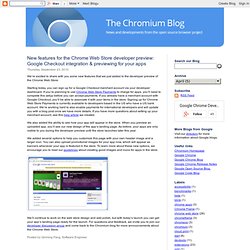 If you're planning to use Chrome Web Store Payments to charge for apps, you'll need to complete this setup before you can accept payments. If you already have a merchant account with Google Checkout, you'll be able to associate it with your items in the store. Get your apps ready for the Chrome Web Store! Since our announcement of the Chrome Web Store at Google I/O, our team has been hard at work preparing for our launch later this year. Today we're making the first step towards this milestone by making available a developer preview of the Chrome Web Store. Developers can now start uploading apps and experiment with packaging them, installing them in Chrome (using the latest Chrome dev channel) and integrating our payments and user authentication infrastructure.
To get started, take a look at our recently updated documentation for installable web apps, which explains how to prepare and package your apps. You should also review some additional documentation we just released on the store's licensing and user authentication features. To upload your app, you'll need to use the upload flow of the Google Chrome Extensions Gallery . Google Shows the Future of Browser Games. Earlier today at GDC Europe, which takes place before Gamescom this week in Germany, Google's new game developer advocate Mark DeLoura and Chrome developer advocate Michael Mahemoff talked about Google's major entry into the browser game space with its app store for Chrome.
Set to launch this October, the store aims to make a proper marketplace for browser games -- one that solves a lot of the issues of games on the web today, from discovery to monetization. First, Mark discussed the benefits of Chrome for browser gaming (mainly its speed) and why developers should be excited about its app store, which you can watch in the video highlight below. Chrome Web Store Slated For October Launch, Google Taking A Mere 5% Cut Of Revenue. Google's app store for the web is almost ready for business. Gaming portal 1Up.com has detailed a presentation given by Google developer advocates Mark DeLoura and Michael Mahemoff at GDC Europe that contains new details about the Chrome Web Store — a feature first announced at Google I/O that will allow users to purchase web applications from their Chrome web browsers.
During their talk, the Google employees revealed that the Web Store is going to (probably) launch in October, and they gave more details on how the web store's payments would work. One key piece of news: when the Web Store was first announced, Google VP of Product Sundar Pichai indicated that there would be a standard 70/30 (developer/Google) split — the same as on Apple's App Store and Android Market. However, the slides from the 1Up report say (in bold text, no less) that Google will take only a 5% "processing fee", with no additional revenue share. The Chrome Web Store Appears To Be Using Google's New Social Sauce. Earlier today, it was revealed that development of the Chrome Web Store is well underway, and Google hopes to deploy it around October. That's good news, and the fact that Google apparently only plans to take a 5 percent of revenues from developers is great news.
But look closer at the screenshots leaked from GDC Europe. See that area in the store called "Apps your friends like"? Yes, it appears that this new store will play nicely with Google's new social strategy. The key word in the area is "friends." Google's 'App Store For The Web' Is A Mirror Image Of Apple's App Store. Google's Chrome Web Store is launching this October, giving users the ability to purchase premium web applications (and developers an easy way to sell their wares). And, in an apparent attempt to make sure that users are as comfortable as possible with this new web-app market, Google is drawing inspiration from the best. Actually, "blatantly copying" would probably be a better choice of words — the Chrome Web Store looks nearly identical to Apple's App Store. Google Begins Rapid Iteration Plan With Chrome 6 Beta Deployment. Chromium Hits Version 7 As The Chrome Train Keeps Speeding Along.
An open marketplace for web apps.
Discussions - Chromium Apps | Google Groupes. Supplying Images - Chrome Web Store - Google Code. Mozilla Ponders an "Open" Web App Store (Implying that Google Chrome's Store Isn't?) Firefox 4 Beta 2 Introduces Web Apps...Err... App Tabs. Weekend Project: Install Web Apps in Chrome or Chromium.
---
PED Jul 30 2010

Petit comment pour rappeler ce pearltree à ton bon souvenir :-)
---