At the beginning...
Get flash to fully experience Pearltrees
Posted by Tom Foremski - March 5, 2010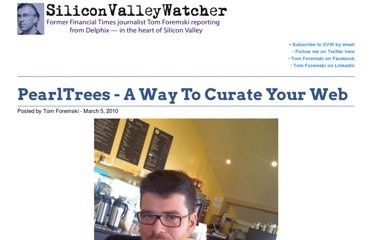 Seesmic has been acquired by HootSuite and as of March 2013, the Seesmic website is no longer supported. But HootSuite welcomes all Seesmic users into our nest!
A French Web site, called Pearltrees , is developing a Web service that is trying to bring a social networking element to bookmarking - but with the connections based on content instead of people. Think Facebook and Twitter mixed with one Amazon's recommendation system.
This post is part of Mashable's Spark of Genius series, which highlights a unique feature of startups. If you would like to have your startup considered for inclusion, please see the details here . The series is made possible by Microsoft BizSpark.
Pearltrees [pearltrees.com] is a new online visualization tool that allows users to organize their favorite content found on the Web as a network graph, which then reveals the connections between the interests of people.
Social bookmarking sites such as StumbleUpon or Delicio.us are great for finding interesting, quirky content. But the hunt is on for something better. One example: The just-launched PearlTrees , which allows you to lump and organize your links into network graphs.