At the beginning...
chris dixon's blog / Founder/market fit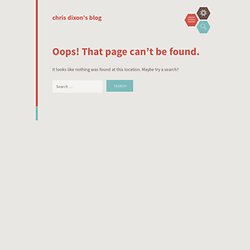 An extremely useful concept that has grown popular among startup founders is what eminent entrepreneur and investor Marc Andreessen calls "product/market fit", which he defines as "being in a good market with a product that can satisfy that market".
How to Keep Your First 1,000 Users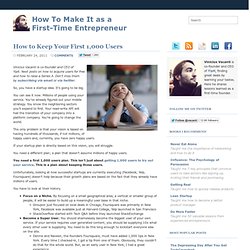 So, you have a startup idea.
Developing new startup ideas cdixon.org – chris dixon's blog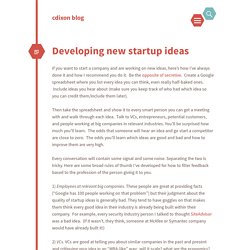 If you want to start a company and are working on new ideas, here's how I've always done it and how I recommend you do it.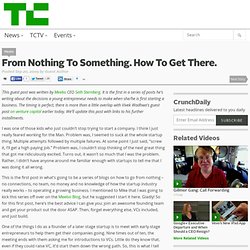 From Nothing To Something. How To Get There.
This guest post was written by Meebo CEO Seth Sternberg . It is the first in a series of posts he's writing about the decisions a young entrepreneur needs to make when she/he is first starting a business. The timing is perfect, there is more than a little overlap with Vivek Wadhwa's guest post on venture capital earlier today. We'll update this post with links to his further installments.
YouTube - Mint CEO Aaron Patzer On Startups
Are Business Plans Still Necessary?
What makes an entrepreneur?