Films
Super Bowl Ad (99?) E*Trade - "Wasted $2 Million Bucks"
Les Toiles Enchantées
PRIUS GOES PLURAL INTRO WEB VIDEO
Hula Hoops DJ ad
New Canal+ ad from BETC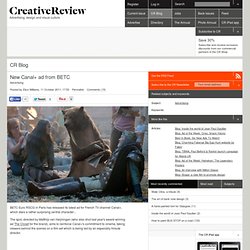 BETC Euro RSCG in Paris has released its latest ad for French TV channel Canal+, which stars a rather surprising central character... The spot, directed by Matthijs van Heijningen (who also shot last year's award-winnng ad The Closet for the brand), aims to reinforce Canal+'s commitment to cinema, taking viewers behind the scenes on a film set which is being led by an especially hirsute director. The Bear is the latest in a series of excellent ads for Canal+ from BETC, all of which highlight different aspects of filmmaking, and film viewing, in a witty and irreverent manner. Here's a recap of those that have gone before for your viewing pleasure:
Diet 7Up Commercial - Elevator Small Talk Tony
bbdo ne veut pas que leur pub soit visible?!? by Francois Oct 2
Tide to Go Talking Stain
C'était très malin ça - juste un peu générique - mais Tide est tellement LA lessive que bon by Francois Oct 28
Support of Abused Children "Alzheimer's Institute"
Saga Falabella - Fears
Bud Light | "Clothing Drive" commercial
International Dyslexia Association: Frustrating | Ads of the World
You won't watch for the acting « Narbru | Bruno FLORIN
Axe - Squares
Tabasco Streaker
Jumpers
FREESTYLER
smart ad PEN
Boag's Draught: From The Pure Waters Of Tasmania Full Length (HD
Spot de Heirloom - Stride
Monster.com "Doubletake" - Official Super Bowl Ad
Volkswagen Passat | Parking
Heineken Disturbance
Secours Populaire - Le collier
Orange Planet
Les jouets des grands
Best ads from 1990 to 2010 (shots)
Renault Twingo 99% serious
Fosbury
Coca-Cola Light - The Chase
Net10 - Agent
Obvious!
Nights and Weekends NET10 ad.mp4
Net10 - Brain
Net10 - Sharak
SYFY - Imagination
Sierra Mist "Wand"
La révolution du livre. on Vimeo
Sequoïa - Snail on Vimeo
PUB SFR - Controle Parental