(ill)egal graffiti UPDATES
SEEING DOUBLE. Jef Aerosol & Swing "City Flash" New Paris Show Coverage. RUN street art around London. Photos from Street Art Londno. RUN at work (with Stik).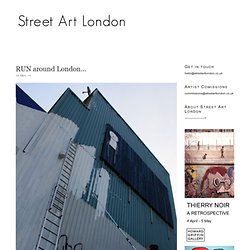 Street Art London was lucky enough to hang out with RUN back in December while he added this nice wall to the Foundry. RUN has been busy of late and recently put this cool piece along Hackney Road. RUN tells us that he has a few more pieces in store over the coming months so watch this space… Ladder action. TED Prize Winner JR & INSIDE OUT. Jr, 2011 Courtesy: Galerie Perrotin, Paris. Le Visionnaire - Magda Danysz. The Best North Brooklyn Street Art of 2011. Editor's Note: The following is our latest column, Off the Wall, in The WG newspaper, which was published in early December.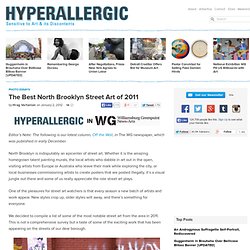 North Brooklyn is indisputably an epicenter of street art. Whether it is the amazing homegrown talent painting murals, the local artists who dabble in art out in the open, visiting artists from Europe or Australia who leave their mark while exploring the city, or local businesses commissioning artists to create posters that are posted illegally, it's a visual jungle out there and some of us really appreciate the role street art plays. One of the pleasures for street art watchers is that every season a new batch of artists and work appear. New styles crop up, older styles wilt away, and there's something for everyone. We decided to compile a list of some of the most notable street art from the area in 2011. New York Street Art: Alive & Kicking.
One of Roa's best pieces — even by his own admission — during his Brooklyn sojourn.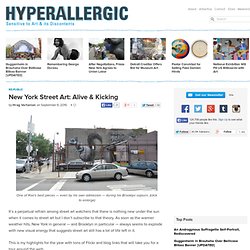 (click to enlarge) It's a perpetual refrain among street art watchers that there is nothing new under the sun when it comes to street art but I don't subscribe to that theory. As soon as the warmer weather hits, New York in general — and Brooklyn in particular — always seems to explode with new visual energy that suggests street art still has a lot of life left in it. 12ozProphet. 12ozProphet. Shepard Fairey Paints Asbury Park. Index. This article was posted by Admin 2 years, 5 months, 2 weeks, 4 days, 9 hours, 40 minutes ago.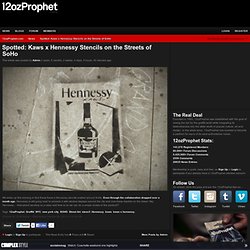 We woke up this morning to find these Kaws x Hennessy stencils scatted around SoHo. Even through the collaboration dropped over a month ago, Hennessy is still going hard to promote it with window displays around the city and now these imprints on the street. Hey Hennessy… How about sending us a case next time to so we can do a proper review of the product!? Index. This article was posted by Admin 2 years, 5 months, 2 weeks, 3 days, 5 hours, 14 minutes ago.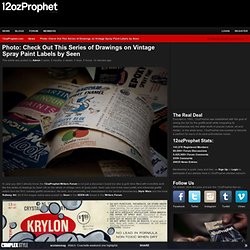 In case you didn't already know, the 12ozProphet Writers Forum is not just a discussion board but also a gold mine filled with incredible work like this series of drawings by Seen UA on the labels of vintage cans of spray paint. Seen was one of the most prolific and influential graffiti writers from the NYC subway graffiti movement.
---