Exquisite people
Otaku. Hayao Miyazaki. Hayao Miyazaki (宮崎 駿, Miyazaki Hayao?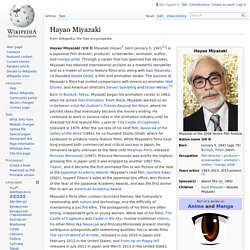 , born January 5, 1941[1]) is a Japanese film director, animator, manga artist, illustrator, producer, and screenwriter. Through a career that has spanned six decades, Miyazaki has attained international acclaim as a maker of anime feature films and, along with Isao Takahata, co-founded Studio Ghibli, a film and animation studio. The success of Miyazaki's films has invited comparisons with American animator Walt Disney, British animator Nick Park, and American director Steven Spielberg.[2] In addition to his acclaimed film work, Miyazaki has created manga that have reached worldwide audiences. Miyazaki. Hayao MIYAZAKI is one of the greatest animators and directors in Japan.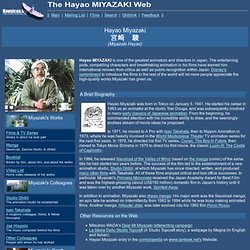 The entertaining plots, compelling characters and breathtaking animation in his films have earned him international renown from critics as well as public recognition within Japan. Disney's commitment to introduce the films to the rest of the world will let more people appreciate the high-quality works Miyazaki has given us. Hayao Miyazaki was born in Tokyo on January 5, 1941. He started his career in 1963 as an animator at the studio Toei Douga, and was subsequently involved in many early classics of Japanese animation. スタジオジブリ - STUDIO GHIBLI. Wu Ming Collectif. WU MING FOUNDATION: QUI SOMMES-NOUS, QUE FAISONS-NOUS En 1994, partout en Europe, des centaines d'artistes, activistes et auteurs de canulars choisissent d'adopter la même identité.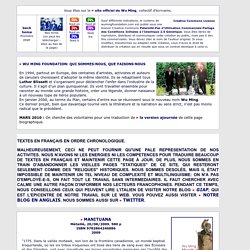 Ils se rebaptisent tous Luther Blissett et s'organisent pour déclencher l'enfer dans l'industrie de la culture. Il s'agit d'un plan quinquennal. Ils vont travailler ensemble pour raconter au monde une grande histoire, créer une légende, donner naissance à un nouveau type de héros populaire. En janvier 2000, au terme du Plan, certains d'entre eux se réunissent sous le nouveau nom Wu Ming. Ce dernier projet, bien que davantage tourné vers la littérature et la narration au sens strict, n'est pas moins radical que le précédent. A Wild Cossack Rides Into a Cultural Battle. A Wild Cossack Rides Into a Cultural Battle. While You Were Out - Apple's Years With and Without Steve Jobs - Nicholas D. Kristof's Columns.
Damon Winter/The New York Times Nicholas D.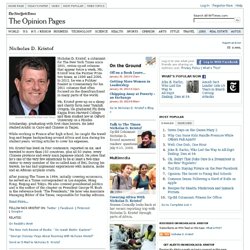 Kristof , a columnist for The New York Times since 2001, writes op-ed columns that appear twice a week. Mr.
---