Cool Creative Books
Los Angeles Review of Books - Sounds Of The City: New York 1973-1977. IN THE SUMMER OF 1975, scenes started to cohere around sounds emanating from lower Manhattan.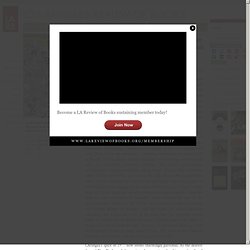 Local musicians and critics sat up and took note. With a massive festival of unsigned bands, CBGB, a dank little Bowery club, confirmed its status as ground zero for New York's rock and roll underground. 5 Notable Design Books for Summer Reading: Maria Popova. Guest blogger Maria Popova—creator of Brain Pickings, shares for summer reading pleasure her selection of five notable design titles published during 2012. — SK Guest blogger: Maria Popova: Brain Pickings (New York) Profile Summer is a time of escapism, be it physical or intellectual and creative.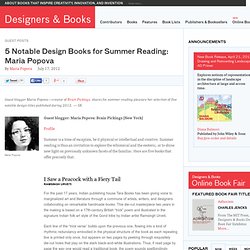 Summer reading is thus an invitation to explore the whimsical and the esoteric, or to shine new light on previously unknown facets of the familiar. TOP SELLING PHOTOGRAPHY BOOKS OF ALL TIME. The Family of Man has sold more than 4 million copies The Family of Man was a photography exhibition curated by Edward Steichen first shown in 1955 at the Museum of Modern Art in New York.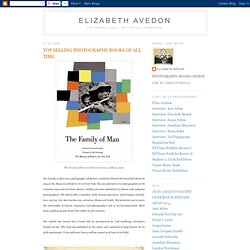 The 503 photos by 273 photographers in 68 countries were selected from almost 2 million pictures submitted by famous and unknown photographers. The photos offer a snapshot of the human experience which lingers on birth, love, and joy, but also touches war, privation, illness and death. His intention was to prove the universality of human experience and photography's role in its documentation. The Recipe for Writing Success? Kill Your Characters. Ok aspiring fiction writers, if you've ever wondered how to write a successful novel, the secret is here: kill off your characters.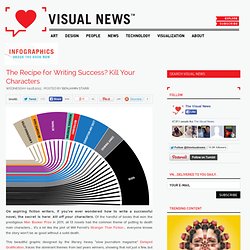 Of the handful of books that won the prestigious Man Booker Prize in 2011, all 13 novels had the common theme of putting to death main characters… it's a lot like the plot of Will Ferrell's Stranger Than Fiction… everyone knows the story won't be as good without a solid death. This beautiful graphic designed by the literary heavy "slow journalism magazine" Delayed Gratification, traces the dominant themes from last years winners, showing that not just a few, but ALL the winners featured overriding themes of death. What followed that? In distant second we have themes about love and then betrayal… both subjects that can get the blood boiling, but obviously don't guarantee a win. Why We Love: 5 Must-Read Books on the Psychology of Love.
By Maria Popova What Oscar Wilde has to do with Hippocrates and the neurochemistry of romance.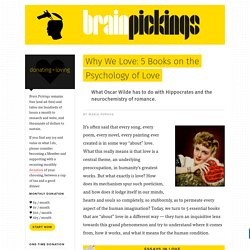 It's often said that every song, every poem, every novel, every painting ever created is in some way "about" love. What this really means is that love is a central theme, an underlying preoccupation, in humanity's greatest works. Created Equal: Parallel Portraits of Cultural Difference. By Maria Popova Nearly two years ago, we explored Exactitudes — a visual study of similarity within subcultures.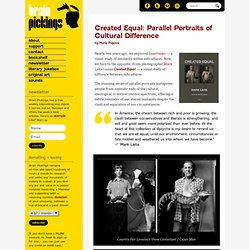 Now, we turn to the opposite: From photographer Mark Laita comes Created Equal — a visual study of diffrence between subcultures. We Own The Night: The Art Of The Underbelly Project. In 2009, an abandoned NYC subway station slowly morphed from ghost status to the world's best kept urban art status.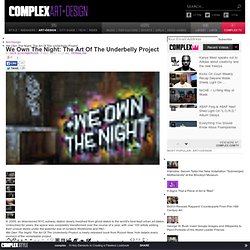 Untouched for years, the space was completely transformed over the course of a year, with over 100 artists adding their unique styles under the watchful eye of curators Workhorse and PAC. We Own The Night: The Art Of The Underbelly Project, a newly released book from Rizzoli New York details every moment of the remarkable project. Scrap Irony: Edward Gorey Illustrates Snarky Cultural Commentary, 1961. By Maria Popova What the physiological effects of space flight have to do with the art of courtship and the Oedipus complex.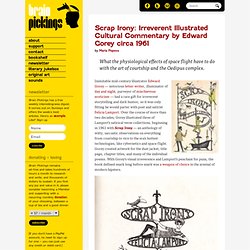 Inimitable mid-century illustrator Edward Gorey — notorious letter-writer, illuminator of day and night, purveyor of mischievous eroticism — had a rare gift for irreverent storytelling and dark humor, so it was only fitting he would parter with poet and satirist Felicia Lamport. Over the course of more than two decades, Gorey illustrated three of Lamport's satirical verse collections, beginning in 1961 with Scrap Irony — an anthology of witty, sarcastic observations on everything from courtship to vice to the era's hottest technologies, like cybernetics and space flight.
Gorey created artwork for the dust jacket, title page, chapter titles, and many of the individual poems. With Gorey's visual irreverence and Lamport's penchant for puns, the book defined snark long before snark was a weapon of choice in the arsenal of modern hipsters. "THE GIFT" ART BOOK by delphinediallo.
Since the dawn of the Renaissance in the 15th century, artistic expression has always been the gateway to pinpointing the pulse of a period.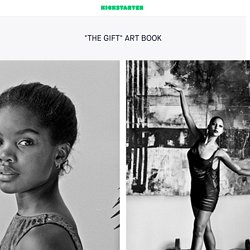 Art serves as a cultural barometer utilizing visual tools in an effort to catalyze a social and psychological paradigm shift. These shifts have inspired some of history's most important moments enabling societies to gain a glimpse into their soul through art. The 11 Best Art and Design Books of 2011. By Maria Popova From the Periodic Table to Craigslist, or what the greatest graphic designer of all time has to do with Moby-Dick.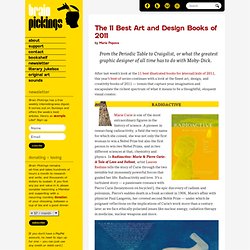 After last week's look at the 11 best illustrated books for (eternal) kids of 2011, this year's best-of series continues with a look at the finest art, design, and creativity books of 2011 — tomes that capture your imagination and encapsulate the richest spectrum of what it means to be a thoughtful, eloquent visual creator. Marie Curie is one of the most extraordinary figures in the history of science. The 11 Best Photography Books of 2011. By Maria Popova What the world's last living nomads have to do with Victorian strongwomen, tweed, and the unseen Beatles. After the year's best illustrated books for (eternal) kids and finest art, design, and creativity books, my best-of series continues with a look at the best photography books of 2011 — visual treasure troves that tell an important story, reveal a fascinating piece of history, or just deeply delight with a fresh perspective on a familiar subject.
Annie Leibovitz is one of today's most prolific and celebrated photographers, her lens having captured generations of cultural icons with equal parts admiration and humanity. 10 Essential Books on Typography. By Maria Popova What Arab culture has to do with industrial ideals, midcentury design and Victorian hand-lettering.
Whether you're a professional designer, recreational type-nerd, or casual lover of the fine letterform, typography is one of design's most delightful frontiers, an odd medley of timeless traditions and timely evolution in the face of technological progress. Today, we turn to 10 essential books on typography, ranging from the practical to the philosophical to the plain pretty.
---