ChinaBlogs
2013: Horoscope Horse in year of the Fire Snake
Nicely Made In China
We wish you a happy new year of the horse! You may have noticed that we recently had a break from publishing in order to take stock and revitalize our efforts. Now we're back and glad to continue bringing you news about quality products and services from China. At Nicely Made in China (NMiC) we like to keep track of the companies we've featured in the past.
China Blog List: Blogs about Greater China
nothing goes here China Blog List 540 blogs since 2002. Home Non-English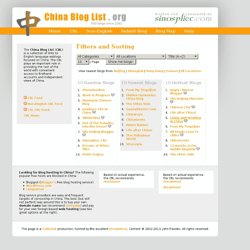 China IWOM Blog- Making Sense of the Buzz
Mogujie.com launched a new online product, " Free Group Purchase ", at 5 p.m. on the 1st of March, encouraging users to initiate a group purchase on any product they want. This "C2B" group purchase would be achievedas long as they round up enough participants. So far, more than 15,000 group purchases have been started, 100 of which have been successful.
China Media Project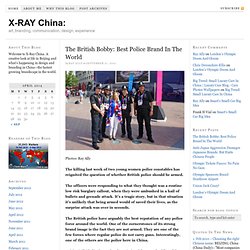 Photos: Ray Ally In the past few weeks anti-Japanese sentiment has risen in China, fuelled by the controversy over the Diaoyu Islands. Both China and Japan claim ownership to these uninhabited lands, which have rich deposits of natural resources. There have been protests across the country and many Japanese businesses were attacked and vandalised.
X-RAY China: — art, branding, communication, design, experience
Thomas Crampton - Social Media in China and Asia
interview | a chat with blueprint, a digital creative collective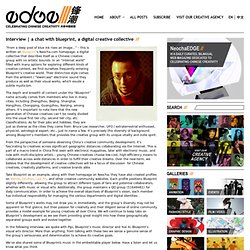 "From a deep pool of blue ink rises an image…" – this is written on Blueprint's Neocha.com homepage, a digital collective that describes itself as a Chinese creative group with no artistic bounds. In an "Internet world" filled with many options for exploring different kinds of creative content, we find ourselves frequently entering Blueprint's creative world. Their distinctive style comes from the ambient / "lowercase" electronic sound they produce as well as their visual works, which exude a subtle mysticism. The depth and breadth of content under the "Blueprint" name actually comes from members who live in many cities, including Zhengzhou, Beijing, Shanghai, Hangzhou, Chongqing, Guangzhou, Nanjing, among others. It's important to note here that the new generation of Chinese creatives can't be neatly divided into the usual first tier city, second tier city, etc. classifications.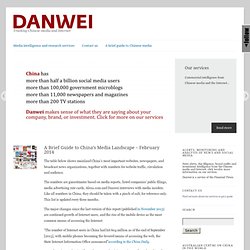 The table below shows mainland China's most important websites, newspapers, and broadcast news organizations, together with numbers for website traffic, circulation and audience. The numbers are guesstimates based on media reports, listed companies' public filings, media advertising rate cards, Alexa.com and Danwei interviews with media insiders. Like all numbers in China, they should be taken with a pinch of salt, for reference only. This list is updated every three months. The major changes since the last version of this report (published in November 2013) are continued growth of Internet users, and the rise of the mobile device as the most common means of accessing the Internet: "The number of Internet users in China had hit 604 million as of the end of September [2013], with mobile phones becoming the favored means of accessing the web, the State Internet Information Office announced"according to the China Daily.
Chinese media, marketing, advertising, and urban life - Danwei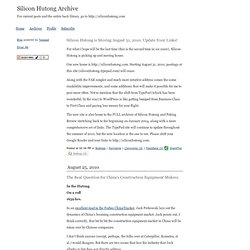 In the HutongFocus...Focus...1558 hrs. While I was absorbing caffeine and beta carotene at a sunny Beverly Hills espresso spigot earlier this month, I came across a superb article in the Wall Street Journal explaining how the U.S. motion picture business is starting to make films that are aimed at an international market. The phenomenon has reached such a stage, in fact, that movies ONLY likely to appeal to a domestic U.S. audience are not getting the green light, and those films deemed promising but too US centric are being given script and casting makeovers to make themselves more appealing to international audience. Darn those Foreigners Paying to See Our Movies!
Silicon Hutong
Singapore: One moon, one sun, thousands of wishing spheres Researchers at the University of Hawaii disclosed this week that the Earth is likely being watched over by not one silvery sentinel, but two . Those of you who have shelved your social lives to read the most anticipated book of the year, Haruki Murakami's 930 page tome, IQ84 , may be feeling a bit on edge after learning this news.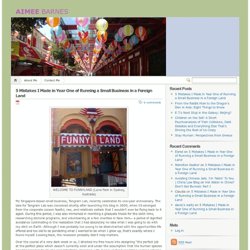 Aimee Barnes
Before I discuss this touching, beautifully written book, I'd like to cite a quote from a book review I happened to read at the same time I was reading Hard Road Home. It was an excellent review of Frank Dikoetter's new book on the Chinese revolution, The Tragedy of Liberation: A History of the Chinese Revolution, 1945-1957. It offers this excerpt: By the beginning of 1948, when the pressure abated, some 160 million people were under communist control.
The Peking Duck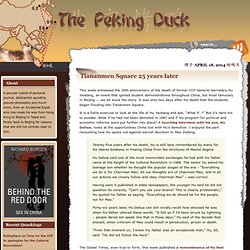 25 China Experts You Should Follow on Twitter - AdAgeChina - Spe
Changing Asias from Bates 141
chinaSMACK - Hot internet stories, pictures, & videos in China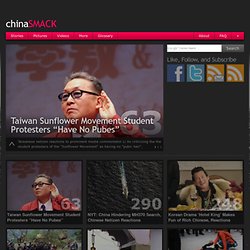 Taiwanese netizen reactions to prominent media commentator Li Ao criticizing the the student protesters of the "Sunflower Movement" as having no "pubic hair", Chinese netizen reactions to a New York Times article that says China's efforts in the search for the missing Malaysian plane is hurting more than helping. Translated Chinese netizen reactions to the unflattering portrayal of Chinese "tuhao" (nouveau riche) in "Hotel King", a "K-drama" (Korean TV serial drama). Chinese villagers protesting the forced relocation of a 200-year-old tree to make way for a highway are hurt in a clash with local government, police, militia. Chinese netizen reactions to photos of the interracial marriage, commenting on social and cultural differences, sexism, discrimination, and racist prejudices. A Chinese police officer dining at a Pizza Hut with his family in Ziyang, Sichuan was stabbed after an argument/fight with a group of men over queue cutting.
Translated from the Jinling Evening News on March 4: On October 22, 2013, in Tongda International district of Taiyuan city, Shanxi province, a woman was murdered in her home. The police quickly arrested murderer Li Jian. Li Jian explained that a rich woman named Cao Lihua used a fake corporate WeChat account to recruit the killer, and she personally trained him, meticulously planning for years.
ChinaHush
The China Beat · Blogging How the East Is Read
Nedostup, Rebecca. Superstitious Regimes: Religion and the Politics of Chinese Modernity. Cambridge, Mass.: Harvard University Asia Center, 2009. xiv, 459 pp. $45.00 (cloth). By Stefania Travagnin The past decade has seen the publication of several studies examining the new conceptualization and practice of religion that developed in China at the end of the nineteenth century and continued throughout the twentieth century. From a variety of perspectives, these books have connected religion with other topics, such as state, society, gender, modernity, globalization, and material culture.
China Hearsay | China law, business and economics commentary
March 28, 2014 This case goes back a few years. Some activist types in New York filed a federal suit against Baidu because their propaganda political speech did not pop up in search results.
Whenever clients ask about filing a trademark in China via the Madrid System, my answer is simple: filing a national application directly with the Chinese Trademark Office (CTMO) is better. Co-blogger Steve Dickinson takes an even stronger position. In his opinion, filing a China trademark via the Madrid System is a waste of time, and he categorically refuses to do it.
China Law Blog: a blog about Chinese law and the legal issues of