ChinaBlogs
2013: Horoscope Horse in year of the Fire Snake
Nicely Made In China
Irrespective of the size of a company, corporate communications and public relations play a vitally important role in any business strategy. Our new sponsor Rochester PR Group specializes in helping Chinese companies to research the British market and find new potential customers. To learn more about this, Nicely Made in China interviewed Joanna Dodd, CEO of Rochester PR in their Cavendish Square (central London) head quarters. Joanna read Classics and Modern Languages at St Catherine's College Oxford before moving into P.R.
China Blog List: Blogs about Greater China
nothing goes here China Blog List 540 blogs since 2002. Home Non-English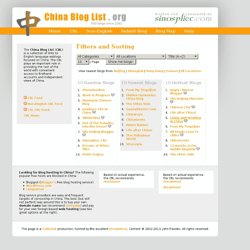 China IWOM Blog- Making Sense of the Buzz
Mogujie.com launched a new online product, " Free Group Purchase ", at 5 p.m. on the 1st of March, encouraging users to initiate a group purchase on any product they want. This "C2B" group purchase would be achievedas long as they round up enough participants. So far, more than 15,000 group purchases have been started, 100 of which have been successful.
China Media Project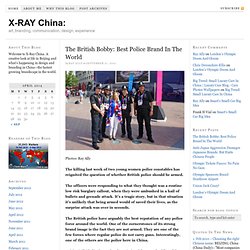 Photos: Ray Ally In the past few weeks anti-Japanese sentiment has risen in China, fuelled by the controversy over the Diaoyu Islands. Both China and Japan claim ownership to these uninhabited lands, which have rich deposits of natural resources. There have been protests across the country and many Japanese businesses were attacked and vandalised.
X-RAY China: — art, branding, communication, design, experience
Thomas Crampton - Social Media in China and Asia
interview | a chat with blueprint, a digital creative collective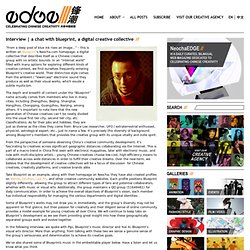 "From a deep pool of blue ink rises an image…" – this is written on Blueprint's Neocha.com homepage, a digital collective that describes itself as a Chinese creative group with no artistic bounds. In an "Internet world" filled with many options for exploring different kinds of creative content, we find ourselves frequently entering Blueprint's creative world. Their distinctive style comes from the ambient / "lowercase" electronic sound they produce as well as their visual works, which exude a subtle mysticism. The depth and breadth of content under the "Blueprint" name actually comes from members who live in many cities, including Zhengzhou, Beijing, Shanghai, Hangzhou, Chongqing, Guangzhou, Nanjing, among others. It's important to note here that the new generation of Chinese creatives can't be neatly divided into the usual first tier city, second tier city, etc. classifications.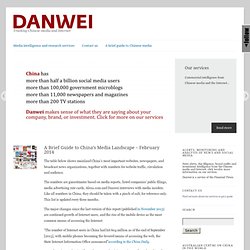 On December 5, the People's Daily published a report about a police investigation into companies that offer services to delete news items and social media postings from the Internet. The article does not, of course, mention that the biggest deleter of information from the Internet is the government itself and that because of censorship and self-censorship, deleting news articles and social media posts is entirely natural behavior for editors and other staff of Chinese Internet companies. Nonetheless, it's worth a read to get a sense of how filthy the Internet PR business is in China. And to permit ourselves some self-promotion, paid deletion and spam are key reasons that why Danwei's social media tracking and media monitoring services do not rely only on automated, technical solutions and always have experienced human editors checking all of our findings. The original Chinese report is here, below is a translation. China's biggest case of illegal operations by Internet PR company cracked
Chinese media, marketing, advertising, and urban life - Danwei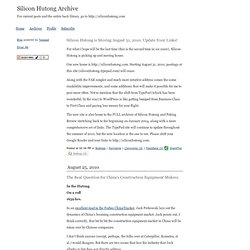 In the HutongFocus...Focus...1558 hrs. While I was absorbing caffeine and beta carotene at a sunny Beverly Hills espresso spigot earlier this month, I came across a superb article in the Wall Street Journal explaining how the U.S. motion picture business is starting to make films that are aimed at an international market. The phenomenon has reached such a stage, in fact, that movies ONLY likely to appeal to a domestic U.S. audience are not getting the green light, and those films deemed promising but too US centric are being given script and casting makeovers to make themselves more appealing to international audience. Darn those Foreigners Paying to See Our Movies!
Silicon Hutong
Singapore: One moon, one sun, thousands of wishing spheres Researchers at the University of Hawaii disclosed this week that the Earth is likely being watched over by not one silvery sentinel, but two . Those of you who have shelved your social lives to read the most anticipated book of the year, Haruki Murakami's 930 page tome, IQ84 , may be feeling a bit on edge after learning this news.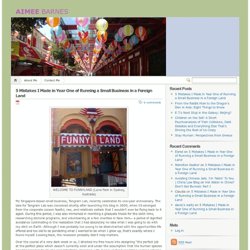 Aimee Barnes
In recent weeks we've seen a flurry of articles about China's slowdown and whether the country has the ability to keep social order intact as things slow down. I am not an economist, but I've followed these stories with great interest. I have many friends working in China, and the last thing I want to see is a US-style financial meltdown that could wipe out opportunities for millions of Chinese. That China is slowing down dramatically is a matter of fact, not debate.
The Peking Duck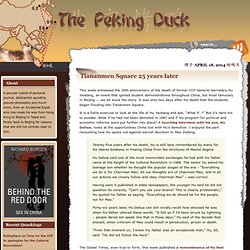 Access Asia's Weekly View on Asia
25 China Experts You Should Follow on Twitter - AdAgeChina - Spe
Changing Asias from Bates 141
chinaSMACK - Hot internet stories, pictures, & videos in China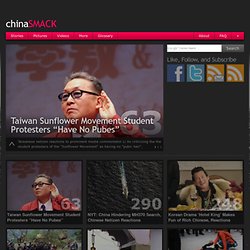 Two hacked to death in fight between two groups of Chinese people in Guangdong who used the toilets at the same time and didn't like the look of each other. English translation of a 1976 graphic novel of a Red Guard little girl reporting her grandfather to authorities as a Soviet spy, with Chinese netizen reactions. Chinese netizen reactions to a funny diagram (Doghouse Diaries "Bed Cartography") showing how pillows and space on a bed is divided between husband and wife. Photos of Chinese passengers asleep in awkward positions on the L199 train (Hangzhou to Guiyang), heading home for the Chinese New Year/Spring Festival holiday. An image of 6 different male body types and a sample of the preferences and responses of Chinese netizens on popular microblogging social network Sina Weibo. Song Binbin, former Red Guard student leader, apologizes in Beijing to the teachers and classmates hurt in the Chinese Cultural Revolution of the 1960s.
Just a reminder, this is available on iTunes on June 18, 2013 "Zola" in High Tech, Low Life. Photo Credit: Stephen Maing. New York, May 20, 2013 – HIGH TECH, LOW LIFE, award-winning filmmaker Stephen Maing's chronicle of two of China's first citizen reporters as they travel the country documenting underreported news and social issues stories while facing censorship for leaping China's 'Great Firewall' – will be released June 18 on iTunes in North America, with a roll-out on other digital platforms [...]Read more…
ChinaHush
The China Beat · Blogging How the East Is Read
Nedostup, Rebecca. Superstitious Regimes: Religion and the Politics of Chinese Modernity. Cambridge, Mass.: Harvard University Asia Center, 2009. xiv, 459 pp. $45.00 (cloth). By Stefania Travagnin The past decade has seen the publication of several studies examining the new conceptualization and practice of religion that developed in China at the end of the nineteenth century and continued throughout the twentieth century. From a variety of perspectives, these books have connected religion with other topics, such as state, society, gender, modernity, globalization, and material culture.
China Hearsay | China law, business and economics commentary
March 28, 2014 This case goes back a few years. Some activist types in New York filed a federal suit against Baidu because their propaganda political speech did not pop up in search results.
As China lawyers, we are all too frequently contacted by our clients who need help dealing with IP infringement in China. As a first step, we analyze the situation and propose a course of action. The following is an amalgamation of memoranda, done so as to convey both what goes on out there and how to deal with it.
China Law Blog: a blog about Chinese law and the legal issues of