ChinaBlogs
2013: Horoscope Horse in year of the Fire Snake. Nicely Made In China. China Blog List: Blogs about Greater China. China IWOM Blog- Making Sense of the Buzz. Mogujie.com launched a new online product, " Free Group Purchase ", at 5 p.m. on the 1st of March, encouraging users to initiate a group purchase on any product they want.
This "C2B" group purchase would be achievedas long as they round up enough participants. So far, more than 15,000 group purchases have been started, 100 of which have been successful. China Media Project. X-RAY China: — art, branding, communication, design, experience. Thomas Crampton - Social Media in China and Asia. Interview | a chat with blueprint, a digital creative collective. "From a deep pool of blue ink rises an image…" – this is written on Blueprint's Neocha.com homepage, a digital collective that describes itself as a Chinese creative group with no artistic bounds.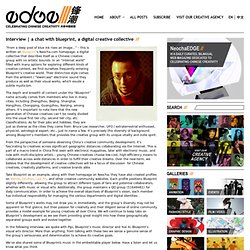 In an "Internet world" filled with many options for exploring different kinds of creative content, we find ourselves frequently entering Blueprint's creative world. Their distinctive style comes from the ambient / "lowercase" electronic sound they produce as well as their visual works, which exude a subtle mysticism. The depth and breadth of content under the "Blueprint" name actually comes from members who live in many cities, including Zhengzhou, Beijing, Shanghai, Hangzhou, Chongqing, Guangzhou, Nanjing, among others. It's important to note here that the new generation of Chinese creatives can't be neatly divided into the usual first tier city, second tier city, etc. classifications. Chinese media, marketing, advertising, and urban life - Danwei.
Silicon Hutong. In the HutongFocus...Focus...1558 hrs.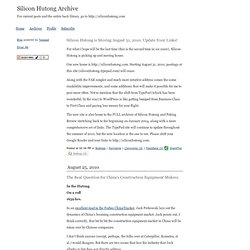 While I was absorbing caffeine and beta carotene at a sunny Beverly Hills espresso spigot earlier this month, I came across a superb article in the Wall Street Journal explaining how the U.S. motion picture business is starting to make films that are aimed at an international market. The phenomenon has reached such a stage, in fact, that movies ONLY likely to appeal to a domestic U.S. audience are not getting the green light, and those films deemed promising but too US centric are being given script and casting makeovers to make themselves more appealing to international audience. Darn those Foreigners Paying to See Our Movies! Aimee Barnes. The Peking Duck. 25 China Experts You Should Follow on Twitter - AdAgeChina - Spe. Changing Asias from Bates 141. ChinaSMACK - Hot internet stories, pictures, & videos in China. ChinaHush. The China Beat · Blogging How the East Is Read. China Hearsay | China law, business and economics commentary.
China Law Blog: a blog about Chinese law and the legal issues of.
---