Retombées presse
Lancement Android. An Interview with Oliver Starr on Content Marketing with Content Curation. There's no doubt that content creation and content marketing will play an integral role in the marketing strategies of most brands in 2014, but what you probably didn't know is that content curation can be an equally successful venture.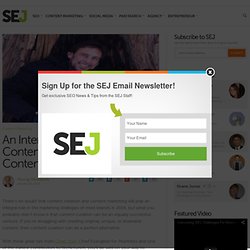 If you're struggling with creating original, unique, or shareable content, then content curation can be a perfect alternative. With these great tips from Oliver Starr, Chief Evangelist for Pearltrees and one of the earliest contributors to Techcrunch, you'll be well on your way to becoming a content-curating master. I recently sat down with Oliver to find out what exactly "content curation" entails, what the best practices are, and what he recommends for running successful content marketing campaigns in 2014. What is content curation and how can it be used for content marketing?
Léa DM. Aujourd'hui, je vais vous parler de PEARLTREES ("arbre de perles").
Avez-vous déjà entendu parler de mind mapping ou carte heuristique (schéma qui représente le cheminement de notre pensée) ? C'est un peu le même principe, pearltrees permet d'organiser nos pages web favorites sous forme d'une sorte d'arbre à perles. Google chrome, par exemple, offre une extension sur son navigateur (le bouton bleu qui renferme une étoile blanche - à voir dans la suite).
Mais à quoi ça sert en fait ? Souvent, on ajoute une flopée de pages dans nos "Favoris" sur internet et quand on veut en retrouver une précise, on peut parfois chercher longtemps. Lancement Asimov.
Lancement 1.0. iPhone launch. Pearltrees - 2012 - Fundraising. LeWeb10+les 100.000. Fundraising 2010. Press coverage web2.0 expo. Five types of content curation tools for journalists. The opening panel session in our upcoming news:rewired digital journalism conference on 19 April will cover the growing role of journalists in curating content from social media and the wider web.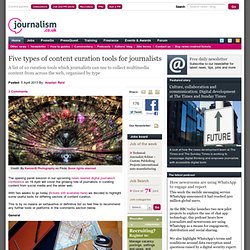 With two weeks to go today (tickets still available here) we decided to highlight some useful tools for differing sectors of content curation. This is by no means an exhaustive or definitive list so feel free to recommend any further tools or platforms in the comments section below. General By cogdogblog by Flickr. Some rights reserved. The top 10 tech journalists in the world, and why I picked them. The problem with any list is that not everyone can be on it.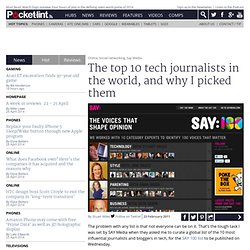 That's the tough task I was set by SAY Media when they asked me to curate a global list of the 10 most influential journalists and bloggers in tech, for the SAY 100 list to be published on Wednesday. SAY Media, the company formed from Video Egg and the chaps behind Moveable Type, asked 10 experts from around the world to help curate a list of the 100 most influential voices in different fields like technology, travel, food and parenting. The list is designed to be a collection of authentic and knowledgeable online voices that create engaging content, drive conversation and shape opinion. "The power to shape public opinion is shifting from the faceless editorial voice of The Newspaper or The Magazine to individuals with deep passions that create compelling content and build communities. L'appli du jour : Pearltrees - Apprism.
2 juillet 2013 Tags: abonnement, appli, application, apprism, Apps For You, arborescence, arbre, chrome, graines, iPhone, pearltrees, perle, pro, safari Pearltrees est un navigateur très malin qui bouleverse la structure des « browsers mobiles » classiques pour s'adapter à l'interface de nos iPhones.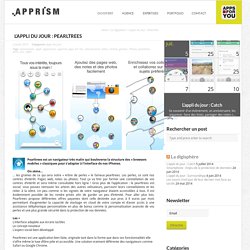 On sème… … les graines de ce qui sera notre « Arbre de perles » le fameux pearltrees. Les perles, ce sont nos centres d'intérêt. Leaderboard. 4 Time Saving Content Curation Tools. Content curation services, which had been one of the choice tools of marketing experts for some time now, are finally entering the mainstream.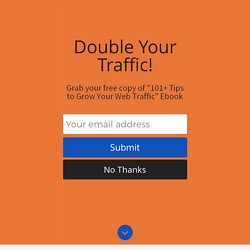 Some research done by the guys over at LikeHack showed that this service is now often used not by marketing consultants but by ordinary people. This is due to information overload and the rising need for content filtering. For this reason, content curation is evolving from not being only a professional tool but a tool that saves web surfers time as personal service. The demise of Google Reader is only going to accelerate the use of these tools as people switch to these emerging technologies to filter their content to save them time and increase content relevance.
Education. iPad Apps: A Pearl from Pearltree.
TRENDS / Pearltrees, votre mémoire 2.0. Oui, toi utilisateur vorace du Web.
Peut-être es-tu perdu dans tes marques-pages ? Tu ne te rappelles plus du blog que tu as consulté hier ? Une certaine amnésie s'empare de toi ? Et bien, bienvenue dans le labyrinthe du web 2.0. Web Links Archive as Networks - Pearltrees. Browsing the web all day long means coming across great stuff and additional branches and topics to be explored.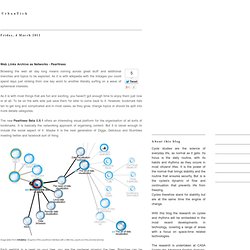 As it is with wikipedia with the linkages you could spend days just clicking from one key word to another literally surfing on a wave of ephemeral interests. As it is with most things that are fun and exciting, you haven't got enough time to enjoy them just now or at all. To be on the safe side just save them for later to come back to it. Pearltrees wants you to broadcast web content. A new version of Pearltrees is now live for eager social curators on the 'Net.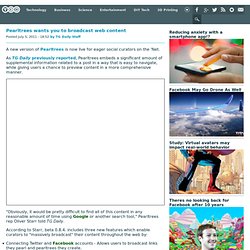 As TG Daily previously reported, Pearltrees embeds a significant amount of supplemental information related to a post in a way that is easy to navigate, while giving users a chance to preview content in a more comprehensive manner. "Obviously, it would be pretty difficult to find all of this content in any reasonable amount of time using Google or another search tool," Pearltrees rep Oliver Starr told TG Daily. According to Starr, beta 0.8.4. includes three new features which enable curators to "massively broadcast" their content throughout the web by: Connecting Twitter and Facebook accounts - Allows users to broadcast links they pearl and pearltrees they create.Crowd-sourcing - Share content on nearly any topic, as users simply pick pearltrees curated by others.
Embeddable code - Display curated content in code, helping users "pearl" data directly from embedded pearltrees for future references. Pearltrees > Mandy. Le web 2.0 a fait naître un paradoxe : la multiplication des contenus en ligne n'a pas entraîné la démocratisation de l'accès à ces informations.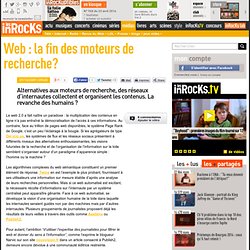 Au contraire, face au trillion de pages web disponibles, le système Page Rank de Google, c'est un peu l'éclairage à la bougie. Si les agrégateurs de type Del.icio.us, les systèmes de flux et les réseaux sociaux présentent à différents niveaux des alternatives enthousiasmantes, les visions futuristes de la recherche et de l'organisation de l'information sur la toile semblent s'organiser autour d'un paradigme d'apparence simple : l'homme ou la machine ? Les algorithmes complexes du web sémantique constituent un premier élément de réponse.
---