Marianne Ratier
Marianne Ratier par ramona
Marianne Ratier : Le blog
Illustration et interview pour le très beau magazine australien de mode enfantine Papier Mache. When did you first decide you wanted to be an artist ? When I was a little girl I wanted to make kids' books. But after my Baccalaureate, I thought it would be too difficult to make a good living from drawing.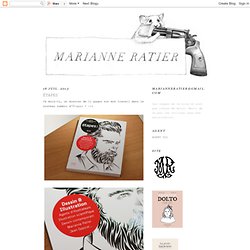 critique de "Fin Décembre" 3
Dans « Fin décembre », Marianne Ratier raconte, avec des yeux (et aussi un trait) de petite fille, la maladie de sa mère, son cancer, comment il a évolué et comment cette mère est partie, emportée par le crabe a laissé seuls à leur désarroi une fille et et mari dans un journal intime en bande dessinée assez bouleversant. Sujet souvent abordé dans la bande dessinée et dans la littérature en général, le thème de la perte, de la mort d'un proche donne souvent lieu à des livres assez bouleversants (peut-il en être autrement ?) dans lesquels les auteurs évoquent ces moments de douleur avec pudeur et une certaine retenue, tant dans le propos que dans la représentation graphique.
critique de "Fin Décembre" 2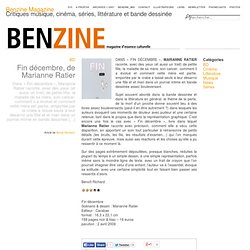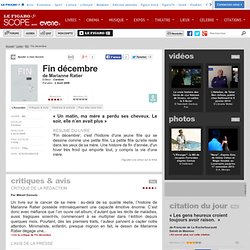 Genre : BD Editeur :Carabas Parution :2 Avril 2008 Prix editeur :17€58 Pages : 168p. Isbn : 9782351004319 « Un matin, ma mère a perdu ses cheveux.
critique de "Fin Décembre" 1
Naive new beaters vidéos