Fundraising 2010
MoMB | The Hot 100 Betas. You have to see this – Loïc Le Meur in an Angry Birds costume. Pearltrees grabs another €1.3 million. Chances are, you've already heard of Pearltrees - possibly because the company caught attention when it sponsored LeWeb in Paris or more recently the Web 2.0 Expo in San Francisco.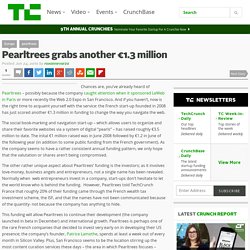 And if you haven't, now is the right time to acquaint yourself with the service: the French start-up founded in 2008 has just scored another €1.3 million in funding to change the way you navigate the web. The social book-marking and navigation start-up – which allows users to organize and share their favorite websites via a system of digital "pearls" – has raised roughly €3.5 million to date. The inital €1 million raised was in June 2008 followed by €1.2 in June of the following year (in addition to some public funding from the French government). As the company seems to have a rather consistent annual funding pattern, we only hope that the valutation or shares aren't being compromised. Pearltrees lands $1.6M more for social discovery on the Web | Ve.
Pearltrees, a social tool for discovering and organizing Web content, has announced it secured a second round of funding for €1.3 million (US$1.6 million).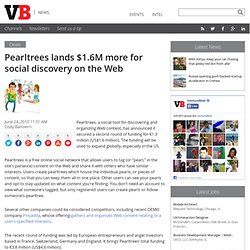 The funding will be used to expand globally, especially in the US. Pearltrees is a free online social network that allows users to tag (or "pearl," in the site's parlance) content on the Web and share it with others who have similar interests.
---