Apple's influence sphere
Apple Blogs. Why Every Child in America Needs an iPad. My wife and I sat down at a nice restaurant last week.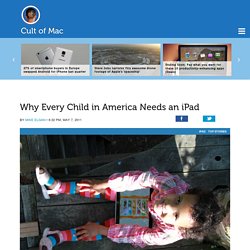 Our table was right next to a larger party of four adults and two young children — both girls under the age of 7 years old or so. Each of the girls had her own iPad, and each iPad had some high-end noise-cancellation headphones plugged in.
About. June 1, 2009 The Loop has a variety of meanings.
For some people reading the site it's a reference to Apple's Cupertino address. To others it's about being kept "in the loop" by reading the stories. For all its meanings, The Loop isn't like other Mac and technology Web sites. Dropbox 1.4 Brings Tabs Back, Direct Uploads from Other Apps. A major update to the official Dropbox app for iOS was released night in the App Store, and it adds important new functionalities to the uploading aspect of the app.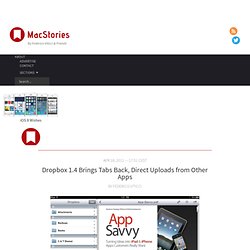 Originally released last May on the iPad (a month after the iPad 1 went on sale), the app was often criticized because of its unintuitive navigation and limited upload features that didn't allow users to interact with external applications or navigate between folders and starred items with ease. The latest update, version 1.4, aims at fixing these usability issues by bringing tabs back. Instead of having to tap on buttons in the top toolbar, Favorites, Uploads and Settings are accessible alongside the main Dropbox folder in a series of tabs at the bottom. The most notable feature, however, is the complete revamp of uploads. Start Here. Welcome to shawnblanc.net, a tech- and design-centric website with an affinity for fine software and writing.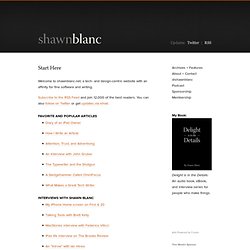 Subscribe to the RSS Feed and join 12,000 of the best readers. You can also follow on Twitter or get updates via email. Favorite and Popular Articles. Explanation. The Apple community is concerned with the company Apple Inc. and its products.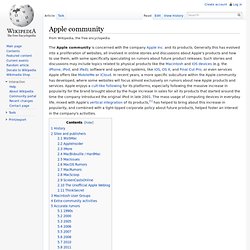 Generally this has evolved into a proliferation of websites, all involved in online stories and discussions about Apple's products and how to use them, with some specifically speculating on rumors about future product releases. Such stories and discussions may include topics related to physical products like the Macintosh and iOS devices (e.g. the iPhone, iPod, and iPad); software and operating systems, like iOS, OS X, and Final Cut Pro; or even services Apple offers like MobileMe or iCloud. In recent years, a more specific subculture within the Apple community has developed, where some websites will focus almost exclusively on rumors about new Apple products and services. Slashdot: News for nerds, stuff that matters.
Engadget. Ars Technica. SiliconRumors | The Best Technology News and Rumours Source. Gizmodo. Cult of Mac | Apple News, Reviews and How Tos. Specific Mac blogs. AppleInsider | Apple Insider News and Analysis. 9 to 5 Mac | Apple Intelligence.
News. [Curation] L'iPad 2 vu outre-atlantique , iPhone 4 , iphone 3GS iPad iphone 3Gs apple appstore iphone , jailbreak, blackra1n, geohot, iphone 4, iOS, iphone 3gs , iphone 3g , iphone , ipod touch, jailbreak, appstore, test applications iphone, tutoriel ipho.
---