Gaming news
GameTab - The Game Reviews & News Compilation Site.
Titanfall: Why Respawn is punishing cheaters Respawn has begun to exclude Titanfall cheaters from the general player population. We speak with network engineer Jon Shiring and community manager Abbie Heppe to find out more. Blog: $5B in one year?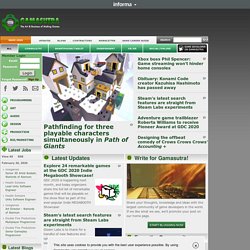 Nintendo severely adjusted its forecasts for the fiscal year ending March 31, 2014, almost halving its original net sales projection and reducing expected Wii U shipments from 9 million to 2.8 million. The Japanese company noted the Wii U's "significantly lower" than predicted overseas sales, as well as the price cuts made worldwide to the console, as factors in the profit revisions. Below-target 3DS sales overseas were also noted, as was increased expenditure on research and development.
Game Developer Magazine
Intro to User Analytics by Anders Drachen, Alessandro Canossa, Magy Seif El-Nasr [05.30.13] An intro to analytics written by the editors of Game Analytics: Maximizing the Value of Player Data, a compendium of insights from more than 50 experts in industry and research, which covers the most relevant questions: what to track, and how to analyze the data. Business/Marketing, Design, Game Developer Magazine, Console/PC, Social/Online, Smartphone/Tablet, GD Mag, GD Mag Exclusive Internal Indies by Steve Stopps [05.29.13] Are there lessons from indie development that can be utilized in a larger, established studio setting? In order to answer this question, Blitz Game Studios started a simple experiment: inviting five senior developers to form a team with complete creative freedom.