After Effects Tutorial
VideoCopilot.net Video Tutorials & Post Production. Creative COW: Creative Communities of the World. MaxAfter. Maltaannon.com » After Effects Video Tutorials (hosted by Jerzy. Video Tutorial - Particle Playground on fire » maltaannon.com. Posted on 02.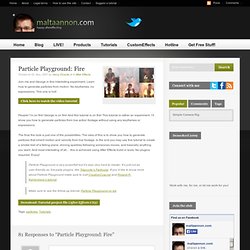 Nov, 2007 by Jerzy Drozda Jr in After Effects Join me and George in this interesting experiment. Learn how to generate particles from motion. No keyframes, no expressions. Video Apex - Visual Effects & Post Production. Xeler8r - Free After Effects Tutorials, Photoshop Tutorials, Fla. Motionworks. Ayato@web. Free Video Tutorials - Free Photoshop Video Tutorials - Free Fla. | Layers Magazine. Photoshop Illustrator Dreamweaver Flash InDesign After Effects Premiere Pro Sorry, Couldn't Find That!
A 404 Error Has Occured Try Searching Layers LAYERS Tip of the Day Get the latest tips, tricks and news delivered straight to your inbox. Popular Categories. Free Adobe After Effects Tutorials | Layers Magazine. Rhys-works.com » tutorials. Creative COW Adobe After Effects Tutorials Podcast. Starlight Productions. Tutorial vidéo After effect accordéon 3D. Tutorial vidéo gratuit, un accordéon After Effects - Blog, Forma. Par Nicolas, vendredi 12 septembre 2008 à 10:33 Tutoriaux Vidéo :: #1934 :: rss Les tutos de Mattrunks vous manquaient ?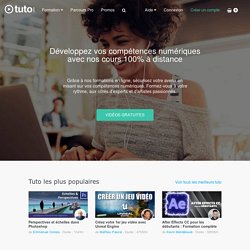 Alors ne pleurez plus le revoilà avec un nouveau sur emob dans lequel vous apprendrez à reproduire son fameux effet avec After Effects... Rhys-works.com - After Effects And Visual Effects Video Tutorial. A magic ball effect, i'd been aiming to one of these for some time.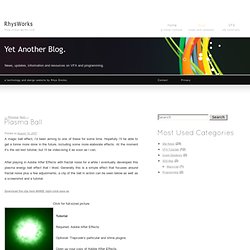 Hopefully i'll be able to get a tonne more done in the future, including some more elaborate effects. At the moment it's the old text tutorial, but i'll be video-ising it as soon as i can.
---
maxens3d Apr 21 2010

merci beaucoup j'en cherchait pour mon compositing de mon projet de fin d'année !! thx a lot :D
---