Wes anderson
Earlier this year the Mueseum of Moving Image 's website, Moving Image Source , published a five-part video series produced by Matt Zoller Seitz detailing Wes Anderson and his various stylistic contributions to film. Working under the thesis that Anderson is the most influential filmmaker of the post-Boomer generation, Seitz explores his pantheon of artistic heroes. As true fans already know, Anderson's mentors aren't limited to cinema, but rather, a host of creative mediums. Get schooled after the jump. Part 1: Introduction, Melendez, Welles, Truffaut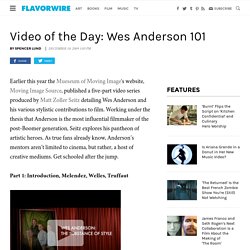 Video of the Day: Wes Anderson 101
Pas du tout. Juste un utilisateur historique, averti et intelligent de Pearltrees. Tout simplement. by Abbeyrouth Dec 24
Je le connais, il est déjà dans mon Pearltrees Wes Anderson ! Merci quand même ! by Abbeyrouth Dec 24
Le reportage est vraiment très cool. je te le recommande. by Francois Dec 24
The Substance of Style, Pt 2 by Matt Zoller Seitz - Moving Image
This is the second in a five-part series of video essays analyzing the key influences on Wes Anderson's style. Part 1 covers Bill Melendez, Orson Welles, and François Truffaut. Part 3 covers Hal Ashby. Part 4 covers J.D.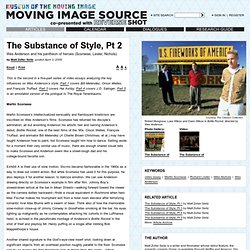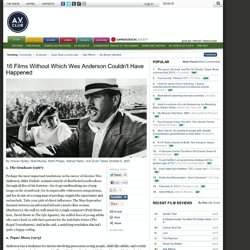 16 Films Without Which Wes Anderson Couldn't Have Happened | Fil
1. The Graduate (1967) Perhaps the most important touchstone in the career of director Wes Anderson, Mike Nichols' seminal comedy of disaffected youth echoes through all five of his features—for its groundbreaking use of pop songs on the soundtrack, for its impeccable widescreen compositions, and for its tale of a young man of privilege crippled by uncertainty and melancholy. Take your pick of direct influences: The May-September dynamic between an unformed kid and a much older woman ( Rushmore ), the wall-to-wall music by a single composer (Paul Simon here, David Bowie in The Life Aquatic ), the stalled lives of young adults who move back in with their parents for the indefinite future ( The Royal Tenenbaums ). And in the end, a satisfying resolution that isn't quite a happy ending.
Chaîne de elkemonkey
The Rushmore Academy
Wes Anderson, de « quirk » et de broc
Perhaps you heard about this Soundtrack Series we do from time to time ( read more ). We could go on for years to explain our intentions here, but we won't bore you. Suffice to say when we heard back in early 2006 that Wes' new movie would be set in India we began mulling that idea around and obviously came up with the films of Satyajit Ray which lead us to all kinds of things (some on the mark and some just nice and different, aside from all the other wide possibilities of course). This is a lot to absorb in one sitting so we suggest you don't, but we hope you enjoy. A bit of thought and time went into it.
:: The Playlist ::: If I Were Wes Anderson: Soundtrack Series Vo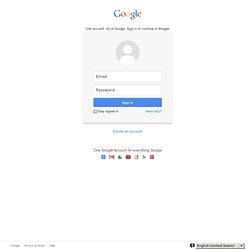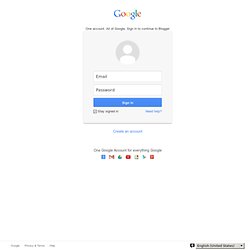 When shelling out for "Fantastic Mr. Fox" this week (for those of you in New York And L.A. of course, the rest of the country has to wait a week), Wes Anderson fans can be certain their favorite filmmaker will pepper his newest effort with a few of his stylistic quirks: stylishly dressed characters, meticulous set design, an appearance by a Wilson brother, and of course, a few scenes scored to retro pop music. The latter has been a major part of Anderson's style since 1996's "Bottle Rocket," and reached its peak with 2004's overstuffed "The Life Aquatic with Steve Zissou." Taking a cue from his idol Martin Scorsese , Anderson at his best uses the music to take the scene to a magical, transcendent level — at his worst, a good song distracts from the on-screen action. Here's a list of our favorite music scenes from each of Anderson's films:
:: The Playlist ::: 5 Best Music Scenes in Wes Anderson Movies
:: The Playlist ::: 5 Best Music Scenes in Wes Anderson Movies