Listen to the cinema
Sleazy Listening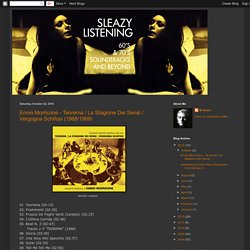 Thanks so much for everyone's kind words during my little absence. They really mean a lot to me and I'm glad to see that so many of you enjoy my blog so much. Sleazy Listening turned 2 years old back in March and hopefully I'll be able to continue on for years to come (or I run out of stuff to share). Today's upload is filling a request and it's one I'm very happy to do. This limited edition disc pairing Double Face and The Devil's Nightmare is one of my very favorites.
ENNIO MORRICONE - IL MAESTRO
S C O R E , B A B Y ! Your guide to groovy soundtracks of the 60's,70's and Beyond
Paul Durango's - de Roubaix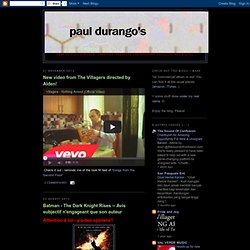 Attention à toi - y'a des spoilers!! Le dernier Batman ça vaut 12/20. ça fait le taf (t'en prends plein la gueule) mais ça fait pas beaucoup plus. Je précise que je n'en attendais rien, ce n'est donc pas la frustration qui parle.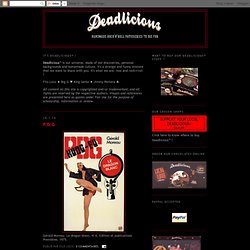 it's deadlicious™ - Mozilla Firefox
Il ne reste que 6 jours pour souscrire au coffret "Bis - 20 ans de Bis à la Cinémathèque française" ! La souscription est ouverte sur ulule . Le coffret sortira en mars prochain. Plus de 1000 pages d'informations essentielles sur le Bis. 400 flyers reproduits dans leur intégralité en 4 volumes, un 5ème volume d'entretiens avec les initiateurs des soirées Bis de la Cinémathèque française !
Sleazy Listening - Mozilla Firefox
GUY SKORNIK "Pour Pauwels" To order it send thru paypal using jeanemmanueldeluxe@yahoo.com e-mail 20 € (incl postage) for France 22 € (incl postage) Europa 24 (incl postage) rest of the world Guy Skornik was a mystic explorer, psychonaut, and gifted musician, who was a key member of François Wertheimer's Popera Cosmic collective; he was also deeply immersed in the metaphysical revolutions of his time. He presented television reports, laced with elements of Eastern mysticism, on LSD experiences. And then there was Skornik's album, "Pour Pauwells", inspired by the revolutionary writings of Louis Pauwells, one-time counterculture hero and disciple of esoteric spiritualist G. I. Gurdjieff.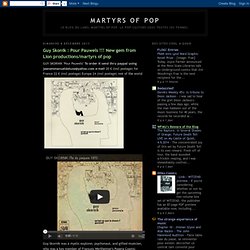 Martyrs of pop - Mozilla Firefox
The Crime Lounge - Mozilla Firefox
From the ever reliable 101 Strings, here arranged by the legendary Les Baxter we have another vinyl album full of film themes. Included on this is one of my personal all-time favourite tunes "Love Beat Of The City", a wonderfully groovy track that I first heard on one of the Ultra Swank lounge compilations. If you are into Easy/Lounge then you need to get over to his site and download the trilogy, they are three of the finest examples of the genre I have ever heard!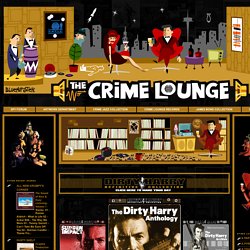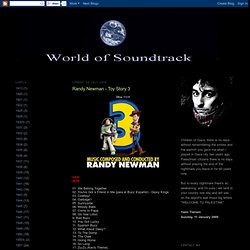 World of Soundtrack - Mozilla Firefox
South Africa2009 CD 101. Main Titles02.
I'm a big soundtrack geek. Many of the following scores I'm about to list are ones I've owned on vinyl or CD for years--some since I was 10 or so. Almost all of the works mentioned here are crafted so brilliantly that the often-superlative movies they were written for now seem like gravy; this is a list of records that are all great to just sit down and listen to on their own.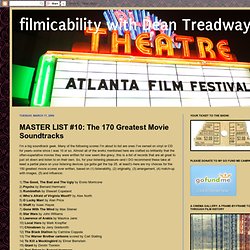 filmicability with Dean Treadway: MASTER LIST #10: The 170 Great
THE LIBRARY HUNT - Mozilla Firefox
ABCs of Death fans will be happy to know that while you wait for the highly anticipated sequel, Drafthouse Films will be putting out an ABCs of Death 1.5, which compiles 26 of the best ABCs of Death 2 "Search for the 26th Director" shorts into one full length film. Producers Ant Timpson and Tim League announced today the 26 entries chosen to be a part of Drafthouse Films' ABCs OF DEATH 1.5, a spin-off of the immensely popular Magnet Releasing anthology series. The original 2012 film delivered 26 dark tales from the industry's most celebrated genre directors, and its hotly-anticipated sequel hits cinemas in 2014. Both anthologies conducted a worldwide "Search for the 26th Director", which allowed one exceptional fan-made entry to appear in each finished film. The original movie sought "T" entries – and ultimately chose Lee Hardcastle's stop-motion animated "T is for Toilet."
the manchester morgue - Mozilla Firefox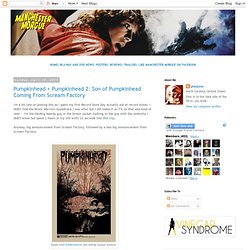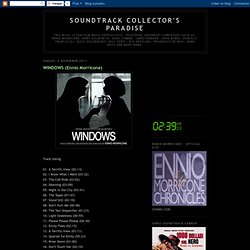 Tracklist: 01-Aquarium (le carnaval des animaux) (2:05)02-We used to do things (0:48)03-Enderlin (3:15)04-Harvest (3:00)05-Threshing (2:05)06-Happiness (2:14)07-The honeymoon (1:26)08-Swamp dance (3:34)09-The return (2:32)10-The chase (2:00)11-The fire (7:48)12-Ashes & dust (2:17)13-Days of heaven (3:30)14-Main theme (7M1 tk 8) (1:03)15-The farmer and the girl (theme 18 - Piano version) (1:54)16-In the field (theme 5 long version, cf.
SOUNDTRACK COLLECTOR'S PARADISE - Mozilla Firefox
ENNIO MORRICONE - IL MAESTRO - Mozilla Firefox
SOUNDTRACK CENTRAL - Mozilla Firefox
Soundtrack Geek - Movie Scores and Soundtracks - Mozilla Firefox
Skip to primary content Skip to secondary content Categories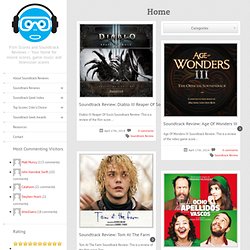 Musique de film : Cinezik.org - Mozilla Firefox
UnderScores : le magazine de la musique de film - Mozilla Firefo
C'est du 20 au 30 novembre qu'aura lieu pour sa première année le Festival International du Cinéma et du Jazz. Y seront proposés ciné-concerts et rétrospectives… [...] Dans le cadre de sa tournée européenne, Nobuo Uematsu s'arrête à Paris au mois de novembre. Il reste des places pour le 16 à 20h au Dock Pullman à St Denis [...] Un débat sur les jeux vidéo et leurs enjeux artistiques, organisé par l'UCMF, réunira plusieurs intervenants, dont Christophe Héral, le 19 novembre à la Cité Internationale des Arts [...]