Grammar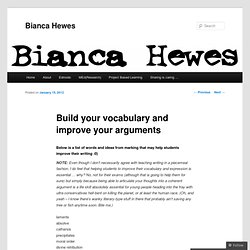 NOTE: Even though I don't necessarily agree with teaching writing in a piecemeal fashion, I do feel that helping students to improve their vocabulary and expression is essential … why? No, not for their exams (although that is going to help them for sure) but simply because being able to articulate your thoughts into a coherent argument is a life skill absolutely essential for young people heading into the fray with ultra conservatives hell-bent on killing the planet, or at least the human race. (Oh, and yeah – I know there's wanky literary-type stuff in there that probably ain't saving any tree or fish anytime soon.
Build your vocabulary and improve your arguments | Bianca Hewes
Creative Writing Prompts
by Marianne What are some creative writing prompts I can use to encourage writing and develop the skill of narration?